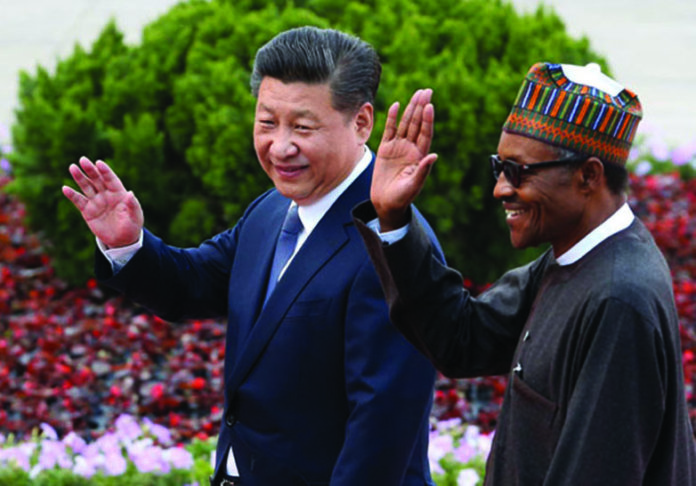 By Bola A. Akinterinwa
Relationship between the People's Republic of China and the Federal Republic of Nigeria is quite interesting because it is largely defined by many geo-political factors. First is the factor of demography. Nigeria is the most populous nation-state in Africa. It also has the largest black population in the world. And true enough, in every five African peoples, one of them is a Nigerian. In the same vein, China has the biggest population, not only in Asia, but also in the whole world. As such, both countries are demographic powers that cannot be easily neglected in the demographic and foreign strategic calculations of all medium and great powers in international relations. This cannot but be so because of the serious implications for international economic cooperation.
In this regard, for instance, China has Africa as a strategic focus in its own version of perestroika and glasnosts, that is, opening-up-to-the-world and restructuring diplomacy. In other words, Nigeria is one major country of interest and focus to be used as instrument of Chinese foreign policy interest. Nigeria has the biggest market and is generally perceived to be a big power in the making, especially in light of its potential riches that are yet to be transformed into manifest power.
Second, both countries claim to be Third World countries. Nigeria's claim is more of an acquiescence of the classification by the Breton Woods Institutions, while that of China is self-proclamation, rather than as a result of the classification of the Breton Woods institutions. By way of comparison, if China were to be considered a developing country, then Nigeria cannot qualify to be in the same league with China, because China is far more developed than Nigeria. China has a foreign policy of win-win and down-to-earth partnership strategy which African countries, particularly Nigeria, cherish. In the strong belief that they are both developing countries, they always promote politico-economic cooperation.
Third, Nigeria and China have the common problem of insurrection: Hong Kong has a separatist agenda like the Indigenous People of Biafra (IPOB) and the Movement for the Actualisation of Sovereign State of Biafra (MASSOB) in Nigeria. Beijing Authorities have a policy of 'One China, Two Systems' that asserts one sovereign and independent China politically, but condones two economic systems: socialist system in Mainland China and capitalist system in Hong Kong. Surely, it will be a conflict of interest for Nigeria to support Hong Kong's break away and not expect agitations for self-determination to continue in Nigeria. Thus, what really have been the hallmarks, the irritants, the dynamics of the first fifty years of the relationship? What does the next fifty years look like? Will they be better?
The First Fifty Years
China-Nigeria diplomatic ties were established on February 10, 1971, meaning that the relationship was already fifty years old as at February 10, 2021. They were established one year after the end of Nigeria's civil war on the basis of peaceful togetherness, shared economic development strategy at the bilateral level, and political solidarity in their multilateral relations, in spite of the fact that the relationship. had a vertical character. Put differently, China and Nigeria operated on the basis of sovereign equality, even though Nigeria is not at par with China in practical development terms.
It should not be forgotten that China had the largest city, Kaifeng, in 1500 A.D., thus placing Paris as the second biggest city in the world. With China being on record to have invented paper-making, printing, gunpowder and the compass, etc, China cannot be rightly placed at the same level of development with Nigeria or any other African country. China is not only an original member of the United Nations and a Permanent Member of its Security Council, but also the first country to sign the 1945 UN Charter. This unwritten factor of China being a senior partner in the relationship is always borne in mind in Nigeria's attitudinal disposition towards the Chinese.
In deference to Nigeria, China has always avoided showing any iota of braggadocio in the relationship. One good manifestation of this point is their National Day normally celebrated on October 1. In Nigeria, the Chinese always celebrate their Day before October 1 to respect Nigeria and to enable the participation of Nigerians and Chinese on Nigeria's October1 and any other day chosen by the Embassy of China in Nigeria.
And true enough again, in preparation for the celebration of the 50 years of their diplomatic relations, the Confucius Institute at the University of Lagos organised a Symposium and Speech Competition on "49 Years of Nigeria-China Relationship and 60 Years of Nigerian Nationhood" and "71 Years of Chinese Nationhood" on October 2020. Issues in the relationship were addressed variously by scholars. In 2021, many of the issues are still there, meaning that a cooperative attitude will still be required to meaningfully address them. In this regard, the lessons from the civil war taught the Gowonian regime the need to develop warm ties with the development partners and to promote peaceful coexistence. Subsequent administrations have continued to promote better understanding with China.
And true enough again, relationship between the two countries in the past fifty years was quite warm for other reasons that are not far-fetched. The Chinese often present themselves to Africa as being friendlier than Africa's former colonial masters, a point that has always and generally impacted on Nigeria's attitudinal disposition towards China. As noted in China-Africa 500 Facts About China, Africa and Relations Between the Two, published by the Sinolingual Co. Ltd and Secretariat of the Chinese Follow-up Committee of the Forum on China-Africa Cooperation in 2015, Mr. LI Zhaoping, President of the China Public Diplomacy Association and former Minister of Foreign Affairs of the People's Republic of China, made a number of very interesting remarks about Africa and its people.
First, he said the 'Chinese and Africans are brothers and sisters and will remain so forever.' This point is noteworthy for the relationship in the next 50 years. The relationship is expected to be always brotherly and sisterly. But does this mean that brothers and sisters do not disagree and quarrel? Does it mean that there will not be qualms in the relationship in the near future? They may disagree but the disagreement cannot be to the extent of mutual self-destruction.
Second, Mr. LI noted that there is a common saying among Chinese diplomats according to which 'you fear Africa before going there, fall in love with her after arriving, and miss her after leaving.' This is simply to suggest that life is about living with courage and not be deterred by preliminary fears when engaging in any venture. It also shows that Africa is not really bad as generally presented to the world. Eye witnesses and empirical evidences clearly show the goodness in the people of Africa.
Thirdly, Mr. LI also said the region of the world that has been most memorable to him as a diplomat in his more than fifty years engagement in diplomacy is Africa, which has great civilisations like China. In his words, 'the simplicity, diligence, optimism, and kindness of African people are worth learning.'
Without jot of doubt, there are lessons from Africa that the Chinese can learn, but Africa, particularly Nigeria, is ill-equipped to learn any lessons from China. This brings us to the issues in the bilateral relationship. It is important to re-state that the relationship was very friendly and warm. For instance, at the level of economic relations, the volume of bilateral trade was valued at over $50 billion in the past three years. There are 218 Chinese companies in Nigeria. They are all actively engaged in the various sectors of the economy. Chinese loans are majorly for infrastructural development in Nigeria: $874 million for the Abuja-Kaduna railway project, $600 million for airport terminals in Abuja, Port Harcourt and Kano, etc
However, the warmth in the relationship is still tainted with some major concerns. For instance, there is the serious problem of lack of strategic focus at the level of Nigeria. There is little, not to say no indication at all, of what is to be achieved in terms of technology transfer. This is an area that Nigeria ought to seek lessons from. Under this lack of strategic focus is also the question of safety and security of life and property. In other words, how can we bring about a better life for Nigerians in China and Chinese in Nigeria?
China, as noted above, has the biggest population in the world. How do the Beijing authorities deal with their big population and also successfully ensure food security? There is the need for Nigeria to evaluate some lessons from Chinese demography and food security.
More importantly, Nigeria needs to evaluate periodically the definienda of cooperation and partnership. Apart from these, Nigeria's main export to China is petroleum. There is no export diversification. There are also reports of counterfeited or adulterated drugs from China.
At the level of political understanding, not only are many international observers pointing to China as a new colonial master, complaints have been raised as regards the contractual agreements done by the two countries. Particular emphasis was placed on the observation that Nigeria unnecessarily ceded her sovereignty to China as a conditionality for loans in the agreements. Eyebrows were particularly also raised on the maltreatment of Nigerians in China within the framework of COVID-19 saga on April 10, 2020.
In fact, the saga led to a brief diplomatic row: there were complaints that Nigerians were quarantined two-times, that their passports belonging to the Federal Government of Nigeria were attached, and that Nigerians were always mistreated in Chinese companies. And perhaps more notably, the invitation extended to the Chinese medical team to come to Nigeria to assist in the containment efforts of COVID-19 generated much controversy. Additionally, the Nigerian Medical Association officially protested against the invitation extended to the Chinese medical team in the strong belief that the invitation was much shrouded in secrecy. The controversy also generated intra-government, both at the legislative and executive arms of government, disaffection.
Whatever is the case, to what extent are the foregoing dynamics likely to be relevant in the next fifty years? What are also the likely new dynamics to expect in the conduct and management of the relationship in the foreseeable future?
The Next Fifty Years
The next fifty years can be gleaned from Nigeria's position and expectation as probably best presented in April 2006 by President Olusegun Obasanjo during the visit of President Hu Jintao to Abuja. In the words of the former President, 'this twenty-first century is the century for China to lead the world. And when you are leading the world, we want to be close behind you. When you are going to the moon, we don't want to be left behind.'
We similarly noted elsewhere that China-Nigeria relations has a brighter future, especially if it is located within the partnership framework of the Nigerian Institute of International Affairs (NIIA) and the China Institution of Contemporary International Relations (CICIR) (vide Bola A. Akinterinwa, "NIIA and CICIR within the Framework of Nigeria-China Strategic Partnership: collaboration as a Desideratum,' in Bola A. Akinterinwa Ogaba D. Oche, eds. Nigeria-China Dialogue Series: Issues in Contemporary China-Africa Relations, No.1: NIIA and CICIR, August 5-9, 2013, p.2).
In explicating the future, one approach is to consider policy pronouncements and the present development dynamics of the relationship, and then investigate the extent to which they will still be relevant in the foreseeable future. For instance, the future relationship cannot but largely be a resultant of the personality or status of what both countries will be. Will they be weaker or stronger nations? Will there be a change in their political status or the political status quo will remain?
As explicated by WU Li and Rong Wenli, one major reason for China's development is the conduciveness of the international environment explained by three factors which are noteworthy. As they put it, 'first, traditional powers and emerging powers are solving their differences through consultation, despite contradictions between them; Second, there are more cooperation than confrontation between emerging countries; and third, although there are still regional conflicts one after another (such as the Syria issue), and non-traditional security problems (such as terrorism), they are local and have not produced important influence on the security situation of the world as a whole. The general international trend of peace and development plays an important role in the smooth development of China.' (vide WU Li and RONG Wenli, Contemporary China's Economy (Beijing: China Intercontinental Press, p. 263 et s).
The next 50 years, without doubt, cannot but also be that of adoption of 'law diplomacy,' which requires approaching traditional political, economic and cultural diplomacy from a legal perspective. As ZHANG Wenxian and GU Zhaomin have it, law diplomacy 'requires States to enshrine the concept of rule of law in diplomatic activities, to find a legal agenda in diplomacy, to convert relevant political, economic cultural and military issues and to resolve thorny disputes through legal procedures' (vide their article, "China's Law Diplomacy: Theory and Practice," Global Review, Summer 2013, pp. 30-52).
Conceptually put, law diplomacy is to observe and consider diplomatic issues. It is an additional dimension for handling foreign relations. 'In law diplomacy, legal awareness and the concept of rule of law run throughout diplomatic activities, and relevant diplomatic issues are converted into legal issues and handled within legal procedures.'
And perhaps more significantly, ZHANG Wenxian, a Grand Justice of the Second Ranking and Director of Jurisprudence Research Centre of Jilin University and GU Zhaomin, the Chief of the Liaison Department and Director of the Academic Exchange Center of the China Law Society, have provided six major reasons for the need for law diplomacy in the conduct and management of Chinese relations. First, law diplomacy goes with the trend of the times as the rule of law is a consensus of a civilised world and a common aspiration of mankind. Domestic and international issues are generally brought under the lens of law.
A second reason is that law diplomacy is consistent with the Party and Government, judgment of world trends and architecture, and its direction of the Party and the government's future works. Third, law diplomacy is a representation of Chinese efforts in building a socialist country under the rule of law and its proactive involvement in constructing international rule of law. Fourth, law diplomacy is an instrument, a choice for elevating China's international standing.
As rightly observed by ZHANG and GU, 'power is the basis for diplomacy. There are hard power, soft power, and smart power. Hard power mainly refers to economic and military strength. Soft power refers to ability to influence international rules governing structures.' In this regard, they further contend, 'China's diplomacy has made significant and substantial progress in the economic, political, cultural fields. Further progress in law diplomacy will make our diplomatic work sounder, more stable, comprehensive and harmonious.'
Fifth, law diplomacy not only helps to dispel the misunderstanding and suspicions of some countries or the alleged 'China Threat' theory (that is, fast Chinese economic growth can undermine other economies; China's military capability can threaten others; and Chinese big population and high energy consumption is a threat to the world). And sixth, law diplomacy safeguards China's interests and facilitates the smooth advancement of all its undertakings.
The import of law diplomacy for China-Nigeria relationship in the next fifty years is basically to show the direction of Chinese foreign policy and how to respond to it, especially in terms of Nigeria's citizen diplomacy. Law diplomacy in China is expected to be conducted in a multilayer and multidimensional way in the foreseeable future. It is essentially about official cum people-to-people diplomacy, which Chief Ojo Maduekwe's citizen diplomacy is all about. Law diplomacy requires government agencies to launch relevant programs and sponsor events at the level of official diplomacy, while people's organisation are to be engaged in the practice of law diplomacy: participation in international legislation, jurisdiction and law enforcement, promotion of legal-related diplomatic activities, etc.
In sum and essence, China-Nigeria relations have been quite warm in the past 50 years. Noisome problems were few and were always quickly and diplomatically contained. The issues of mistreatment of Nigerians working in Chinese companies, adulterated drugs imported from China, signing contractual agreements in which Nigeria's sovereignty is reportedly ceded as a conditionality, etc, are questions that should be more seriously taken for purposes of better general public enlightenment to avoid misconceptions and unnecessary public animosity, because the next 50 years will involve the application of law diplomacy from the perspective of the Chinese. Nigeria's foreign policy should therefore look at Nigeria-China relationship in the next 50 years from four approaches: what focus, which method, what environment, and what outcome? Nigeria's focus should be driven by quests for transfer of technology. Method of fostering the relationship should underscore Ojo Maduekwe's citizen diplomacy and Oluyemi Adeniji's beneficial and constructive concentricism. China and Nigeria do not have exclusive control over the international geo-political environment. Consequently, both countries should prepare for the impact of a changing world of globalisation. In terms of outcome, time will tell and situational reality will decide.