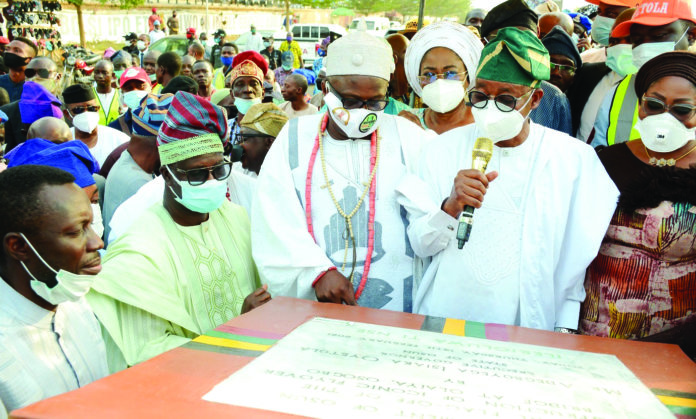 Recently, the Osun State Governor, Gboyega Oyetola, commissioned the construction of a signature flyover with pomp and celebration, amongst other efforts to keep good governance going in the state, writes Yinka Kolawole
Osun State especially, its capital, Osogbo was suddenly in the news, when Governor Adegboyega Oyetola announced the readiness of his administration to construct an iconic flyover across the popular Fakunle-Olaiya, Odiolowo-Olaiya, AKindeko-Olaiya and MDS Olaiya interactions – all in Osogbo, the state capital.
Many questions were asked and still being asked by residents and non-residents alike about the wisdom or otherwise of having a flyover in the place.
A flyover is a road constructively created with an elevation at a given junction or intersection. It could be with or without any subsidiary principally aimed at controlling traffic conflicts at any given road intersection.
Therefore, a flyover is designed to lessen traffic jam by allowing smooth flow of vehicles. In addition, road crashes are reduced if not completely curbed to the barest minimum, where it is constructed.
Therefore, it can be confidently stated that a flyover is a modern traffic decongestion construction aesthetically put in place to reduce traffic bottlenecks and attendant accidents that usually occur, where such is not in place.
Thus, Oyetola contended that when viewed against the daily growing population of the state especially, Osogbo, the state capital and the need to reduce accidents occasioned by enormous traffic congestions, which over the years had become the lot of the motoring and non-motoring public plying that axis, nothing can be more succinct than a flyover at such a busy and accident-prone axis like Olaiya Junction.
Olaiya Junction, where the project is to be sited, unarguably qualifies to be described as the nerve centre of Osogbo. In fact, a visit to Osogbo by any first termer without having a feel of how or what Olaiya junction looks like, can be likened to a visit to Lagos without getting to the popular Broad Street at Marina, Lagos.
To situate his readiness for the multi-million Naira project as encapsulated in the 2021 budget earlier presented before the state parliament, Oyetola did say that when completed, the over 3 billion naira project was going to be an iconic flyover embedded with beauty and ostentations that would be at par with any modern state capital anywhere in Nigeria.
With a conservative completion period of between 9 and 10 months, Oyetola while further justifying the need and importance, remarked that the proposed flyover, which is 500 metres long would be funded through the Alternative Project Funding Approach (APFA)
The governor had earlier during the demonstration closure of The Axis of the proposed flyover on January 29, 2021 between 2pm and 5pm, said his action in this regard was a product of wide consultations earlier made and aimed at ensuring that the project would be acceptable to the people of the state.
This explained the support and enthusiasm visibly displayed on the faces of people before, during and after the commissioning ceremony some days ago.
With alternative routes already provided, the situation in the interim seems to be a bit hard to contend with, although not unexpected in the alternative routes.
Of course, businesses and other routine activities along that axis have been largely affected. This should be taken in good faith with the belief that it is a temporary situation that would soon blow away.
It's true with every venture that no pain, no gain, but the gains accruable to residents and non-residents alike after the completion of the project are best experienced than imagined. The current extrapolations showed they are enormous.
Whilst the pains of the waiting period might be excruciating, the need for support, cooperation and total understanding of the people cannot be over-emphasised.
Speaking at the ceremony in Osogbo, Oyetola said the project was targeted at securing Osun's future population explosion and meet traffic needs.
He reiterated that the project was a swift response to the need to secure the projected population explosion, meet traffic needs, eradicate needless auto crashes and enhance the quality of lives of the people through timely and prompt infrastructure development.
The project to be handled by Messrs Peculiar Ultimate Concerns Limited is a 4-span of 15m each, with two Underpass bays for U-turning to Fakunle/Justrite and MDS/Post Office. It is a 295.95m length of Bridge Approach Ramp, 196m long Fakunle Ramp and 99.95m long MDS Ramp with slope of Ramp being 3 per cent.
The project is also designed to accommodate articulated vehicles with intelligent lightening devices and smart traffic control devices.
Costing the state a total sum of Three Billion, One Hundred and Eight Million, Three Hundred and Seventy-Nine Thousand, Eight Hundred and Twenty-Nine Naira, Seventy-Six Kobo (N 3,108,379,829.76), the governor said the expenses comprised the net sum of N 2,688,748,552.74 and a 13.5 per cent statutory deductions which include the percentage withholding tax, 7.5 percent Value Added Tax and 1 percent stamp duty deduction.
Stating that the project would be funded through the Alternative Project Funding Approach (APFA), he explained that APFA entailed the contractor would fund the project, while the State repays the contractor over a period of time so as to enable government free up resources for other important obligations.
He was quick to add that the construction would not in any way stop the government from delivering on other dividends of good governance, including citizens' welfare, regular payment of workers' salaries and pensions, completion of ongoing projects and initiation of more.
"Indeed, the adoption of Alternative Project Funding Approach is another leg in our model of creative funding of projects in a depressed economy and an assurance that we shall always keep our pact with our people.
"The Olaiya Flyover project is in response to the need to enhance the quality of lives of our people and improve the infrastructure in our city, which in recent years is becoming more populated and boisterous on account of increasing business activities.
"The implication of this is the growing traffic around major routes in the state and specifically, the Olaiya axis, leading to waste of man hours by residents. Sadly too, there have been countless cases of accidents by commuters. I have personally witnessed a few of these unfortunate incidents. We cannot afford to waste more lives.
"Besides, response to the infrastructure needs and demands of a growing city is a proactive exercise. Therefore, this flyover is a project for today and the future, because, when the project is completed, we are assured that it will significantly eradicate traffic hassles and make the lives of our valued citizens more secured.
"Just as I promised in my inauguration speech, our Administration is committed to providing relevant infrastructure that supports the prosperity of our people. With this project and many more across our State, we are keeping faith with that promise," he added.
Governor Oyetola, who assured the people, particularly business owners around the site, of government's consciousness to their livelihood said, "we are therefore appealing to owners of businesses around the project site to bear with us, as we will try as much as possible to minimise inconvenience.
"Realising that the closure of this road will bring some temporary difficulties, we have made enough provision for alternative routes to serve vehicular needs. The demonstration we carried out a few weeks ago has provided us relevant information with which to plan and make life easier for you all.
"I urge you all to bear with us as we strive to improve the socioe-conomic status of our State, and I assure you all that this project will be completed in record time," Oyetola added.
Earlier, the Speaker, Osun House of Assembly, Hon. Timothy Owoeye, lauded Governor Oyetola for giving Osun, particularly Osogbo, facelift of her socioeconomic and infrastructure development.
Commissioner for Works and Transport, Remi Omowaye, said the idea to construct the flyover was conceptualised as part of efforts to reduce traffic, lessen accident rates and advance the infrastructure development in the State.
He said the project would go a long way to complement some of the new roads approved for construction and rehabilitation by the Oyetola administration.
Chairman/CEO Peculiar Ultimate Concerns Limited, Mr. Abel Adeleke, assured the government and residents of quality and standard service that could stand the test of time.
Adeleke, who promised to bring his experience in civil engineering to bear on the construction of the flyover, reiterated that the project would be delivered in record time.
"What we are operating in Osun is based on integrity and this project will be done in such a way that will not impact negatively on the debt profile of the State. We are glad to have this opportunity and I assure you that we will deliver the project within the stipulated time," he stressed.
The Ataoja of Osogbo, Oba Jimoh Olanipekun, applauded Oyetola for taking the welfare and wellbeing of the people as priority just as he commended the government for deeming it fit to build the flyover as part of efforts to complement the existing road infrastructure.
A frontline Osogbo indigene and business mogul, Chief Olatunde Badmus, said the project was a confirmation of the fact that Osun has always been blessed with good leadership.
He, therefore, commended Oyetola's effort to engender good governance as reflected in the achievements the Administration has recorded despite the socioeconomic challenges occasioned by global realities.
Those in attendance included the First Lady, Alhaja Kafayat Oyetola; the Deputy Governor, Mr. Benedict Alabi; the Speaker, Osun House of Assembly, Hon. Timothy Owoeye; former Osun deputy governors, Chief Adeleke Adewoyin; Senator Christopher Iyiola Omisore, Mrs. Titilayo Laoye Ponle; Secretary to the State Government, Wole Oyebamiji and traditional rulers among others.