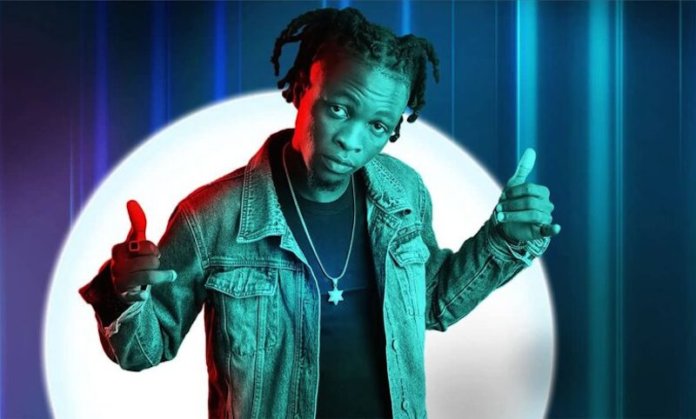 LEKAN 'LAYCON' AGBELESHE
The lines keep falling in pleasant places for Lekan 'Laycon' Agbeleshe since he emerged winner of Big Brother Naija Lockdown season. He recently featured in his own reality TV show, 'I Am Laycon.' Despite the fame, Laycon's eyes are peeled to his music goals, writes Vanessa Obioha
It's been almost five months since Lekan 'Laycon' Agbeleshe walked out of the Big Brother Naija house as a millionaire and proud winner of the show's fifth season. Still, he is yet to come to terms with reality, although not in an oneiric manner. Of course, he is aware of his newfound fame, the responsibilities that go with it, and the inescapable pressure to maintain equipoise. The latter is paramount to him as his schedules have become overwhelming with shoots, tours, and meetings.
Ever since he emerged as the reality TV show winner, the lines have been falling in pleasant places for him. First, he became the brand ambassador of GOtv, the digital terrestrial platform of MultiChoice Nigeria. He went on a campaign tour with the brand last year, visiting five cities where he met and performed for fans. In-between the tours, he was also shooting his first reality TV show, 'I Am Laycon,' for Showmax, a streaming service from MultiChoice. The show is the first original Nigerian series of the streamer. It began airing on February 11 on the platform and is available to over 20 countries, including France, Spain and Indonesia. He was also made the youth ambassador of Ogun State.
Despite the switch in reality, Laycon is not allowing his music to take the backseat. After all, it was the reason he entered the show in the first place. To be sure, his music was relatively faring well before he participated in the competition. But considering the show's reach, it was a smart move by the artiste to leverage on the platform to promote his music.
"By this time last year, I was having meetings with people on how best to promote my EP, 'Who is Laycon'," he said. "Music was the only thing in my head. I had no idea that 365 days later, this is where I will be."
It paid off for the dreadlocked artiste. While in the house, his music gained prominence, and he followed up the clamour for his art with an EP. His recent feature on DJ Jimmy Jatt's 'Jump Off' show equally fetched him accolades. The video has been viewed more than 190,000 times on YouTube. Interestingly, the rapper rarely had the time to read the feedback because he was engrossed in another music project. His debut album is expected later this year.
Laycon, it seems, has perfected the art of filtering people's opinions about him. He does this well by tuning out social media's noisy bubble and giving room for inner conversations with himself. He gave a philosophical analysis of his views on social media.
"Every human being should find time to put down their phone and seek inner conversations. It's very important because it allows you to stay grounded and stick to reality. Sometimes, people write checks online that they can't cash in real life. They must differentiate between the two. There are a lot of things online that are not real. That's why I keep telling people to grow in real life. And while it's fun to be online and enjoy things, they also need to understand that the same way it is in real life is the same way it is online where you have different vibes — good, bad, negative, positive vibes. So you need to be able to filter things and spend some time alone to get into the growth you need."
He applied the same approach when he left the house. Not a few had different opinions about him, but Laycon refused to allow their views to crawl into his mental space.
"I had lived over 20 years of my life before I came to the show. People only saw a side of me for 70 days and would want to judge me forever for that. But I am who I am, I know who I am, I know what I want to do with my life. I know what I wish for everybody around me. People are allowed to have opinions, but I don't know if they are valid or invalid. I try not to react to people's opinions because they're just opinions, not facts. So they might be inadmissible to my mental space," he said matter-of-factly.
Laycon is of diminutive stature and wears his locks in different styles. Sometimes it's packed in a bun. Other times it's cascading down his face. At the moment, it's gracing his face. While in the house, he was the least expected to clinch the title. But he eventually became the underdog that took home the lion share.
To a large extent, his fans played a vital role in his emergence as BBNaija Lockdown season winner. Aptly named Icons, they ensured that their iconic model clinched the coveted prize of the season. Laycon is very appreciative of their support. He described the relationship with his fans as wonderful.
"I feel that I got one of the best fanbases in the world," he momentarily pondered over his choice of words before rephrasing. "No, I think they are the best fanbase in the world. The best I can ask for."
"It's something that's still new to me," he continued. "I feel like we're going to grow together to the extent where it becomes a big new movement. Where we start influencing people positively in society. As an icon, it means you have to spread love and light to people around you and influence people the same way."
These days, fame and wealth mean different things for the graduate of Philosophy from the University of Lagos. On the one hand, he is not carried away by the spotlight because he is yet to reach the horizon, according to him. On the other hand, wealth is based on different levels.
"There are people who have the kind of money that I have and will be enthusiastic, while there are some who don't regard it as anything. I'm grateful for where I am, but I don't consider myself wealthy. I know where I want to get, obviously," he chuckled. "I want to get to the level where it's all Gucci on the other side."
Laycon can convincingly say that he knows what he wants. From an early age, he evinced his interest in music, learning different sounds and techniques to be well-versed in the field.
"I fell in love with the process of making music, not the thing that comes with it. Regardless of whatever stage I am as an artiste, I understand and know that I will continue this process of growing and evolving because that's what I enjoy doing," he disclosed.
Famously known as a rapper and TV reality star, when describing himself, the description is expanded. "I'm a rapper, a singer, a songwriter. I'm basically an artiste."
He offered more explanation.
"The evolution of music has gotten to a point where either as a rapper or singer, whatever you infuse in your music is relatable as long as it is appealing and of good quality. It's more about the art; how you let people understand what you are communicating through music and the sound itself."
Big Brother Naija may have been the springboard that propelled him to stardom, but the 27-year-old rapper has his eyes set for greater things. In fact, he disclosed that he is already on the next level.
"This is not even close to where I want to be. My head is constantly thinking of the next level. I still need to work harder to get bigger and ensure that this is the least stage I'm ever going to be."
And by bigger, he means becoming the best artiste in the world and using his music to influence as many lives as possible positively.