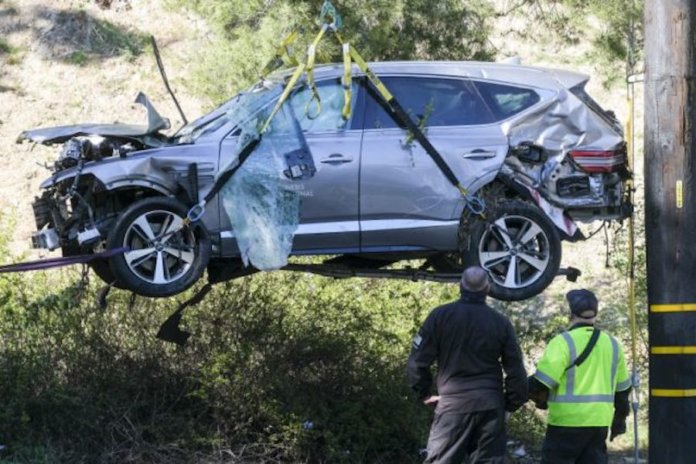 Tiger Woods is "awake and responsive" following surgery on serious leg injuries suffered in a car crash in Los Angeles on Tuesday.
The 15-time golf major champion, 45, had to be "extricated from the wreck" by firefighters and paramedics.
The American suffered "open fractures affecting the tibia and fibula bones" in his lower right leg "stabilised by inserting a rod into the tibia".
Injuries to his foot and ankle have been stabilised with screws and pins.
"He (Woods) is recovering in his hospital room," added a statement, published on Woods' Twitter account.
Anish Mahajan, chief medical officer of the Harbor UCLA Medical Centre where Woods is being treated, said the open fractures were comminuted, meaning broken in more than two pieces.
Mahajan added: "Trauma to the muscle and soft tissue of the leg required surgical release of the covering of the muscles to relieve pressure due to swelling."
Woods was "fortunate to be alive" said a deputy from the LA County Sheriff's Department, who was first on the scene of the accident at 07:18 local time on the border of Rolling Hills Estates and Rancho Palos Verdes.
Carlos Gonzalez said the golfer was "not able to stand under his own power" before being removed from the vehicle which had sustained major damage.
He said that the American was wearing his seatbelt and was "still calm and lucid" when he told him his name.
"It's very fortunate that Mr Woods was able to come out of this alive," he added.
LA County Sheriff Alex Villanueva said that Woods' car "crossed the centre-divider to the point that it rested several hundred feet away" and "that indicates they were going at a relatively greater speed than normal".
He added: "However, because it is downhill, it slopes and curves, that area has a high frequency of accidents. It is not uncommon."
He said the car hit a kerb, a tree and rolled over several times. Villanueva added "there was no evidence of impairment" with Woods.
Gonzalez admitted he sometimes catches people topping 80mph (129 kph) in the 45 mph zone and crashes are common.
Former US President, Barack Obama; tennis great Serena Williams; basketball star Stephen Curry and singer Mariah Carey were among the many celebrities who posted their messages of support on social media.
A statement from PGA Tour Commissioner, Jay Monahan, said: "On behalf of the PGA Tour and our players, Tiger is in our prayers and will have our full support as he recovers."
The single-car crash was the latest setback for Woods, who at times has looked unstoppable on the golf course with his 15 major championships and record-tying 82 victories on the PGA Tour.
He is among the most recognizable sports figures in the world, and at 45 with a reduced schedule from nine previous surgeries, remains golf's biggest draw.
He won the 2008 U.S. Open with shredded knee ligaments and two stress fractures in his left leg. His personal life imploded on Thanksgiving weekend in 2009 when he was caught having multiple extramarital affairs, and he returned to win his 11th award as PGA Tour player of the year and reach No. 1.
And then after four back surgeries that kept him out of golf for the better part of two years, he won the Masters in April 2019 for the fifth time, a victory that ranks among the great comebacks in the sport.
Now it's no longer a matter of when he plays again — the Masters is seven weeks away — but if he plays again.