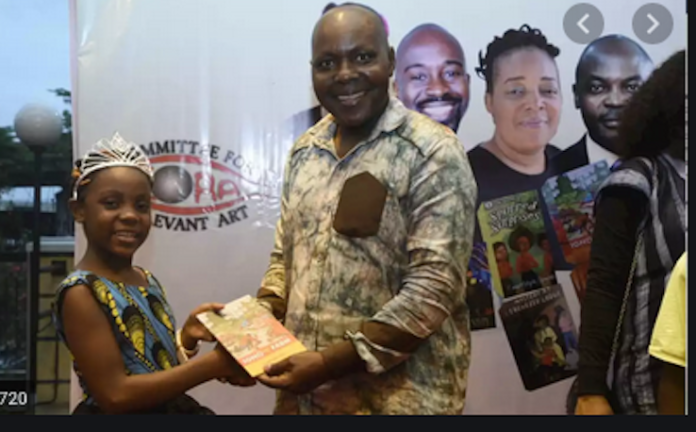 Yinka Olatunbosun
Mr. Anote Ajeluorou, author of one of the best children literature from Nigeria, 'Igho Goes to Farm', will be today'sguest writer at Jelosimi Art Center, Oshodi, Lagos. Jelosimi Art Center is an arm of Sobayo Abolore Art Foundation (SAAF), a non-profit organization aimed at building an enabling environment for creativity and artistic growth in young people.
At the venue, Mr. Ajeluorou will read and mentor young people. He will inspire them to see the beauty in reading and writing and how the two activities can change their lives for good.
While commending the founder of the foundation, Mr. Abolore for his bold initiative in locating his arts centre in Oshodi, the author observed that the initiative would give young people in the area positive alternative platform to expend their youthful energy away from crime and other unwholesome activities that Oshodi has gained notoriety for in the past few decades. Ajeluorou also tasked other public-spirited individuals to toe the path Mr. Abolore has paved in order to give young people in underprivileged communities across the platforms to exercise their creative energies.
Indeed, a weekend of engaging artistic events looms at Jelosimi Arts Center. After Ajeluorou reads on Friday, Pottery Workshop with Ato Arinze with hold the next day, Saturday January 30while on Sunday, an art exhibition featuring Nurudeen Popoola's works will also hold.
Mr. Abolore expressed his delight at hosting this author and journalist at the centre.
"It becomes a social responsibility for every community to better equip their youths with necessary tools to think creatively,'' he said. "Helping our youth through art programmes may be one of the most important steps we can take as individuals and as a society.
"With the Jelosimi Art Center, we hope to engage children and youth both in school and out of school with the teaching of moral values, self-discovery, life skills development, leadership, team building, history of our past heroes, goal actualization, monitoring and evaluation."