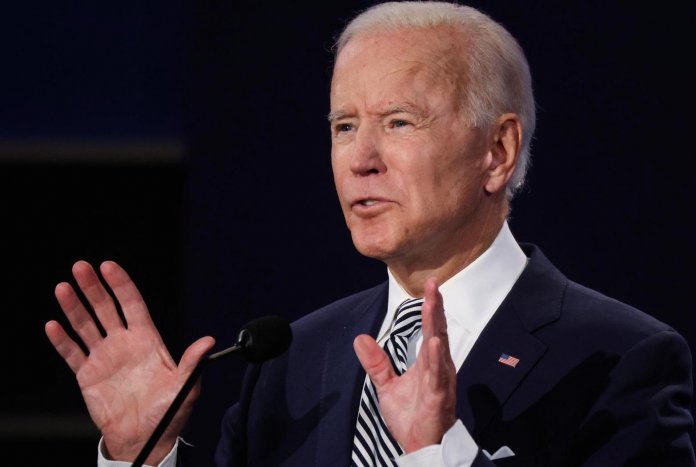 •Pence, Clinton, Bush, Obama grace inauguration
•Buhari congratulates new president
Deji Elumoye in Abuja, Nseobong Okon-Ekong, Vanessa Obioha in Lagos and Martins Ifijeh in New Jersey, United States
The United States yesterday opened a new chapter in its political history as Senator Joseph Biden from Delaware took his oath of office as the 46th president.
Biden, sworn in along with Vice President Kamala Harris, in his inaugural address, spoke glowingly about the US democracy, tested to the limit by the acrimony over the outcome of the November 3, 2020, presidential election, saying finally, democracy prevailed.
He rallied Americans, badly divided by the acrimonious contestation for power in the last election, to a new beginning.
With his inauguration, President Muhammadu Buhari congratulated Biden, saying he looks forward to working closely with him.
Biden's inauguration, conducted in compliance with COVID-19 protocols was witnessed by the immediate past Vice President Mike Pence, former Presidents Bill Clinton, Barack Obama and George Bush Jnr., among other dignitaries.
It, however, was foregrounded by a security siege, which saw Washington DC militarised following threats of domestic terrorism by supporters of immediate past President Donald Trump, who were on January 6 incited by Trump and his allies to attack the Capitol in a bid to stop the Congress from certifying Biden's victory in the election.
Trump, who until January 6, made several claims to discredit the election, is yet to acknowledge he lost the presidential race or congratulate Biden.
Trump left the White House hours before the inauguration and was not in attendance, a final display of irreverence for the traditions and norms that have long shaped the presidency.
Biden's inauguration brought to a final closure the bitter dispute over the outcome of the presidential election, which Trump fought till his last day in office, making him buck the trend of an outgoing president extending all succession courtesies to the incoming one.
Biden committed his administration to marshal a spirit of national unity to guide the country through one of its most divided era in history.
Millions of Americans watched from home as Chief Justice of the United States, John Roberts, administered the oath of office on Biden on the steps outside the West Front of the US Capitol, just two weeks after they watched in horror as a mob of supporters loyal to his predecessor stormed the building in a violent last stand to overturn the results of the presidential election.
Biden, in his inaugural speech, said he was ready to bring the country to a common path of unity, noting that although the forces that divide the country are deep and real, he believes unity is the only successful path forward for the country.
"The will of the people has been heard, and the will of the people has been heeded. We've learned again that democracy is precious and democracy is fragile. At this hour, my friends, democracy has prevailed," he said, adding: "This is America's day. This is democracy's day. A day in history and hope, of renewal and resolve.
He pursued the theme of unity: "I know speaking of unity can sound to some like a foolish fantasy these days. I know the forces that divide us are deep and they are real. I also know they are not new. Unity is the path forward. America's history is a constant struggle between our professed ideals and its lived reality. This is our historic moment of crisis and challenge, and unity is the path forward."
The president then pointed to Harris being sworn in as vice president as an indication of how much positive change the nation can achieve.
"Don't tell me things can't change," Biden said, adding that, "the nation must confront white supremacy," possibly becoming the first president to utter that phrase in an inaugural address. "The dream of justice for all will be deferred no longer," he added.
Biden swore to defend the constitution and the country "against all enemies, foreign and domestic."
Biden, who looked out over a capital city dotted with empty storefronts that attest to the pandemic's deep economic toll and where summer protests laid bare the nation's renewed reckoning on racial injustice, added: "We'll press forward with speed and urgency, for we have much to do in this winter of peril and significant possibilities: much to repair, much to restore, much to heal, much to build and much to gain.
"Few people in our nation's history have more challenged, or found a time more challenging or difficult than the time we're in now," Biden stated.
In a speech that touched on the broad challenges facing the country, the president reassured Americans that the country would move forward despite deep divisions.
He also touched on what he sees as the four biggest challenges facing the country: the COVID-19 pandemic, racial injustice, climate change and the resurgence of white supremacy.
"So today, at this time, in this place, let's start fresh. Let's begin to listen to one another, hear one another, show respect to one another," he said.
He also addressed the calls of a stolen election that led to the Capitol Riot two weeks ago.
"Recent weeks and months have taught us a painful lesson: This is truth and there are lies. Lies told for power and for profit. And each of us has a duty and a responsibility as citizens, as Americans and especially as leaders, to defend the truth and defeat the lies."
Throughout the address, Biden emphasised that his administration would move forward, progressing and tackling the issues facing the country.
The new president discussed the millions of jobs lost due to the pandemic, as well as a need for racial reconciliation in the US.
He said he would rebuild the middle class and appealed to those who did not vote for him to listen to his message.
Harris' oath of office was administered by the first black woman on the Supreme Court bench, Justice Sonia Sotomayor.
Lady Gaga rendered the national anthem and Jennifer Lopez performed a rendition of Ray Charles 'America, the Beautiful.'
Trump's absence at the historic event underscored the healing that Biden needs to bring a divided country together.
Flouting tradition, Trump departed Washington for Florida yesterday morning shortly before his successor's inauguration.
At 78, Biden is the oldest president ever to take the oath of office.
Part of Biden's legacy was secured even before he placed his hand atop a large, 19th-century Bible, and a family heirloom accented with a Celtic cross and held by his wife, Jill.
Biden, the vice president to the nation's first black president, Obama, elevated Harris as America's first female, first Black and first Asian-American vice president.
Fear and anxiety surrounded the lead-up to Biden's inauguration. The threat of more violence resulted in the deployment of nearly 25,000 National Guard troops, transforming the shining city upon a hill into a military fortress.
The pandemic had already greatly reshaped the inaugural events and ceremony, which typically draw hundreds of thousands of spectators to the National Mall.
Much of the area was closed. Instead, flags from the states and territories represented those who the inaugural committee had urged to stay away, out of concern that large crowds would spread the COVID-19, which has now killed more than 400,000 Americans.
The inauguration brings to a close one of the most volatile transitions in modern memory, an interregnum that tested the fragility of America's commitment to an orderly and peaceful transition of power. For weeks after his defeat, Trump whipped up loyalists with baseless allegations of a stolen election.
His claims were dismissed by dozens of courts, security experts, Republican election officials and his then attorney-general.
But Trump refused to accept defeat, a decision that culminated two weeks ago in the assault on the US Capitol, where rioters attempted to stop Congress from certifying Biden's win.
Hours after being sworn in, Biden was expected to return to the White House to begin undoing what his chief of staff described as "the gravest damages" of his predecessor's legacy.
With a sense of urgency intended to reflect the magnitude of the tasks before him, Biden will sign 15 executive orders, as well as a flurry of memorandums and decrees from the Oval Office, according to his top policy advisers.
He will immediately rejoin the Paris climate accords, end the effort to leave the World Health Organisation, repeal a travel ban on several predominantly Muslim countries, revoke the permit for the Keystone XL pipeline and extend a pause on student loan payments and a federal moratorium on evictions and foreclosures.
He will also send a sweeping immigration bill to Congress and impose a national mandate requiring mask-wearing in federal buildings and interstate travel.
Taken together, the Biden administration hopes to mark a sharp break with the reality show drama that captured the White House for the last four years by demonstrating a commitment to the work of governing.
Nearly half a century after he was sworn in as one of the nation's youngest senators, he became the oldest president to take the oath of office.
A veteran of Washington first elected to the Senate in 1972, where he served until becoming vice president under Obama in 2009, Biden enters the White House with one of the deepest résumés in American political history, an experience he will rely on as inherits a country ravaged by disease, economic turmoil and political upheaval.
Loss and recovery have marked his long career in public service. His first wife and his daughter were killed in a car accident days after his election to the Senate.
In 2015, he buried his eldest son, Beau, who died of brain cancer. In a tearful farewell address to his home state of Delaware on the eve of his inauguration, Biden said: "I only have one regret: that he's not here."
Biden's rise to the presidency, the realisation of a life's dream was paved with false starts and bad timing.
A plagiarism scandal plagued his first run. Outshone by the history-making candidacy of his Democratic opponents in 2008, Biden bowed out before the Iowa caucuses. Then, in 2015, still mourning the loss of his son, Biden opted not to run.
Buhari Looks Forward to Working with Biden
President Buhari yesterday congratulated his US counterpart, Joe Biden, on his inauguration as the 46th president, saying he looks forward to working closely with him.
Buhari, in a statement by his media assistant, Malam Garba Shehu, expressed hope that the Biden presidency will mark a strong point of cooperation and support for Nigeria as well as Africa.
Buhari, in congratulating the leaders, and the entire United States on the successful transition said it marked an important historical inflexion point for democracy as a system of government and for the global community as a whole.
"We look forward to the Biden presidency with great hope and optimism for the strengthening of existing cordial relationships, working together to tackle global terrorism, climate change, poverty and improvement of economic ties and expansion of trade.
"We hope that this will be an era of great positivity between our two nations, as we jointly address issues of mutual interest," the president stated.