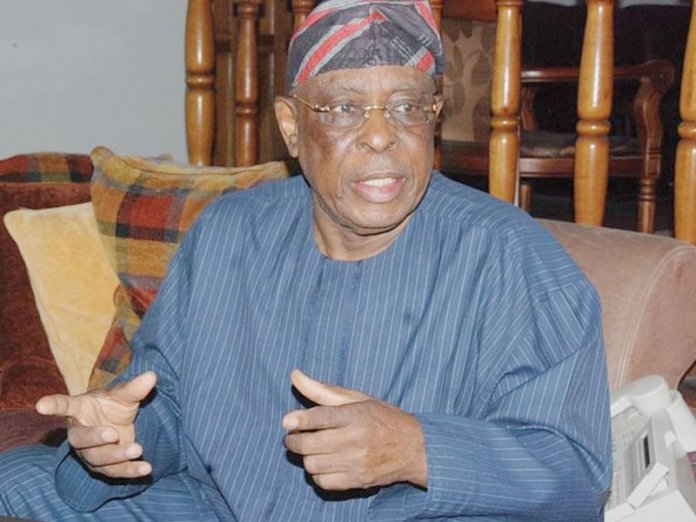 Adedayo Akinwale in Abuja
A former Governor of Ogun state and a chieftain of the All Progressives Congress (APC), Olusegun Osoba, has revealed that there was a gentlenan's understanding during the 2013 merger that the presidency will rotate between the North and the South.
The Congress for Progressive Change (CPC), All Nigerian Peoples Party (ANPP), Action Congress of Nigeria (ACN) and a faction of All Progressive Grand Alliance (APGA) came together to former APC.
Osoba disclosed this when he featured Tuesday on the Good Morning Show on ARISE TV, the broadcast arm of THISDAY.
He said as the chairman of the constitution drafting committee during the merger, they were careful not to use the word "zoning" so as not to be in conflict with the constitution, but agreed that the North should produce the president, while the chairmanship position of the APC should be produced by the south.
Osoba stated: "My honest opinion is this, i was the chairman of the constitutional drafting committee of the APC merger. We of ACN, we were the dominant group from the South and the Southwest is the home and the root of progressive politicking.
"Part of the understanding in the case of rotation is a conventional understanding that the presidency will move between the North and the South. That was the reason why we now allowed the chairman (of the party), i dont want to use the world zoning, because we definitely did not put zoning, we know it may go in conflict with the Nigerian constitution which says anyone who is a Nigerian, who has read up to school certificate can contest and at the age of 35 I think can contest for the presidency of the country.
"But there was a clear gentlemanly understanding that the northern part of the country will produce the president when we did the merger in 2013, and the chairman of the party will then come from the south," Osoba added.
The APC chieftain noted that though there was so much noise from the East, but added that nobody had contacted him or other chieftains of the party to show interest in running for president in 2023.
‌
According to him, as an elder in the party, nobody from the South-east has contacted or consulted me to lobby, to even say they are interested.
Osoba was also of the opinion that the national leader of the party and a former governor of Lagos State, Asiwaju Bola Tinubu, had the right to contest for president in 2023.
He stressed that the South-West must unite and put its home in order to achieve success in the next presidential election.
"Asiwaju Bola Tinubu as an individual has the right to put himself forward, we have not zeroed in on an individual. Zeroing in on any individual will destroy our efforts now but Asiwaju Bola Tinubu has a right to pursue his own agenda," he said.