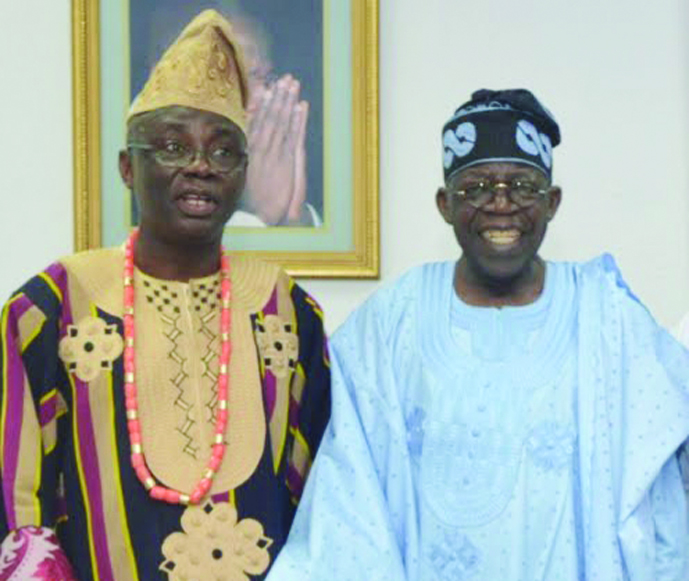 Pastor Tunde Bakare of the Citadel Global Community Church, must learn to differentiate the pulpit from the soapbox, writes Shola Oyeyipo
For many followers of Nigeria's politics, the overseer of the Citadel Global Community Church, formerly known as the Latter Rain Assembly (LRA), Pastor Tunde Bakare, is one Christian leader, who is prominent in the country's political hemisphere, not just because of his often fearless interventions, but also because he became the vice-presidential running mate to incumbent President Muhammadu Buhari in 2011.
However, following an eleven minutes and forty-seven seconds message he gave on Wednesday, 23 December 2020, on the altar of his church and the reactions that have trailed the content of what was outright eulogies of a former Lagos State governor and one of the national leaders of the ruling All Progressives Congress (APC), Senator Bola Ahmed Tinubu, it is high time the respected Man of God (MoG) separated the pulpit from political campaigns.
No doubt, as a very active student union leader during his days at UNILAG, a lawyer and eventually pastor, one could rightly say fearlessness and activism run in his blood and arguably, his contributions to issues of urgent national importance are usually timely and pro-citizens. But preaching the word of God does not permit the double speaking and the U-turn he recently made about Tinubu.
Just recently, precisely on October 28, 2019, his criticisms enabled newspapers to publish stories such as: 'Bakare Attacks Tinubu.' The clergy, in an encrypted message, categorically stated that Tinubu would give accounts of all his deeds; that he shouldn't be seen as a generous man, adding that he was an integral part of the rots in Nigeria. He would in yet another usual vituperation that he could never be as great as the late sage, Chief Obafemi Awolowo, whom he's tried to stealthily outdo.
But in his latest viral video, Bakare came all out to defend Tinubu against those, who probably found him unfit to lead the Yoruba race to any national political negotiation after the obvious failures of the Buhari-led APC federal government and the humiliation he was considered to have received from the party he helped form.
The preacher said so much to demean some elder statesmen especially from the Yoruba extraction, whom he described as strange bedfellows that suddenly came together. He likened them to Pilate and Herod, who came together simply because they wanted to kill Jesus.
For those familiar with the Nigerian politics as well as the Yoruba politics in particular, it is not difficult to identify those Bakare was referring to. They are no less than some of Afenifere leaders, who had maintained that Tinubu made a huge mistake entering into political partnership with President Buhari, whom they claimed was not a democrat, but a dictator preoccupied with Fulani agenda.
Without prejudice to Tinubu's political sagacity and his avowed accomplishments, there is no hiding the fact that some elements in the APC are already treating him as though they have used and dumped him. Already, those elements have wooed the likes of Governor Dave Umahi of Ebonyi State, a Peoples Democratic Party (PDP) member into the APC so that when the Yoruba are used and dumped, the Igbo could equally be used to ensure that another northern candidate emerges after Buhari in 2023.
This surely calls for concern and if Tinubu was left all by himself to confront these power mongers, tendencies are that the entire Yoruba race might be taken for granted, while the era of reckless and unproductive leadership would continue, and the country would not cease to accelerate backwardly.
Bakare must have been very pissed off about something, which could be nothing more than an attempt to bring him to work with Obasanjo, whom he obviously has a no-love-lost relationship with hence he spared no word in castigating Tinubu's 'traducers.'
Arguing that where Tinubu hails from would not address the problems confronting Nigeria presently, he said: "I have a word for some Yoruba people whose stock in trade is rancorous noise characterised by bitterness and resentment about the ancestry of former two-time governor of Lagos State, Asiwaju Bola Ahmed Tinubu.
"I said I have a word for those Yoruba rancorous elements – noise makers, who have not achieved as much as Asiwaju Bola Tinubu had achieved but they are always querying and worrying themselves about his ancestry
"Knowing the names of Asiwaju's biological mother or father or his place of birth cannot put food on the table of the hungry or create job for the unemployed and the unemployable…and truth be told, without his cooperation and political dexterity the APC victories at the polls in 2015 and 2019 would have been impossible."
Though he said emphatically that he was not Asiwaju's brand manager nor has he endorsed everything people might have read about his present or his past or his lifestyle, his politics, his businesses, he however noted on his behalf that just as every saint has a past, every sinner has a future and that the best of men are still men at the very best.
Certainly, not many brand managers could do better considering the personality of Bakare and his position as a church leader. It is an endorsement that goes far beyond the walls of the church.
His words for the Yoruba leaders were that they should accept their humble pie and eat it, noting that, "When you were sleeping Asiwaju Bola Tinubu was working day and night. He secured Lagos, secured Oyo, secured Osun, secured Ekiti, secured Ogun, secured Edo and you say he is a nobody. Ode (fool)! You think he laboured that much to say, "Come and take?" No! He is not a fool. He is not an idiot. Stop all these nonsense about ancestry
"You will kill your heroes and those who can deliver you, you will put them aside – all these shakabula (dane gun) leaders. They don't have machine guns. He that has ears to hear let him hear," he concluded.
He contended that Tinubu has a past just as everyone and vowed to defend the right of even his enemies, when they have that right, stressing that, "I read it on his 60th anniversary interview; he said: 'OBJ is my hero, I learnt how to be transparently corrupt from him."
He didn't stop at that. He also likened him to the biblical Jephtha, who "rescued Lagos State and nearly the entire South-west from the onslaught" of the then ruling but now opposition PDP between 1999 and 2007. This, coming from the pulpit, incensed many and elicited deserving uproars among members of the public, who are questioning the use of his pastoral position to feather his nest in politics.
In "7 Things the Pastor Can't do from the Pulpit", published in Church Leaders on April 30, 2014, Joe Mceever, an American preacher of over 60 years with forty-two years pastoral experience, maintained that the Pastor "cannot bring someone, into the pulpit, even for an interview, whose life is a contradiction to the way of Jesus Christ".
Even if Pastor Bakare could defend Tinubu's right against his so-called traducers, would he say bringing him to the pulpit and before his congregation would edify the people? The pulpit is what the ordinary podium is to a politician, especially during election campaigns. The message of the pulpit must be preached everywhere, but politics must be restricted to the space allowed for politics.
It is instructive to note that throughout his earthly ministry, Christ preached only one topic – Love – as qualification into the kingdom of God, even while on earth. He never seized the opportunity of the congregation of the people whether on the mountain or the riverbanks for non-eternal values. He concerned himself only with the teachings that lead the people to God.
The church of Christ and its preachers have a role to proclaim Christ and allow nothing but nothing to subvert that message. Anything that would desecrate the good news must be done away with.
This is not suggesting that Christians or church leaders should avoid politics, this is more so because a lot of Nigerians do not see it as totally wrong for pastors to be actively involved in politics, provided they could distinguish between the two offices and bring the benefit – Love – from their spiritual background to bear on their political stewardship.
Since the advent of the Fourth Republic in 1999, various pastors and preachers have been on and off the political terrain, participating as state governors, deputy governors, ministers, local government chairmen, and other elective and selective positions.
Current Vice President, Professor Yemi Osibajo, a senior pastor in one of the leading Pentecostal churches, The Redeemed Christian Church of God (RCCG), is presently the highest office holder among the bunch of 'ministers in politics'.