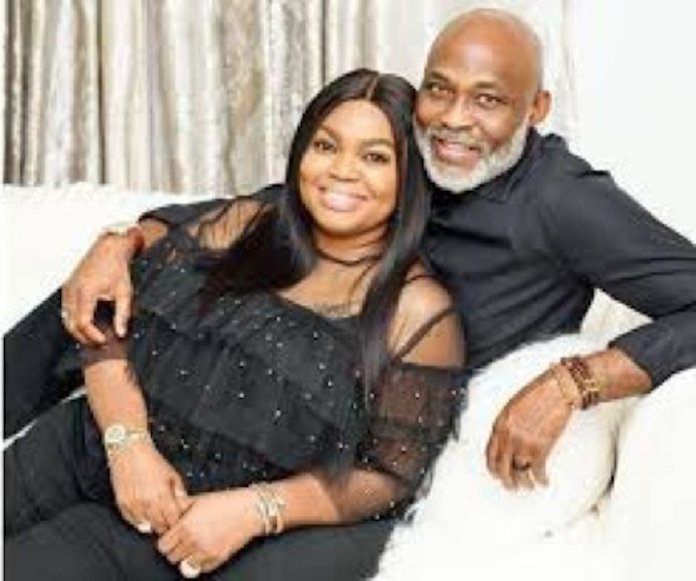 As a popular Nigerian musician said years ago, there's no point getting it twisted—love is already a beautiful thing. This is the case indeed for dimpled charmer and legendary Nollywood actor, Richard Mofe-Damijo, and his wife, top Globacom Executive, Jumobi Abike. Twenty years together and their union is as old wine—sweeter and sweeter as the years progress.
Even beyond the Nigerian silver screen, RMD is a force to reckon with. A charmer, to be sure, the man's successful career hinges on his brilliant performances, regardless of roles. What some people miss is that there is a powerful lady behind that brilliance: his wife and partner of over 23 years now.
Of course, RMD has made it an annual custom to remind folks of the significance of Jumobi in his life and family. This year, come December 29, the 59-year-old actor is sure to drop a series of encomiums in the lady's name. Twenty years together in holy matrimony, since RMD was 39 and Jumobi was 28.
According to reports, the union has been nothing but instructive and engaging since they started dating in 1997. At the moment, their union has produced five thriving children and two lovely grandchildren. Furthermore, both of them have come a long way since 2000, with RMD now a veteran Nollywood figure, lawyer, journalist, and former Delta State Commissioner for Culture and Tourism, and Jumobi being an upper-level executive at Nigeria's leading telecoms company, Globacom.
With respect to the 20th anniversary, folks are saying the celebrated couple are making preparations to enjoy a private time abroad, just a peaceful environment to reminisce about their lives together since the new millennium, and make new blueprints going forward. Nothing is sure yet. Notwithstanding, folks are ready to bombard their social media handles with celebratory messages. In a world where separation is as rampant as human emotions, 20 years in matrimony is a milestone.