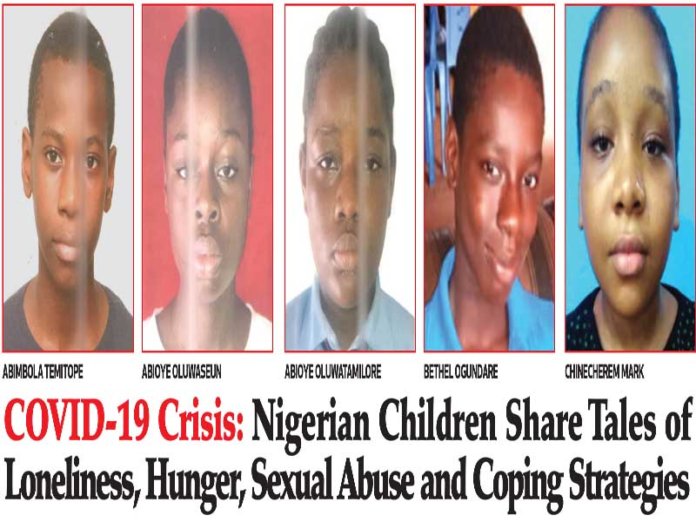 SPECIAL REPORT
As COVID-19 disrupts global norms, Nigerian children are anonymous victims of the pandemic. Bayo Akinloye writes about their angst and coping strategies in dealing with a virus that threatens their future
In her skimpy dress, nine-year-old Joy skims about the neighbourhood with her noisy friends. They are usually on the street where she lives in Lagos, kicking dust into the sun-filled clouds while her four older siblings chatter endlessly with their neighbours on the balcony of the third floor of a face-me-I-face-you apartment.
In the adjoining bungalow building, eight-year-old 'Mama' with her dirty doll in one hand supports her legs as she peeps through a window of one of her neighbours, whispering inaudibly to Junior and Joan if she can join their online class.
Elsewhere in Nigeria, Bade cries ceaselessly tugging at his mother's dress. It's 11 am and the family have not heard breakfast. The eight-year-old continues to cry as he rolls on the floor. The mother looks on helplessly. She looks at the wall clock and heaves a sigh of regret. No one is having breakfast until 1 pm.
Thirteen-year-old Rose's muffled agonising groans have gone unnoticed for many nights since her mother left her when she was a little child. Her father has been raping her nights after nights, physically assaulting her when she tries to stop him, in a one-room apartment they shared. The father has been arrested.
Joy, 'Mama,' Bade, and Rose are the faces of millions of Nigerian children, who often go unheard and anonymous though they are also grappling with the global coronavirus pandemic. As of Friday, December 25, 2020, 81,963 people had tested positive for the virus, 69,651 persons discharged, and 1,242 killed. While filing this report, there was no available statistics about the number of Nigerian children who had contracted the virus (In October, more than 100 pupils of a private school were reported to have tested positive for the virus; another case of a boarding student was reported in November). As of December 17, over 1.8 million children in the United States had caught COVID-19.
While most Nigerian children are free from the agonies of catching coronavirus, isolated and being treated, interviews with scores of them suggest that many have struggled and may be grappling with a measure of mental health issues and pandemic fatigue.
"I must confess, however, that during the lockdown, it was not all roses. There were times I felt lonely and bored," says 15-year-old Abimbola Temitope, an SSS3 student at Mictec High School.
He is not alone. Many other school-age children who spoke with THISDAY talked about feeling lonely and holed up.
"As a 13-year-old, I had faced challenges that dared to threaten my mental health. But I was able to adjust to the new style of life that (COVID-19) imposed on me," Abioye Oluwaseun admits.
Many of the kids complain of boredom which should be a cause for concern for parents, educationists, and public health practitioners as the likelihood of a second large-scale lockdown in Nigeria looms.
A study indicates that boredom has a darker side. "Easily bored people are at higher risk for depression, anxiety, drug addiction, alcoholism, compulsive gambling, eating disorders, hostility, anger, poor social skills, bad grades, and low work performance," says ScientificAmerican.
Eight-year-old Victory Ezekiel, six-year-olds Chinecherem Mark, Latonya Omoregie, and Future Ezekiel all complain of boredom and loneliness.
"I felt lonely and bored," laments eight-year-old Ezekiel, who attends Life Kids School just as scientists say boredom plays a role in everything from drug addiction to academic failure.
Havilah Nwachukwu's response is telling, "(I felt lonely and bored) sometimes even when I was watching the TV; I felt like going to school." His other schoolmates at Cross and Crescent International Nursery and Primary School, Rogba Adesanya, Khyrat Olasupo, and Victory Ilesanmi, all eight years old (except Olasupo, 6) found boredom very difficult to cope with.
Since the first lockdown and closure of schools in Nigeria because of the pandemic, life has not been the same for many young children who largely depend on adults. Lockdown restrictions were first imposed on the country on March 30, some weeks after the first official case of COVID-19 was announced on February 27. An Italian working in Nigeria had arrived back in the country and tested positive for coronavirus. From that index case, confirmed cases of the virus are steadily rising to about 100,000.
Public health experts such as Datonye Briggs and Tamuno-Wari Numbere of Department of Paediatrics, Rivers State University Teaching Hospital, and Department of Public Health, Rivers State Ministry of Health, respectively, understand the understated mental health dilemma Nigerian children may be facing.
"It is plausible that prolonged physical and social distancing, lockdowns, and closure of schools can harm the psychosocial well-being of children," Briggs and Numbere reveal in a recently published research.
"Children are undeniably caught in the predicament COVID-19 is causing and their overall well-being risks being overturned due to the impact already ensuing in their families and immediate surroundings."
Both, painfully admits that Nigeria, like other African countries, is less likely to consider the impact of COVID-19 on children early in the course of the response.
Finding Solutions
It took a couple of months for many schools to figure out how to engage with schoolchildren in their homes via WhatsApp, Microsoft Teams, Zoom, and other videoconferencing applications. Yet, benefitting from the online classes was a luxury for children like Joy, Bade, 'Mama,' and others like them. For those who had access to smartphones and were part of the online educational programme improvised by their schools, things were not as rosy as they expected.
Six-year-old Olasupo puts it this way: "Well, half a loaf is better than none. And thanks to my parents who spent a lot of money to buy data in order for me to be able to access the internet."
A JSS3 student at Mictec, Olayiwola Awosika, explains why the online school was "half a loaf."
"It was fun when I joined at first, but it did not really help me as I hoped. Wi-fi problems and disconnection were problems that we faced during the online classes," the 13-year-old points out. Due to poor internet connection, it was difficult for students to hear what their teachers were saying.
Nabeelah Bello, a JSS 1 student, says of her online learning, "Learning via Zoom was a little difficult."
She adds, "The virtual classes really helped in some aspects but it came with challenges. I learnt less during virtual classes because I did not have direct access to my teachers. We had limited time to learn. Learning through that medium also has some health challenges like (causing) eye problems (staying for hours on the laptop)."
Apart from complaining of having issues with their sight, some schoolchildren lament that looking at the screen for so long causes them to have a migraine. Another challenge they mention is not having their own personal smartphones or computers.
For many public schools, Nigeria's government organised daily live teaching sessions on radio and television at scheduled periods on some days of the week, yet reports show that many children living in semi-urban and rural areas without access to internet services and limited electric power supply could not benefit.
As the UN noted, during this coronavirus pandemic, 188 countries imposed countrywide school closures, affecting more than 1.5 billion children and youths, stating that the potential losses that may accrue in learning for today's young generation, and "for the development of their human capital, are hard to fathom." More than two-thirds of countries have introduced a national distance learning platform, but among low-income countries the share is only 30 per cent.
Virtual Vibes
It is not all doom and gloom for virtual classes.
"It did help to refresh our memories of previous works or topics done during school time and kept us going as students," Awosika acknowledges.
For Olampemi Arowolo, the virtual classes were more than instructional.
"I got to catch up on all of my classes and complete class notes. It was also helpful in the sense that I got to learn at my pace and time. It was also an easy way of learning because I could do my classes anywhere, once I had my laptop with me. The video recording was also useful because, after the classes, I could still go back and listen to the explanations the teacher had given for better understanding," explains Arowolo.
The studious JSS1 pupil says she likes the fact that "I could pause, rewind, and fast-forward when I needed to take a break or listen to it again."
Twelve-year-old Edomobi Uchechukwu says she enjoys online classes too.
"When Mictec decided to start virtual classes, I was beyond relieved because I missed learning. I missed my classmates, my teachers, and also missed being in a classroom. The virtual class was, however, a relief which was a better option than being idle at home," Uchechukwu reveals.
Ganiyu Abdul-Lateef, 14, an SS2 student, adds, "My school helps us during the period by making possible the provision of virtual classes to help us learn from our various homes. The teachers tried to teach online classes just like they did in school. The classes helped to refresh our brains and paved the way to learning new things."
Gilbert Uchenna, an SS3 student, is not certain what could have happened to his study ethics without a virtual school.
Uchenna admits, "The virtual class helped me to overcome laziness since it brought me back to academic life. It has had a great impact on students. If not for virtual learning, students could have forgotten almost all they had learnt."
For Abioye Oluwatamilore, virtual classes were instrumental in being able to gain admission into a secondary school. The JSS1 pupil says, "The solution for schools being shut down was virtual class. It was quite a good solution since it was really helpful because I was not bored or lonely anymore. I could learn new things and sit my exams."
Hunger-stricken Children
In dialogue sessions in Jos, Plateau State, organised by the US Institute of Peace (USIP), community members discussed how some families were forced to devise survival strategies during the pandemic — though many coping mechanisms came at the cost of girls' safety. Participants shared stories of three children, ages eight to 11, running away from home out of fear of hunger and abuse.
Community members reported five incidents of girls who alleged incidents of sexual exploitation and abuse or were forced into prostitution as a source of income for the family. Also, it was reported that school closures had led to increased child marriages. One mother told the dialogue group, "It became so difficult for my husband and me to feed our eight children, that we decided to marry off our first daughter who is in secondary school. At least she and her husband can support us."
Even though Nigeria's Home-grown School Feeding Programme appears politicised and largely controversial as those in the opposition claim that the scheme to offer free meals to young children in public schools is another "job for the boys," the fact that schools were shut down was one blow too much for impoverished schoolchildren.
Across 143 countries, child nutrition is a vital concern with 368.5 million children relying on school meals for a reliable source of daily nutrition.
To put it in perspective, an estimated 42 to 66 million children "could fall into extreme poverty" as a result of the coronavirus crisis this year, adding to the close to four million children already in extreme poverty in 2019. Besides, economic hardship experienced by families as a result of the global economic downturn could result in hundreds of thousands of additional child deaths in 2020, reversing the last two to three years of progress in reducing infant mortality within a single year.
Says nine-year-old Oluwatamilore, "My dad worked from home and my mum couldn't work at all. There were low business activities for my parents which meant a reduction in income."
Daniel Jackson, also in JSS1, shares a similar sentiment: "It was also hard for my parents to provide food for me. Because of the COVID-19 pandemic, my parents were not able to go to their offices because they had to stay indoors."
Among the scores of children spoken to by THISDAY say hunger is a regular feature in their homes. "COVID-19 brought a lot of challenges such as hardships, deaths, a high rate of poverty, loss of jobs, fear, and anxiety," 12-year-old Uchechukwu sums it up.
It is against this backdrop that a UN Sustainable Development Goal policy brief, 'The Impact of COVID-19 on Children,' states, "Children are not the face of this pandemic. But they risk being among its biggest victims. While they have thankfully been largely spared from the direct health effects of COVID-19 – at least to date – the crisis is having a profound effect on their well-being."
It adds, "For some children, the impact will be lifelong. Moreover, the harmful effects of this pandemic will not be distributed equally. They are expected to be most damaging for children in the poorest countries, and in the poorest neighbourhoods, and for those in already disadvantaged or vulnerable situations."
COVID-19-induced Sexual Abuses, Child Marriages
Briggs and Numbere believe that children will suffer from the effects of an abusive parent or guardian regularly because there is nowhere to seek help and avenues to let out their frustrations are "very limited" due to the closure of schools, adding that there is a likely increase in physical and sexual abuse, with children being "at increased risk of indecent exposure to pornography, and increase in teenage pregnancies."
"We are worried. The lockdown led to an over 50 per cent increase in the number of reported cases of sexual violence at our centre (Mirabel Centre -Sexual Assault Referral Centre, Lagos). Up to 85 per cent of those cases were children," says Executive Director of Partnership for Justice, Itoro Ezeanaba.
She fears the figure may be higher.
"When this all ends and children are free to go out and back to school where they will be able to meet people they can confide in, we may witness an influx of cases," she points out.
UNICEF underscores that point as its data reveals that Nigeria has the largest number of child brides in Africa with more than 23 million girls and women who were married as children. While data suggests a decline of nine per cent in the prevalence of child marriage since 2003, and a projected further decrease of six per cent by 2030, Nigeria's rapid population growth means that the number of child brides will in fact increase by more than one million by 2030 and double by 2050.
The Lagos State government's domestic and sexual violence response team reported a three-fold increase in gender-based violence incidents in the first month of the pandemic. This "bleak situation is only expected to worsen" as COVID lockdowns continue or are reinstated.
An estimated 2.5 million girls globally are at risk of being forced into child marriage in the next five years due to mounting economic pressures related to the pandemic, according to Save the Children and one million additional pregnancies are expected as a result of child marriage in 2020 alone. Worse still, as a result of the pandemic, efforts over the last 25 years to decrease early marriages around the world will be set back.
How The Children Coped
Nwachukwu, Ilesanmi, Adesanya, and Olasupo have their parents and teachers to thank, so do other children like Omoregie, the Ezekiels, Mark, and Victory God'sWill, who talked with THISDAY.
"I thank my parents and my school teachers for their efforts during this coronavirus period. They helped me to stay safe, academically alert and to have some fun by playing games at home," God'sWill acknowledges.
For the duo of Bethel and Zion Ogundare, who are siblings, they believe that their mother's constant reminder to always wear a face mask is life-saving. "Our mom has been very helpful, no doubt. She ensures that we have one or two face masks in our school bags. Even though she's very busy, she's always supportive."
Though a difficult period, Awosika shares what he learnt during the lockdown, "My only solace was my family members, especially my mother. During the lockdown, I learnt how to shade properly when drawing. I learnt from my mom, how to convert old jeans and trousers into bags and shoes. I also learnt how to train my dog too."
For 14-year-old Abdul-Lateef, his siblings came in handy. "My siblings helped me cope well during this period as we all used the period as an opportunity to discover new skills. We would go on food blogs and try making new meals that include both intercontinental and African dishes. It was through this means I recently learnt how to make snacks like puff and egg rolls. We also baked chocolate cupcakes together."
Speaking in a similar vein, Bello says, "The lockdown period has really made me appreciate my mum for her love and care that she showed to me during that period."
Arowolo shares her experience, saying: "My family members were a good support system for me. My mum and I bonded more. My family and I got the opportunity to spend more time together. Reading my Bible and praying also helped me cope well. I learnt wool knitting. I also developed a liking for writing stories. I sang, wrote songs, and danced and still do so up till now. My dad taught my brother and me how to ride a bike."
Uchechukwu believes his family played a key role in helping him to cope. "We had family dinners; game nights and we were able to bond very well. Other things that helped me cope well were video chats with my friends, listening to music, reading novels, and watching Netflix," the 12-year-old tells THISDAY.