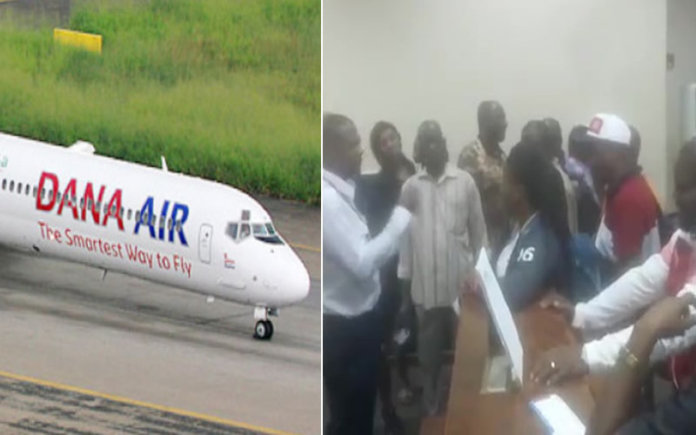 Chinedu Eze
Earlier in the week a video was circulating where a passenger became violent when Nigeria's carrier, Dana Air delayed its flight from Abuja to Lagos.
This is one of the series of incidents that occur when flights are cancelled or delayed.
There were occasions passengers had to beat up airline officials when their luggage was delayed and in 2018 December, some passengers tried to stop Turkish Airlines flight from taking off from the Nnamdi Azikiwe International Airport, Abuja because the airline did not bring back the luggage of the passengers in the same flight. On this occasion, they had matched into the tarmac and wanted to stop the aircraft from taking off, an action that led to the suspension of the head of Aviation Security (AVSEC) at the airport.
So the Dana Air incident is one of many air rage incidents that take place at the nation's airports.
The video that has gone viral over the incident showed a physically challenged passenger, Dr. Chike Okogwu who was in wheelchair and was shown destroying computers and other office equipment that belonged to the airline at the Abuja airport.
What prompted the action of Okogwu was his denial to fly by the airline after it rescheduled its Abuja to Lagos flight, which the airline had issued a statement apologising to passengers.
The airline had explained in a statement signed by its spokesman, Kingsley Ezenwa, that on Friday 18, and Saturday 19, December 2020, two of "our aircraft became unserviceable in Lagos and Abuja respectively, compelling us to ground both aircraft in line with our strict safety standards and global best Practices
"This is really not a good time for disruptions having increased our flights recently to meet the expectations of our guests and ensure no one is left stranded without a flight this Yuletide, but we had no option than to ground both aircraft in the interest of the safety of our crew and guests while our other serviceable aircraft continue to operate as scheduled," the statement said.
Reacting to Dana Air's response to Okogwu, the Association of Lawyers with disabilities in Nigeria (ALDIN) said it was horrified by the alleged discriminatory conduct of Dana Air against members of its community, in the person of Dr Chike Okogwu.
"The facts and evidence available to ALDIN is that Dr. Chike Okogwu had boarded a 7:20pm flight from Abuja to Lagos on December 20, 2020, which was rescheduled by Dana Air to 9:05pm. At the time of Boarding, Dr. Chike Okogwu was told that he could not travel along with the others because he was a wheelchair user.
"Note that there was no previous warning to this shocking turn of event. It was Dana Air that rescheduled the flight of Dr. Chike Okogwu to night and then again turned around to say they cannot fly him at night because he was a special person – the airline is precluded from approbating and reprobating at the same time.
"The intentional discriminatory measures and breach of contract against passengers with disabilities by DANA Air is manifestly reprehensible," the association said.
But Dana Air spokesman further explained, "Our attention has been drawn to a violent conduct by a passenger named Dr. Chike Okogwu, on our staff and booking systems at our Abuja station yesterday the 20th of December, 2020
"To put the issue into proper perspective, the said passenger (a PWD Person With Disability) who we regard as Special Passengers at Dana Air, got to our counter yesterday, 20th December 2020 at about 8pm for his flight and when our Duty Manager noticed him in the midst of the upsurge of passengers, approached him and politely explained to him that as a matter of policy, comfort and safety of our guests, we do not carry Special Passengers at night while offering to check him in first, on the 7am flight the next day.
"The said passenger blatantly refused the offer and went violent on the Duty Manager causing her injuries in the process. This same passenger also went further to destroy our check-in systems, chairs, Covid-19 Protective glass shields and weighing machines at our counter in Abuja. (We have our video evidence)."
An official of Airline Operators of Nigeria (AON) who did not wish to be identified because he was not authorised to speak publicly on the matter, told THISDAY that the body would soon take action on the attitude of passengers becoming violent as a way to protest against disagreements with airlines.
"We are going to take action and this may include blacklisting passengers who destroy airline property because such violent outburst never solves any problem and after destroying the airline's working tools, what will it use to process your boarding? We have also found out that this happens only in Nigeria and most often the passengers react that way against Nigerian carriers," he said.