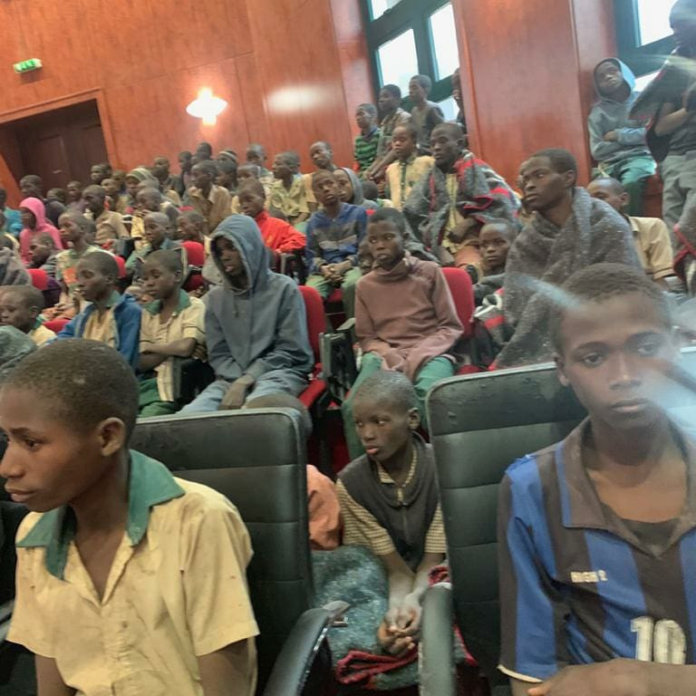 On 11 December, 2020, Kankara town in Katsina State was visited with a terrible tragedy as more than 300 boys at the Government Secondary School were abducted. The incident coincided with President Muhammadu Buhari's week-long personal visit to the state. What was more tragic was the fact that the abductors were unknown and termed as 'unknown gunmen'. Not until a video was released by the leader of the Jama'atul Ahli Sunnah Lid-Da'wah Wal Jihad a.k.a. Boko Haram claiming to be responsible for the abduction.
At that moment, many feared that the fate of the abducted schoolboys could be same as that of the Chibok girls abducted in 2014 many of whom are still incarcerated after more than six years of the incident. Against all odds, the fate of the Kankara schoolboys is not similar to that of the Chibok schoolgirls. This time, the students were quickly rescued from their abductors and returned to their families and loved ones.
Now that the boys are back, can we call this the end of an ordeal to the boys or does danger still lie ahead? Since the news of the incident and the rescue, many thoughts had run through my mind which include: where were security personnel when the boys were abducted and ferried from Katsina State to another state without any obstruction? How many children were abducted? And now that the boys are back, who facilitated their release? Was there an exchange of prisoners between the government and the abductors? Was ransom paid before the boys were released? Now that the boys are back, is the government prepared enough to prevent the reoccurrence of abductions in the country? These and many other questions are begging for answers.
No responsible government will seek commendation for its rescue of schoolboys. We are all dismayed by how the Nigerian government solicits for hymn from Nigerians after the release of the boys despite the fact that the primary responsibility of every government is to provide security of lives and property. However, the federal government claimed that it was behind the release of the schoolboys; Katsina State government also claimed that it was behind their release, as Zamfara State also came forward with its own narrative claiming to be responsible for facilitating the schoolboys' release. The Nigerian Army and the Nigerian Police Force all joined in seeking for praise and commendation for the successful return of the schoolboys.
Is the government ignorant of its responsibility of securing lives and property and at the same time ignorant of the fact that the widespread insecurity devastating the country is as a result of a complete failure on the part of the government to provide the much-needed security in the nation? While we acknowledge the important role they have played in the schoolboys release, it will be wise on their part to acknowledge the fact that they are only discharging the constitutional responsibility thrust on them as our leaders.
Ibrahim Musa, Abuja