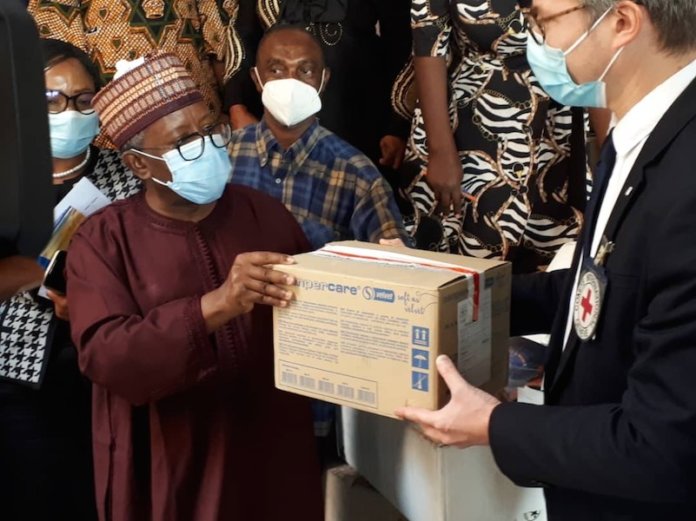 Health authorities, professionals in the health sector and other stakeholders, have expresed concerns over the possibility of an escalation in the spread of COVID-19 virus during Christmas and New Year celebrations. Cautioning against travels, with threats to impose restrictions to compel adherance to relevant health protocols, Onyebuchi Ezigbo, however points out that one of the most potent measures which is presently not given much attention is public enlightenment and advocacy
As various cities, towns and communities go agog with the festive moments, the fears and concerns of our health managers are centered on how the country will cope with the expected rise in new cases of COVID-19 infection, especially with the period of Christmas festivities at hand.
The worry is mostly based on the level of apathy and utter disdain with which many Nigerians are presently treating the call for the observance of COVID-19 health advisories. For, instance, many people do not follow the instructions issued by health authorities on the need to limit travels and interactions, observe social distancing at functions and offices, putting on face mask during large gatherings and reporting for tests to ascertain their COVID-19 status.
Even from the onset of the COVID-19 pandemic in the country, most health advisories were either not adhered to or were observed in breach in most places. More than anything else, it was the rest of death from the relatively unknown virus that kept those who were informed in check. As soon as the people saw that the effect of the virus was not as potent as was earlier feared, they gradually dropped from observing the health protocols.
During the later part of the lockdown period, people were compelled to wear face mask and to maintain physical distancing at public places. This led to temporary drop in COVID-19 cases. But it appeared the lockdown succeeded in crippling our already weak economy and means of livelihood more than it did to halt the spread of COVID-19. The effort to get people to understand the reality of the pandemic did not achieve the desired impact and the message didn't just sink.
Apathy
Many believed that the whole exercise is government's contrived agenda to divert resources for easy looting. In public places like markets, offices, politcal gatherings, religious worship centres and in villages, most people ignore the health caution and expose themselves to the risk of COVID-19 infection. But it is not only the citizens that have failed in this direction. Despite, noteworthy efforts of some of agencies in the health sector and their noble staff who are daily sacrificing their lives to ensure that the disease is contained, there are little or nothing being done by government and private organisations to put in place facilities that will help check the spread of the disease.
For instance, our markets, schools and offices are still operated in a manner that exposes people to public health dangers. A visit to any of the markets in the urban centres shows that nothing was done to create more gateways for entry and exit in the markets. People still get cramped together in the markets without wearing facemask. Tap water and toilet facilities are rarely available or are insufficient.
The situation has led to a spike in the infection rate across the country. Latest figures of the new positive cases have shown more than a normal increase in the spread of coronavirus.
Surge
The surge in the COVID-19 cases is enough reason for the government and health officials to be worried. Speaking at the media briefing by the Presidential Taskforce on COVID-19 pandemic last week in Abuja, Minister of Health, Dr. Osagie Ehanire described the situation as very dicey.
The minister said the number of confirmed COVID-19 cases has continued to rise with the total number now 75,062 as at Thursday morning (December 17). According to him, a record number of 930 confirmed cases were diagnosed on December 16, the highest daily number recorded since the virus was detected in February, 2020.
He said: "This is what we have been warned about for many weeks, and it gives cause to worry, not only about the causes, but also about the course of events."
Damp on Festivities
On this he said: "As the festive season and holidays approach, many people will want to celebrate, many will crowd into shops, markets and places of worship, many will travel with mass transit transport, many will even travel to Nigeria from high burden countries".
Ehanire said that all these circumstances have proven to accelerate COVID-19 transmission and have caused explosive increases in other countries. He explained that the country's epidemiological trend has already started to show that the curve is rising again with the total number of active cases now 7,087, and a corresponding increase in the number of serious cases requiring hospital admission in High Dependency Units for oxygen therapy, or mechanical ventilation support in Intensive Care Units.
He also said that if we include those in hospital for observation, the need for more hospital beds will become more acute. From all indications, the second wave is here.
Speaking on the threat of second wave of the COVID-19 pandemic in Nigeria, the chairman of the inter-ministerial committee set up to review the state of intervention effort to check COVID-19 spread, Prof. Tomori Oyewale said the situation was expected. On whether Nigeria has finally slipped into the second wave of the dreaded virus infection, he said:" it is no longer the issue of apprehension, it has hit us. You have 791 cases in one day and 675, the next day. It is here with us already."
Following this new surge, Ehanire said the Federal Ministry of Health in collaboration with Federal Tertiary hospitals have begun work on the reactivation of treatment centres, assessing resources available and needed and alerting frontline health workers. He also said the ministry will be strengthening the COVID-19 home care treatment protocol for asymptomatic and mild cases and community based care by the National Primary Healthcare Development Agency, in management of moderate to severe cases.
The minister further said that government has commenced inventory taking and plan to distribute wide a range of resources available in our warehouses, according to need. These include PPEs commodities, equipment and consumables for deployment to treatment centres. To strengthen manpower needs, we shall step up continuous nationwide training of various cadres of health workers, especially ICU nurses, intensivists, Biomedical Engineers, to ensure proper utilisation and maintenance of ventilators and critical equipment, while improving knowledge and skills of personnel, as we learn more about COVID-19.
Vaccines
On the backend, the minister said a Technical Working Group of the Federal Ministry of Health on COVID-19 is examining modalities to obtain access to vaccines for Nigeria. He said the committee is in conversation with the WHO-GAVI on the COVAX- AMC facility, to support 180 lower and lower middle income countries to access anti-COVID vaccines.
According to Ehanire, the Afro Regional Director of the World Health Organisation, Dr. Moeti has assured that only 20 per cent of the quantity of vaccines required for Low and Lower Middle Income countries will be made available to Nigeria through the Covax initiative as high income countries have secured first rights to vaccines rights for all their citizens, and in some cases, for double their population. The minister revealed that African Union has set up an African Vaccine Acquisition Team (AVAT), aiming to acquire vaccines for up 60 per cent of the population.
Stance of Health Professionals
On his part, the President of Nigeria Medical Association (NMA), Prof. Innocent Ujah said that the current spike in COVID-19 infection was largely predictable. Ujah said that it was predicted and at the same time expected that everyone should be prepared for it, adding that if it was happening in other climes, "we will expect that it will also come to Nigeria. That is why we are preaching, appealing and advocating for strict compliance to NCDC protocol so that we can".
Also the Nigerian doctors under the auspices of the NMA met recently in Awka, the Anambra State capital and issued a communiqué stating their fears over the rate of violation of COVID-19 protocol and it's implications. The doctors made a passionate appeal to all Nigerians to take the COVID-19 prevention advisories very seriously in order to interrupt the transmission reduce ill-health and deaths from the dreaded disease.
The NMA communiqué said that strict adherence to the NCDC Protocol of use of face mask, regular handwashing and use of sanitizers and social as well as Physical distancing is very strongly advocated. It further advised that non-essential travels should not be embarked upon especially during this yuletide season and beyond.
"Serious efforts to prioritise health including supplementary appropriation/ budgetary provision should be initiated by government at all levels and the private sector coalitions to ensure the procurement and availability of consumables for effective response in the containment of COVID-19, especially with upsurge of the infection.
"We also wish to advise government to procure the vaccines that have been reported to be effective for further research study on Nigerians to confirm their efficacy and safety for the Nigerian populace".
NCDC Guidelines
Following the increasing number of coronavirus disease (COVID-19) cases in Nigeria, the Nigeria Centre for Disease Control (NCDC) has also waded in and has developed a number of guidelines for public sector leaders and business owners in Nigeria. The health advisory warned that the risk of spread of the virus that causes COVID-19 is higher in confined spaces where there is close contact (less than 2 metres), with an infected, but possibly asymptomatic person, the riskier the longer someone has close contact with an infected person. It cautioned people to avoid where possible travels during the Christmas period.
The centre provided guidelines for employers and business owners, to safeguard the health and safety of employees and customers, which included ensuring that they conduct temperature checks on every employee and visitors, wearing of facemask, provision of water for regular hand wash and maintenance of social distancing of not less than 2 metres.
Inspite of the acclaimed potency of the health protocols rolled out by NCDC in checking spread of COVID-19, what remained a major challenge is how to get people to observe these health protocols, especially during this festive season. How do we get people to heed the advise and internalise good health habits? How do we get government and relevant agencies to play their role of putting needed facilities on ground to further improve people's health condition on sustainable basis? These are issues that all stakeholders in the health sector should seek to address if we are to make genuine headway in the fight against COVID-19.