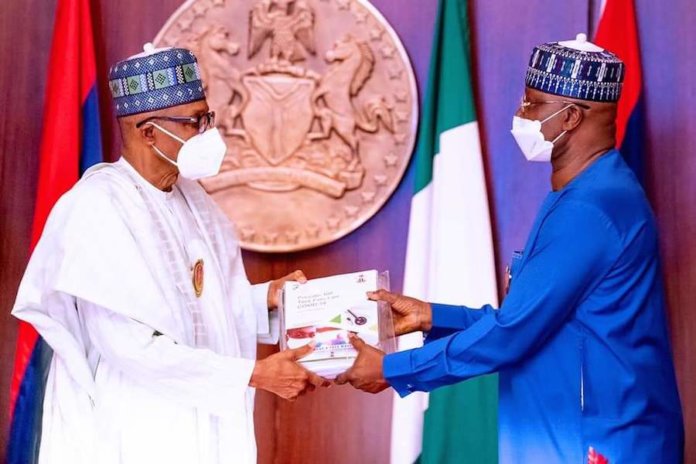 *Mandates PTF to coordinate vaccine delivery process
By Olawale Ajimotokan
President Muhammadu Buhari has extended the mandate of the Presidential Task Force (PTF) on COVID-19 until the end of March, 2021.
He granted the extension for a further period on Tuesday during the presentation of the end of the year report of the PTF at the State House, Abuja.
The President said the extension was warranted by the new surge in the number of COVID-19 cases and the need to acquire vaccines.
He also granted the PTF the power to coordinate the process for planning and the strategy for accessing, delivery and administration of the vaccines using the existing health structures that had worked in the past in vaccine administration.
The PTF, headed by Boss Mustapha, who is the Secretary to the Government of the Federation, was put in place in March, following the outbreak of the pandemic in the country. It has in the last nine months presented eight Interim Reports along with one Mid-Term Report on the handling of the disease to the President.
Buhari noted that the nation was in a perilous situation, given the virulent nature of the second wave of the pandemic, saying the government must act decisively to protect the people.
He subsequently urged all sub-national entities, traditional rulers, religious and leaders of thought to collaborate with the PTF by taking up the responsibility for risk communication and community engagement at all levels.
He also authorised the PTF to engage with the states and the FCT for them to assume full ownership of this stage of the response by deploying legal structures and resources, including enforcement to manage the pandemic within their jurisdictions.