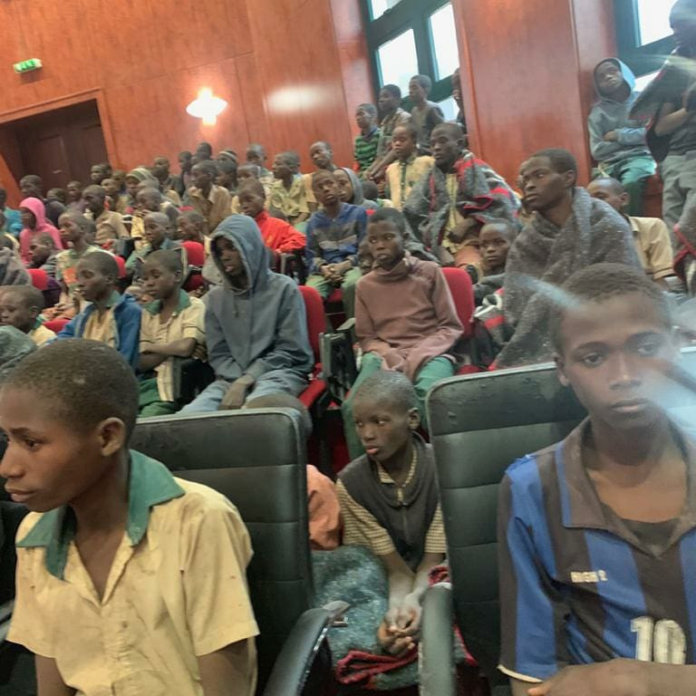 I cannot be less proud of being a Nigerian because Nigeria is my country of birth and I am so appreciative of the gifts of God on our land. However, the ways my great country has been managed by our political leaders recently have been sources of concern for me and several Nigerians home and abroad. We are very apprehensive that our generation will not witness any significant development. Mr President sir, your administration is the most recent catastrophe that befell Nigeria especially in the area of security of lives and property. Even Your Excellency knows that the territory of Nigeria is now under the control of the gunmen. Funnily enough, the first lady, your wife, Hajia Aisha Buhari, reportedly left for Dubai citing insecurity.
Mr. President, on the nights of April 14-15th, 2014, 276 female students of Government Secondary School, Chibok, Borno State were kidnapped by the deadly Boko Haram militants, though not under your administration. A good number of the girls are still unaccounted for. Some of them are dead, some, married off while some were reportedly used as suicide bombers. As a responsible government, your administration was expected to immediately recover the girls. For almost two years after the abduction, nothing was heard about the girls until May 2016 when a vigilante found one of the girls. Then, your administration began a negotiation with the terrorists; negotiation that was brokered by the International Committee of the Red Cross (ICRC).
Sir, we experienced the height of incessant abductions on December 11th, 2020 as Boko Haram insurgents invaded Government Science Secondary School, Kankara in Katsina State and kidnapped 344 students. For over five days after the abduction, your excellency did not say a word until after the boys were released on December 17, your birth date (sadly enough, that was my birth date as well). I supposed the boys were released as a birthday gift to you sir. Your counterparts in other nations do take the bull by the horns by addressing their people in person and visiting the families of the victims of any heinous calamity.
Your Excellency was reportedly seen in a video that went viral on social media barely five days ago visiting your treasured cows. I doubt if the video was doctored. Moreover, you have refused to grant an interview regarding that national outcry. Your Excellency should summon the courage, visit Government Science Secondary School, Kankara, discuss with the management of the school and the parents of the kidnapped students to allay their fears, and reassure them.
Moreover Mr. President, how on earth could a group of terror visited a place inhabited by people and kidnapped over 300 boys? How were the boys kidnapped; via a bus, motorcycle or through the air? It was initially reported that the boys were carted away on bikes. Sir, over 300 pupils kidnapped on bikes without anyone suspecting the abduction?
It might not surprise Your Excellency that virtually all Nigerians that voted for you as their messiah now hold high regrets as you have personally disappointed them by your actions and inactions. I am personally disappointed. I wasted my limited time campaigning and touring states for Your Excellency during 2015 general elections. In fact, I now doubt if Vice President Atiku Ababakar would have performed this poorly if elected the president. Sir, I wish to bring to your knowledge that the common Nigerians no longer have that love and respect for you due to the great disappointment in your inactions. You need to know that many Nigerians that voted massively for you are suffering.
From my little research and as a student of Nigeria's history, Sir, the economy has never been this bad. Many would have said the economy takes the downturn due to the pandemic but then, other countries are affected as well, if not more affected than Nigeria. Most of those nations are projected to wither the effects soon. Why is Nigeria's case so different?
Truly, Mr President, a handful of us applauded your decision to stop importation of certain goods in order to boost local production. However, Your Excellency has not given the populace the required serene atmosphere to encourage increase in local production of goods. Many youths are out of schools. Farms are destroyed. Nothing seems to be working in our dear nation.
Sir, can Your Excellency sincerely advise me against securing a visa to Niger Republic? This is because several Nigerians are looking abroad for greener pastures when we have been blessed with the greenest pastures.
Sir, there are very few Nigerians who still think you are the Mr. Right for this nation. Can you do well by discharging up to their expectations? Your Excellency have barely 29 months before you ultimately hand over.
Akindele AbdulQayyum Olalekan,
Ibadan