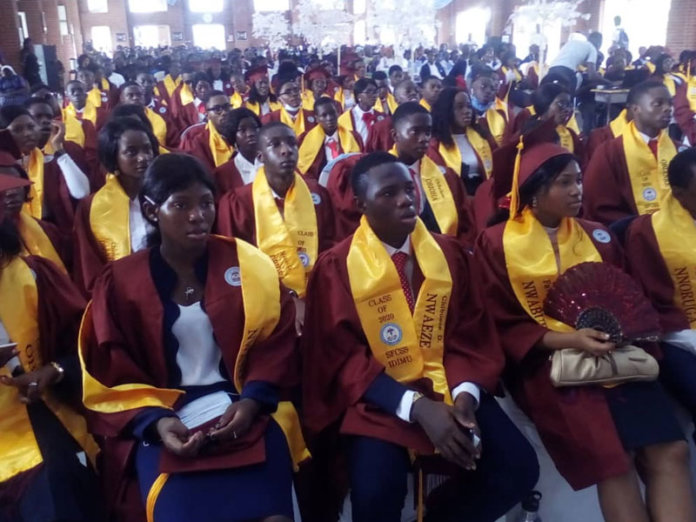 Ayodeji Ake
For the new 128 graduands of St Francis Catholic Secondary school, (SFCSS) Idimu Lagos, the assignment is to go into the world and be creatively productive with their potentials even as they head to the universities of their choices.
Some of the potentials listed as common among the students are in Nollywood and Hollywood, visual art, journalism, entrepreneurship, and engineering among others.
These students, who cheered to a fulfilled academic pursuit at the Layola Jesuit Building in Idimu area of Lagos in November, have been equipped with the right tools to leverage on.
The Administrator, Maduabuchi Muoneme, a Reverend Father, told newsmen that SFCSS education is not just about academics, but a holistic formation.
"We use Latin term to describe it 'Cura Personalis,' which is a holistic care for the individual. It is a place we care for the soul, heart, mind and body," he explained.
Part of the school's target is to train different types of multiple intelligences: artistic, linguistic or bodily kinesthetic, sports, and logical mathematics, interpersonal, and intrapersonal intelligences, which are more of reflection.
Muoneme added, "We also teach our students to learn to reflect on experience". He says SFCSS is flooded by talented students endowed with skills for Nollywood and Hollywood, visual art, journalism entrepreneurship and engineering.
"We have seen our future actors and actresses perform during Jesuit Annual Festivals. So the school is a goldmine of spiritual, intellectual honesty and integrity," he sounded.
The administrator continued that the norm in the school is not to inject despondency on the students or to give up on the nation but to promote nationhood and the importance of unity and diversity.
"Nonetheless, the situation in Nigeria is tough and quite despicable; we can't say because of that we wouldn't provide them the quality education they need.
"And that probably is what ignited the EndSARS protests, which for me is a symptom of something bigger. We have insecurity in the country, power outages, high rate of unemployment and deep-seated corruption both in government and other aspects of the nation."
On the education system, he said, "We must give them quality education from secondary level. We want them to become the catalysts like other schools are doing so that one day we have to turn things around from within."
Expressing her thoughts, an actress and Guest Speaker, Mrs. Taiwo Lycett charged the graduating students to walk the road that was truly intended for them.
She said. "If graduating from St Francis isn't already one of the wisest decisions your parents have ever made in life, let me confirm that you are on the right path, as you continue to walk the road intended for you."
Charging them further, Lycett said the small step would create a ripple effect that doesn't just change the trajectory of their lives, but would positively impact even the generations that would follow them.
Her words, "This century can and must be one of the youths. Class of 2020, Nigeria needs you to fulfill your potential, mission and destiny.
"The country can't wait any longer for your leadership, it can't wait to see your transformation, not the selfish, self-centered, self- absorbed myopic you with no interest in the collective but only in the prevailing perverse, nerve pacing ego, the me myself and I egomaniac."
She called on the graduating students in all their diversity to go set the world on fire because they are already diligently trained for excellence.
"I'm certain that your education at SFCSS will help you succeed in the university, and bring the true you, transformed for your alma mater, parents, Nigeria, and the world."
The best graduating Science student of the school, 17 years old Akakabota Simeon, attributed his success to prayers, continuous reading and personal relationship with the school authorities.
"I also appreciate the efforts of the administrator who stimulated us by telling us that anybody who made above 345 in JAMB and nine A1s will get a car while anyone above 300 and 9 A1s will get a laptop.
"It helped me because I believe in goal setting. Sometimes I read and got tired but once I imagined myself in a car, I woke up and continue to read," he chuckled.
He hinted that always having goals in mind would help one get what he or she wants in life.
The head boy of the school Osemeke Chidara in a valedictory speech shared some of the challenges of class 2020.
In spite of the COVID-19 pandemic and EndSARS protests, Osemeke said the 2020 set stood strong, and emerged the best in the history of the school.
He also lauded the teachers for their raw show of love; pushing and monitoring their activities in and off class to ensure they didn't go astray.