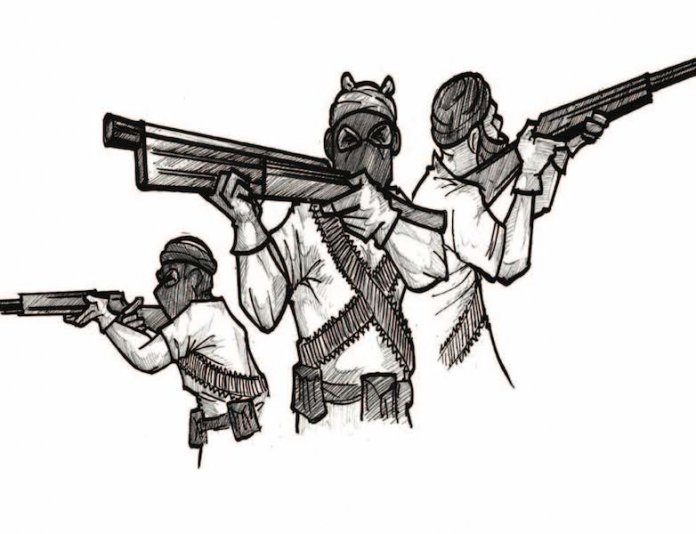 There is the urgent need to tackle the security challenges in a new and innovative ways, argues Idris Bugaje,
About 200 years ago, exactly in 1826, the North was aptly described by the Scottish explorer, Hugh Clapperton, in his memoirs thus: "a woman can walk alone on foot from Kano to Sokoto without fear of molestation". This explains the level of peace, tranquility and social justice established under the Sokoto Caliphate. What a turn of events! Today, the same North has become so insecure that even Army Generals dare not follow roads and opt for the rail, sometimes in uniform. Surely five years ago, the gross situation in the country was very bad with half of Borno State under the full control of the Boko Haram insurgents, now banished to the Sambisa Forest, Mandara Hills and the shores of Lake Chad.
However, the larger North has become worse especially its rural areas. Rural North is Nigeria's food basket, and unfortunately due to banditry is facing eminent famine this year. The North is on a dangerous path of self-destruction, the chicken coming home to roost. Though we are being reassured that the army and police are doing their best, the situation is deteriorating daily. It is very embarrassing to see bandits attacking a boarding secondary school in Kankara, Katsina State, taking away 54 young kids in a Chibok attack style, in a week when Mr. President was on a private visit to his state.
We must therefore start to 'think out of the box' if a solution is to be found, and do this quickly to bring an end to this growing and very dangerous situation. Insurgency, terrorism, banditry, kidnapping for ransom, herdsmen attacks and other acts of criminality, could all be related and we must attack them frontally and quickly bring both short and long-term solutions before the country becomes another War-Lords-governed Somalia. Bn Fodio's thesis in 1802 titled "Bayan Wujubul Hijrah Alal Ibad" (The Compulsion of Migration on God's Servants) could have applied to our current situation but for the post-colonial borders. We must therefore remain and bring forth solutions from within.
Let's find solution by taking inspiration from Borno State. It was not the army alone that liberated the 17 Local Governments of Borno State after the 2015 assumption of office of President Buhari, rather a critical component to that success was the Civilian Joint Task Force (CJTF), made up of rugged hunters from the state who knew the terrain very well. The CJTF-led the campaign against Boko Haram with the army giving them backup support and securing liberated areas. The present governor of the state has also increased their numbers and their monthly stipends as well as instituted a life-insurance scheme to support fallen CJTF heroes' families. This is the model which every state in the North must adapt!
Formula 100 proposes the recruitment of 100 hunters in each local government of the North, organizing them and providing them with weapons and ammunition. Some may prefer the Double Barrel Shot Gun (DBSG) while others may be given Rifles, such as the AK-47 and where necessary RPG Launchers. They need to be given a short training on communications during operations as well as intelligence gathering. They need to understand the role of GSM and Global Position System (GPS) in locating bandits.
These hunters must be screened at their ward levels to ensure they are of good character with guarantors in the community including heads of families, imams, ward and village heads. For long these traditional institutions had been neglected and in some places the bandits have incorporated them into their networks.
Each LG should have a commander and be given the mandate to clear the bandits in their local government area. Where there is need for coordinated action across the neighboring LGAs, the commanders can sit and organize a joint action. This may be necessary in forests such as Dajin Rugu in Katsina State which covers about six LGAs and part of Zamfara State. I am confident this task will be achieved in a matter of weeks or at worse two months.
At the end of the exercise, the CJTF of each state should be absorbed into the army or police or better create a new security outfit for each state to assist in fighting crime on a sustainable way. This may be a foundation for establishing a new State Security Force, which is long overdue. The South had for long been clamoring for state police and there is really no cogent reason to stop that.
I am confident President Buhari will approve necessary constitutional amendment to attain this. The fear was on an old practice, the use of federal police in rigging elections may face challenges if states not controlled by the party at the federal level decide to use state police to counteract. President Buhari has shown his keenness in ending election manipulations by any means and will surely graduate Nigeria to a new level of free and fair elections as we see happening in Ghana.
Budgetary resources to implement Formular-100 may be the concern of some. Let me state clearly that even supplementary budgets can be passed considering the importance of security or the so-called security votes can be more effectively mobilized. In any case, the funds needed are less than what the federal government intends to spend in creating some months employment for 774,000 Nigerians and the Formula-100 impact will be life-saving for the nation.
This exercise will add about 40,000 men from the North and if extended to the South another 35,000 to the security infrastructure of the nation. Presently, Nigeria has only about 150,000 men/women under arms in the Nigerian Army and about 350,000 in the police, which is grossly inadequate for a nation of 200 million. Compare ours with Iraq under President Saddam which had one million men under arms for a population of about 50 million at that time.
In the long term, after securing the nation, we must plan to create jobs and banish the endemic poverty in the North. This will require reviving the Northern industries by providing captive power supplies to industrial clusters through the Gas Master Plan, the AKK Gas Pipeline being a branch of it; the establishment of new industries utilizing natural gas such as urea fertilizer, methanol, polymers, etc.
Equally important our secondary schools and Institutions of higher learning must change gear to train students in skills so that graduates of these institutions will have hands-on skills to deploy in Nigeria or overseas for gainful employment or even self-employment.
Conventional warfare will never defeat insurgency and banditry and so our conventional thinking will continue to fail, as long as we don't rise up and do something differently to avoid self-extinction in the North. We must think differently, unconventionally and from a new perspective. We must approach our security challenges in new and innovative ways. That's what this Formula-100 is all about.
Prof Bugaje is Rector, Kaduna Polytechnic