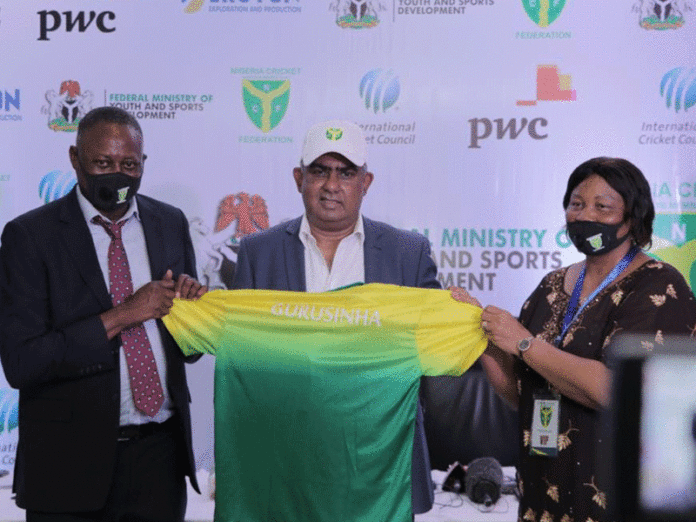 In the quest to grow the sport to meet global standard, the Nigeria Cricket Federation (NCF) has unveiled a Sri Lankan, Asanka Gurusinha as the New Head Coach and High Performance Manager of cricket in the country.
Gurusinha was picked ahead of 32 other top coaches who applied for the Nigeria's top job.
Speaking shortly after he was unveiled at the Media Centre of the MKO Abiola Stadium in Abuja yesterday by Maria Whophil, a Deputy Director with the Ministry of Youth and Sports Development, Gurusinha admitted that the interview session was the most thorough and rigorous since his coaching career.
"I am very excited to take up this job and I am really looking forward to the best we can achieve with the level of enthusiasm, talent and support that the Nigerian Cricket Federation has shown," stressed the top coach whose switch to Nigeria trended on the social media platform globally yesterday.
Whophil, who represented the Minister of Youth and Sports Development, Mr Sunday Dare, at the event said Sports Ministry was full of commendations for the board of the Nigeria Cricket Federation, stressing that their vision and dedication to duty since they were sworn in was second to none.
"Since a little over three years that this board came into office, we have seen their passion and vision to grow the game, especially their interest in grassroots development.
This drive tallies with the direction of the Ministry which explains "why we have been giving the much needed support to your programmes.
"The unveiling of Asanka Gurusinha today was a tedious process, and we are glad that it came through.
"I want to implore all stakeholders, especially sponsors, partners and supporters of the game of cricket to rally behind the board and Asanka to make sure we make a success of this process," She noted.
President of the NCF, Professor Yahaya Ukwenya, said the hiring of Gurusinha was very deliberate and is a key agenda of his board's five strategic imperatives.
"We have been promoting the game at all levels; upgrading Infrastructures; engaging strategic partnership; improving the quality of players and officials and maintaining appropriate governance and finance structures as our key goals for this administration.
"The hiring of the Head Coach is paramount to achieving at least two of these set objectives. We have five facilities that we are also upgrading side-by-side to international standard. They include the one that would be used for the National Sports Festival in Benin City," he stressed.
Ukwenya said all the achievements both on and off the field of play are expected to rise on the heels of the expertise and professionalism that the new Head Coach Gurusinha would bring to Nigerian Cricket.
His immediate assignment however is a close camping for the top 36 players in the country who are already in Abuja.