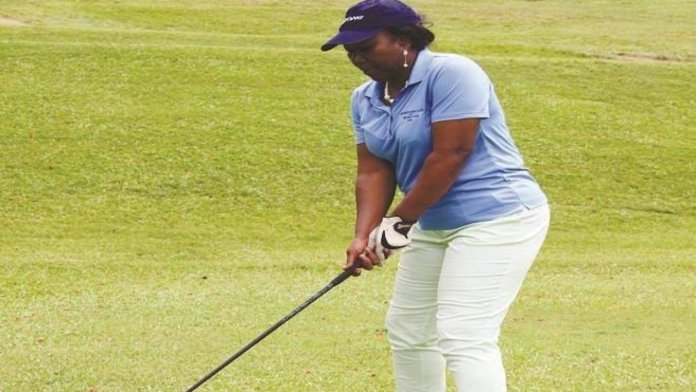 Olawale Ajimotokan in Abuja
The Korean Ambassador to Nigeria, Lee in-Tae was among the individuals with a podium finish at the CBN Governor's Cup held over the weekend at IBB International Golf and Country Club, Abuja.
Ambassador Lee, a 22- handicapper, turned in 75 nett to win the Veteran Men title, beating Chika Chiejena on countback.
The competition was the maiden tournament at IBB Club since the Covid-19 lockdown on non-combat sport was lifted. It featured 168 golfers under strict COVID-19 protocol.
In what has become commonplace, Rachel Danjuma beat Jumia Abdulahi by one stroke for the Best Nett prize in Ladies Division One.
Parading an intimidating 8-handicap, Danjuma, who has won the tournament on three occasions, carded 75 to beat the pack of competitors in the Handicap 0-20 flight category. D. Mamza finished as 1st Runner Up three shots off the pace.
Anne Abimiku shot 81 nett to win the Veteran Ladies honours by a commanding 18-stroke at the expense of Julie Acholonu.
Mohammed Suleiman won the correlating Men's gross title with a round of 79, beating P. Uzezi by six shots.
Similarly, O. Akobundu returned the score of 73 to beat Joe Gadzama by two shots to claim the Men Division Two prize, while Barnabas Yilkes trailed the front two with 76 nett.
J. Baba-Ali posted 74 to edge Jimmy Ahmed by two shots for the Men Division One prize, while S. Adebayo carded 79 to finish as 1st runner up. A. Birch signed for 73 to win the CBN Staff nett prize. Abubakar Abdulahi netted 86 to finish as Runner up while O. Owoeye finished as 1st Runner up.
However, it was 25-handicapper, M. Agbo, who emerged as the overall winner of the 2020 CBN Governor's Cup, with a nett score of 67.
Meanwhile the CBN Governor, Godwin Emefiele has declared the bank's consistency in promoting golf and sports in the country has had a remarkable impact on youths and sportsmen in general.
He was represented by the CBN Deputy Governor Corporate Services, Edward Adamu at the prize giving ceremony.