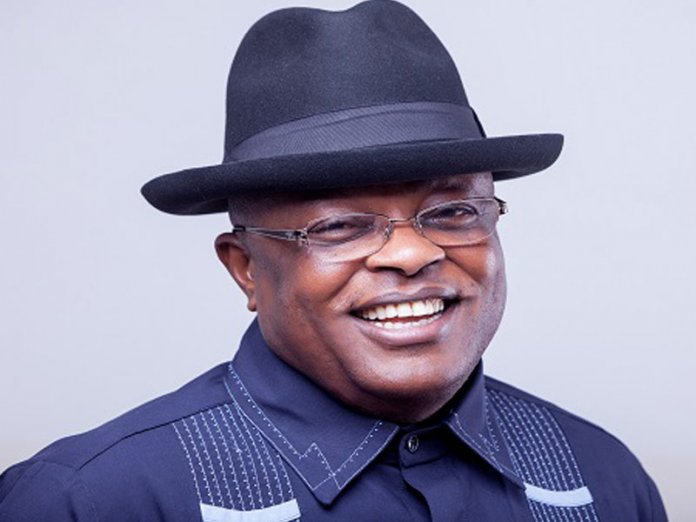 Continued from the Backpage
Following his defection from the opposition Peoples Democratic Party (PDP) to the ruling All Progressives Congress ((APC), Ebonyi Governor Dave Umahi has been in confrontation with top politicians in his state who refused to join his political adventure. He is particularly at war with former Senate President Anyim Pius Anyim who was also Secretary to the Government of the Federation under President Goodluck Jonathan. With the latter responding in kind to Umahi's vitriol, we have heard juicy stories of blood, killings, spell and ritual receptions on the streets of Ebonyi. And while we enjoy the entertainment, Governor Umahi has also dropped hints about our politics in what he called only chapter one of his book of revelations.
Let's take it from Umahi: "I was a deputy governor. Somebody occupying the highest position from the South-East (meaning Anyim) went and arranged for a N5billion loan for me to prosecute the presidential election for his government. I had to sell many of my properties to pay back that money…All these people that came together to fight me, they collect contracts, they collect monthly pay, they collect vehicles. And when they are asked to bring people that worked for us, they will bring their wives, children, and relations. Now, they are dressing words for us. We are in chapter one, in chapter two, I will publish all that I have done for the leaders of this state."
When the late Dele Giwa wrote that 'Nigerians have been shocked to the state of unshockability', he was being prescient. That is because we run a system without any modicum of accountability and where politicians with no public service roles can collect 'monthly pay' and vehicles. But this lack of accountability is not restricted to Ebonyi. For instance, Governor Mala Buni of Yobe State is saddled with the assignment of caretaker chairman of the All Progressives Congress (APC). Yobe, which is one-half of the old Borno State, is also challenged by the Boko Haram insurgency. But its governor stays only three days in a month in the state and spends the rest scouting for defecting governors he could present to the president. "On the issue of staying, there is no way I can spend a month without spending three or four days in Yobe state", said the APC Caretaker chairman. That a governor would publicly admit to such irresponsibility is because he knows there are no consequences for bad behaviour in our country. But let's return to Umahi's 'Chapter One'.
A public official took a loan of N5 billion from a bank to prosecute a political ambition (for someone else). How would he recoup such 'investment' if not to steal public money? What does this say about our banking sector and the 'projects' they fund? And if these revelations are just 'Chapter One' in Umahi's 'introduction' to the looting of Ebonyi State, we wonder what the promised 'Chapter Two' will offer. In all, we can see why politics remains the most lucrative enterprise in the country. And unlike the rice farmers of Zabarmari who put their lives on the line to cultivate an essential staple crop, you don't need the permission of the military to do politics in Nigeria!
Olusegun Adeniyi, Abuja