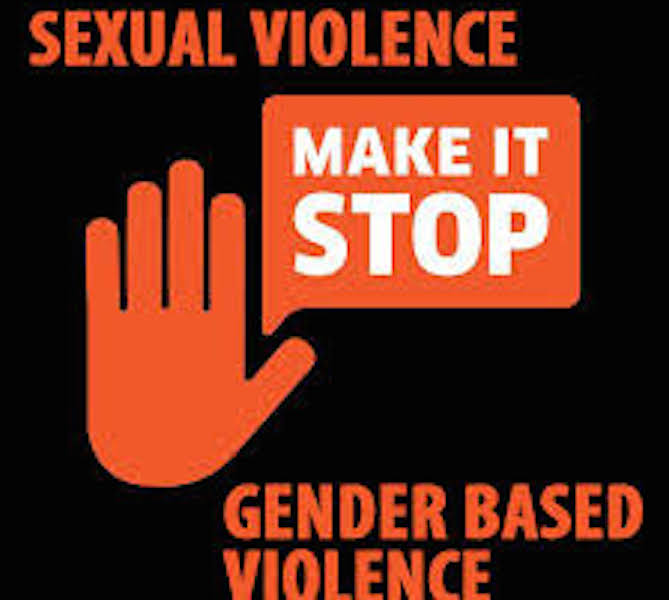 Blessing Duru
Despite efforts by international organisations, governments, civil society organisations and activists to put an end to sexual and gender based violence (SGBV), women and girls continue to suffer one form or violence or the other.
Although the problem is global, violence varies from one community to another. It comes in many forms, the most common being intimate partner violence, sexual assault, human trafficking child marriage and female genital mutilation.
The Istanbul Convention (Council of Europe, Convention on preventing and combating violence against women and domestic violence), defines violence against women as falling under four key forms: physical, sexual, psychological and economic.
The convention as the benchmark for international legislation on tackling gender-based violence, frames gender-based violence and violence against women as a gendered act which is 'a violation of human rights and a form of discrimination against women'.
Under the convention, acts of gender-based violence are emphasised as resulting in 'physical, sexual, psychological or economic harm or suffering to women, including threats of such acts, coercion or arbitrary deprivation of liberty, whether occurring in public or in private life.'
The lockdowns forced on countries by the outbreak of coronavirus had further resulted in women and girls being subjected to more violence. There has been a spike in the number of reported violence against women. In particular, there has been a surge in rape cases.
Before the outbreak of COVID-19, SGBV remained a social epidemic. However, there has been a sudden increase in SGBV since the beginning of the lockdown.
The perpetrators included family members, neighbors, landlords, the police and other security forces. Because the government was busy battling the virus, little or no attention was paid to protecting women and girls.
If there is any lesson to be learnt from the upsurge in violence against women during the lockdown, it is that measures put in place to protect women are inadequate especially in an emergency.
Apart from the increase in gender-based violence created by the pandemic, women and girls in Internally Displaced Persons (IDP ) camps continue to be subject to sexual and physical violence. To make matters worse, basic facilities needed to manage sexual and gender-based violence and prosecute perpetrators are not available in these camps. With about 7 million people in need of humanitarian assistance, the situation in these camps remains critical.
Now we know that tackling SGBV requires a multifaceted approach. This will include advocacy, risk mitigation, preventive and responses in emergencies.
On May 25th 2015 the then President of Nigeria, Goodluck Jonathan signed into law the Violence Against Persons Prohibition Act, 2015 bringing to a successful conclusion a 14-year-long social and legislative advocacy championed by women's groups and gender activists.
This Act is aimed at eliminating violence in private and public life, prohibit all forms of violence, including physical, sexual, psychological, domestic, harmful traditional practices; discrimination against persons and to provide maximum protection and effective remedies for victims and punishment of offenders.
The VAPP Act provides life imprisonment for rape offenders. It also provides14 years imprisonment for offenders aged 14 and below. In other cases, a minimum of 12 years imprisonment without an option of fine. It also provides a minimum of 20 years imprisonment without an option of fine for other age groups, groups, or persons who perpetrated the act.
However, the Act only applies to the Federal Capital Territory as a result of the federal structure Nigeria operates. Each of the 35 states will have to pass it as a law before they could implement the provisions of the Act. At the time of writing this, only 13 states and the FCT have adopted the VAPP Act out of Nigeria's 36 states. The States are Oyo, Ogun, Lagos, Osun, Ekiti, Edo, Anambra, Enugu, Ebonyi, Benue, Cross River, Kaduna, and Plateau.
In 2003, the federal government passed the Children's Rights Act into law. The Child Rights Act domesticated the Convention on the Rights of the Child into Nigeria's legal framework. However, 17 years after, 11 states have not codified the Act into law.
They include Sokoto, Kebbi, Katsina, Jigawa, Yobe, Borno, Zamfara, Kano, Bauchi, Gombe, and Adamawa.
These states which are run by men are not committed to protecting girls and women from domestic violence.
Legal and policy framework is important, no doubt. However, despite these legislations and other safeguards, gender-based violence continues to increase, and prosecuting perpetrators remains difficult.
It is bad enough that some states have refused to adopt legislation to protect women and children. It is even worse that states that have these laws are not rigorously enforcing them to the extent of securing the confidence of the people the laws are meant to protect.
According to 2018 report of the Nigeria Demographic and Health Survey (NDHS), more than half of Nigerian women (55%) who have experienced physical or sexual violence have never sought help to stop the violence. They are not sure they would get the help they needed.
Funding remains an issue. States are not committing the needed resources into protecting women and other vulnerable groups from sexual and gender-based violence.
Each state and the federal government will have to establish a Sexual Assault Referral Centre (SARC) for victims of sexual and gender-based violence. The centres will also have to be run by experienced people.
Every state must have a sexual referral centre where victims of GBV will be taken care of.
There should also be comprehensive support services, permanent shelter for victims in distress, community engagements (ownership), coordinating mechanism and a task force to apprehend perpetrators.
We will probably not be here if not for the advocacy and enlightenment works done by various women groups, international organisations and multilateral institutions as well as individuals. We cannot afford to relent. Each organisation will have to redouble its efforts otherwise, the war against the scourge of SGBV will never be won.
More Empowerment for Women
SGBV is linked to economic deprivation. To free more women from the shackle of male oppression, more programmes should be launched to empower them. We have to help more women to own businesses to support themselves and be less dependent on men who oftentimes manipulate this dependency to violate them.
One of the ways women have continued to win the war against GBV is by taking up victims' cases and getting justice for them. It is not enough to educate, we must seek help for victims.
We must also ensure that survivors feel confident to seek support. This is a confident-boosting approach as it encourages other victims to speak out because they are confident they would also get justice. In doing this, there will be a need for synergy among organisations.
A new toolkit for civil society advocacy in the fight against GBV is needed. The toolkit will reflect the changing dynamics in violence against women and girls.
The police investigate crimes. The Nigeria Police Force has yet to prove that it can investigate crimes in a modern society. Apart from the lack of technology to forensically investigate crimes, police's attitude to sexual crimes and offences against women and girls is to stay the least, appalling. A policeman will ask for a bribe before he can go and arrest a suspect. And if the suspect offers a bigger bribe, he is left to go free. All this has to change. No matter how good a legislation against crimes is couched, an ill trained and corrupt police will mess it up and criminals will continue to go scott free.
Even though rape is an SGBV, it deserves a special mention here because it has suddenly becomes a monster threatening us as a country.
According to Daily Trust, Nigeria recorded more than 60 reported cases of rape between January and June this year. Among these figures, 23 are minors, 25 are teens, and six adults. Victims are yet to get justice for their acts. For a rape case that is reported five or more cases have not been reported.
Worried by the alarming increase in rape cases, the Nigerian Governors' Forum in June declared a state of emergency on rape. They agreed to put measures in place to curtail it. Four months after, the governors have not done much to tackle rape. It is all talk. No action.
It is obvious that law alone would not stop rape. We have to enforce the law. There has to be accountability. Perpetrators have to be prosecuted and sent to jail. Police officers who frustrate investigation should be sanctioned. Victims of rape should be taken care of and compensated.
Blessing Duru of Alliance for Africa wrote from Abuja in celebration of International Day of Eliminating Gender Violence against Women and Girls.