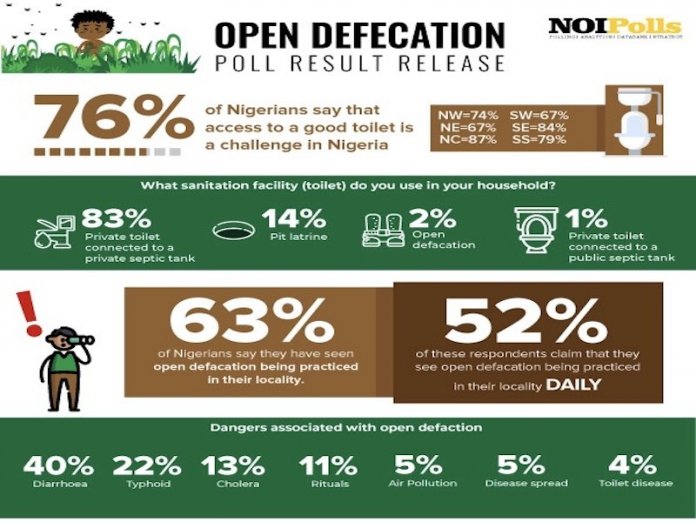 Apapa, an erstwhile serene environment that houses Nigeria's largest sea ports and other organisations in Lagos, has in the past few years been greatly degraded by the activities of trailer and tanker drivers who openly defecate and urinate at every available space, thereby making the whole area totally unbearable as they park on the road for as long as three weeks at a stretch. Chiemelie Ezeobi wonders who will save the area from these unruly drivers
Globally, toilets are important because access to a safe functioning toilet has a positive impact on human dignity, public health and personal safety. Thus, societies that are bereft of such facilities lack sanitation and hygiene in general, which is an important factor that cause various diseases; the most common being diarrhea and intestinal worm infections but also typhoid, cholera, hepatitis, polio, trachoma, and others.
In most cases, open defecation not just pollutes the environment and cause health problems, its high levels are linked to high child mortality, poor nutrition, poverty, and large disparities between rich and poor.
Apapa's Sordid Roads
In Apapa, a suburb in Lagos State, the level of degradation and environmental nuisance caused on the roads by heavy duty drivers is sordid. In fact, the wanton disregard for environmental laws by these drivers, is causing much damage that government cannot afford to treat it with kid gloves.
Aside the horrible traffic gridlock that has become synonymous with Apapa, the issue of open defecation and urination has turned Apapa into one of the dirtiest areas in Lagos. From Creek Road to Airways, Marine Beach, Ijora, Iganmu, Orile, Mile 2 Bus Stop, and even Boundary in Ajegunle, the menace of open defecation seem to have run riot.
As is the norm with the heavy duty drivers, they are often parked on the side of the road waiting for their turn at the ports or even customers to engage them. Given the degradation the parked heavy duty vehicles have on the roads, it is further compounded by how they, alongside their conductors, openly defecate and urinate on the roads without recourse to the dangers of such irascible action- endangering their health and that of the residents, thus making them prone to transmitted diseases, especially diarrhoea and cholera.
Aside the exposure to transmitted diseases, passersby, residents and commuters are left to battle with the unfriendly stench that comes from the open defecation and urination, especially when the sun is out.
In Apapa, almost all roads leading and out are bugged with excreta, tied up either in nylons or styrofoam plates, which was hitherto used to eat. While many have blamed this on the absence of public toilets, the resultant effect is a sore sight and a threat to the legs.
Notwithstanding the stench, the heavy duty drivers seem to be comfortable in the malaise as they still live on the roads in the midst of such filth. In their watery defence, the drivers blamed the unavailability of public toilets in some areas and then the cost of consistently using such toilets in the area where it is situated. They also claimed it was dangerous to leave their trucks unattended to as they search for public toilets, forgetting that they have conductors they can alternate with when the call of nature comes.
Prevalence of Open Defecation in Nigeria
Nigeria has the second-highest prevalence rate of open defecation with 24 per cent, about 47 million, of its population engaging in the act according to a 2018 national survey. According to UNICEF, currently, only 13 of the 774 local government areas in Nigeria are open defecation-free.
Statistics put the North Central states with a lead of 53.9 per cent, followed by South-west with 28.0 per cent, South-east with 22.4 per cent, South-south with 17.9 per cent and North-east with 10.3 per cent. According to UNICEF, with these figures, Nigeria now ranks second in open defecation in the world and first in Africa among countries with the highest number of people defecating in the open.
Sustainable Development Goals
According to the United Nations (UN), "a toilet is not just a toilet-it's a life-saver, dignity-protector and opportunity-maker. Whoever you are, wherever you are, sanitation is your human right. And yet, billions of people are being left behind."
But lamentably, the UN posited that worldwide, 4.2 billion people live without "safely managed sanitation" and around 673 million people practice open defecation, which is a far cry from the Sustainable Development Goal six which aims to "ensure availability and sustainable management of water and sanitation for all".
In particular, target 6.2 is to "End open defecation and provide access to sanitation and hygiene". In fact, when the Sustainable Development Goals Report 2020 was published, United Nations Secretary-General António Guterressaid, "The Sustainable Development Goal 6 is badly off track and it is hindering progress on the 2030 Agenda, the realisation of human rights and the achievement of peace and security around the world."
World Toilet Day
One of the measures put on ground to tackle the menace of open defecation is the commemoration of the World Toilet Day (WTD). Globally, the WTD is marked every November 19 and this year was not different. The WTD is an official United Nation's international observance day to inspire action to tackle the global sanitation crisis.
The resolution declaring World Toilet Day titled, 'Sanitation for All' (A/RES/67/291), was adopted on July 24, 2013 and it urges UN Member States and relevant stakeholders to encourage behavioural change and the implementation of policies to increase access to sanitation among the poor, along with a call to end the practice of open-air defecation, which it deemed "extremely harmful" to public health.
In essence, World Toilet Day seeks to inspire action to tackle the global sanitation crisis and help achieve Sustainable Development Goal 6 (SDG 6), which promises sanitation for all by 2030.
This year, the theme was 'Sustainable sanitation and climate change' and although it was marked low key because of COVID-19 pandemic, the essence was still observed, especially by private organisations, given the importance of sanitation and climate change.
In Nigeria, WaterAid Nigeria, revealed that 112 million Nigerians do not have toilet of their own. While commemorating the 2020 WTD, they harped on, 'Living in a fragile world: The Impact of Climate Change on the Sanitation Crisis', in which they highlighted the link between poor sanitation and the transmission of fatal, but preventable illnesses – such as cholera and how these are now compounded by the effects of climate change.
According to them, "where decent toilets are lacking, human faeces can contaminate the groundwater or end up in rivers and lakes, polluting what is often the only supply of water for drinking, cooking, and cleaning. Children play on ground rife with pathogens and as a result of faecal contamination, whole communities can contract diarrohea diseases."
The international not-for-profit organisation noted that climate change currently aggravates the sanitation crisis with extreme weather conditions including floods, rising temperatures, prolonged droughts are causing irreparable damage to weak sanitation systems and causing illnesses to spread further in vulnerable communities.
They further disclosed that an estimated 250,000 additional deaths per year are predicted between 2030 and 2050 due to climate change and many of these deaths will be linked to poor sanitation.
For Apapa and other parts of the state, some public toilets were refurbished by Harpic, Nigeria's leading toilet cleaning brand from Reckitt Benckiser (RB) in partnership with the Lagos State Ministry of Environment and Water Resources. As part of measures to commemorate the WTD, they upgraded and refurbished 47 public toilet units for six communities at Oshodi, Ojota, New Garage, Apapa, Costain, and Leventis in Victoria Island.
Funding Gap
One of the challenges facing open defecation has been funding. Harping on this, WaterAid recently expressed concern over the $20 billion annual funding gap for WASH in Nigeria, which is crucial to achieving universal access to water and sanitation by 2030.
Calling for scaling up of funds, the organisation noted that with what is on ground, it has become clear that there will need to be a significant up-scaling of resourcing over the next decade if the National WASH Action Plan is going to create real results for Nigeria.
They further charged government to include ambitious sanitation plans in their climate change adaptation strategies so communities are better prepared to withstand the impacts of climate change, as well as increase investment in sanitation services since safe, reliable, and inclusive sanitation services help prevent the spread of infectious diseases.
Efforts by LASG
Just last year, Lagos State Governor, Babajide Sanwo-Olu, recommitted to rewriting the narrative around water and sanitation access in the state by pledging to embed the "transformative power of toilets" in policy-making, according to globalcitizen.org.
Sanwo-Olu made this pledge in New York during UN General Assembly when he was hosted by Global Citizen partner Reckitt Benckiser. According to the governor, having access to modern toilet facilities and proper sanitation is an issue that is "very often underestimated by many people, for the simple reason that it is very easy for it to be taken for granted. It is also easy — and erroneous — to assume that it is primarily a rural problem. It is all too often an urban one as well. I stand here because I have the experience".
Noting that Lagos is the largest megacity in the whole of Africa, whilst growing tremendously, he said; "So we know firsthand what it feels like to struggle to make sure clean water is available to everyone. For me personally, as governor of Lagos State, it is a defining issue for me, and one to which I am fully committed to creating a sustainable solution for over the next four years".
He further posited that the issue of not having access to toilets is particularly pronounced for women and girls — both through heightened vulnerability to violence and assault, and through poor menstrual hygiene management impacting their education.
In 2018, as part of its WTD declaration, the Lagos State government said it is finalising implementation plans on its Water Sanitation and Hygiene (WASH) policy, envisaged to complement extant laws and curb the menace of open defecation and urination in the state.
Decrying the practices of open defecation and urination as unwholesome with a lot of negative impact on the environment, public health, human dignity and personal safety especially for women, children and those in vulnerable situations, the state government has consistently promoted the campaign against open defecation. But the question remains- how effective has that campaign been?
Roadmap Towards Eliminating Open Defecation
According to statistics, Nigeria is among the nations in the world with the highest number of people practicing open defecation, estimated at over 46 million people. According to the Minister of Water Resources, Suleiman Adamu, the practice has had a negative effect on the populace, especially children, in the areas of health and education and had contributed to the country's failure to meet the MDG target.
Poor sanitation impacts the entire country – it is estimated that Nigeria loses 1.3 per cent of its GDP annually due to poor sanitation. In 2018, the Nigerian Federal Government declared a state of emergency in its water, sanitation and hygiene sector, and launched a National WASH Action Plan in response to the huge challenges linked to the poor sanitation and hygiene. This was followed the next year by the 'Clean Nigeria: Use the Toilet' campaign, which aims to end open defecation by 2025.
He noted that the sanitation situation in the country prompted the National Council on Water Resources in 2014 to prioritise the development of a roadmap towards eliminating open defecation in the country, in line with the United Nations global campaign for ending open defecation.
This initiative tagged "Making Nigeria Open Defecation Free by 2025: A National Roadmap" was developed by the Federal Ministry of Water Resources with invaluable support from UNICEF and other key sector players across Nigeria. In 2016, the National Council on Water Resources endorsed this road map as a mean to eliminate open defecation in Nigeria.
He said: "The Roadmap provides a guide towards achieving an open defecation free country using different approaches such as capacity development; promotion of improved technology options through sanitation marketing; provision of sanitation facilities in public places; Community-Led Total Sanitation; promotional and media campaigns; creating enabling environment and coordination mechanism.
"In this strategy document an indicative investment required for achieving the roadmap is estimated, showing the cost by government at all levels and the private sector, especially for construction of sanitation facilities in public places and the cost by households for construction of household sanitation facilities.
"I am glad to stress that the cost benefit of investment in sanitation on the health, economic and education sectors cannot be overemphasised as reduction in diarrhea diseases among children, increased school attendance, reduction in health care cost and job creation for sanitation services will contribute to economic growth and development.
"The Roadmap also provides a basis for the development of the Partnership for Expanded Water Supply and Sanitation (PEWASH) programme which aims to establish a multi-sectoral partnership between government, development partners and the private sector to support the empowerment of rural dwellers in Nigeria through the provision of adequate water supply and sanitation services.
"The Federal Ministry of Water Resources will provide the enabling environment, leadership and coordination required in achieving this target by working together with communities, civil society, development agencies, private sector and government at sub-national levels."
Also, to ensure that citizens remain committed to being open defecation free, President Muhammadu Buhari in 2019 signed an executive order 009. The Order declares that the National Open Defecation Free Roadmap developed by the Federal Ministry of Water Resources with support from other key sector players across Nigeria be put into effect.
"There has been established in the Federal Ministry of Water Resources a National Secretariat called 'Clean Nigeria Campaign Secretariat. The Secretariat is authorised on behalf of the president to implement this order by ensuring that all public places including schools, hotels, fuel stations, places of worship, market places, hospitals and offices have accessible toilets and latrines within their premises," a statement by Senior Special Assistant to President Buhari on Media and Publicity, Garba Shehu, said.
Also, the minister of water resources said such laws is not to compel people but rather to promote behavioural change in hygiene promotion and curbing the menace of open defecation, adding that "we need the individuals and communities to have this behavioral change. It's a personal responsibility of a household for their well being and dignity to imbibe the culture of building and looking for toilets around them to relive themselves.
"In the national wash action plan that we are promoting, which the states are adopting, there's provision for some legislation to be made against open defecation, and there's going to be an executive order signed by President Buhari to that effect, where there's a law against open defecation, the law enforcement agencies will do their bit.
"We are hoping that once the campaign gets into the mind of people, our job is done. So when the communities begins to see that this is not right, this behaviour will change. And at the end of the day what is left for us is monitoring the process and if the communities are not doing it we will apply some tested methods to go and trigger them and find a way to mobilise them and do more advocacy for them.
"Open defecation is a bad practice and should be stopped and we as government at federal and state level have our own responsibility where these facilities are not available we should make a concerted effort now to provide an alternative, If we all unite in this, we will get there by 2025."
Given that one out of four Nigerians defecates in the open, with about 32 million others not having access to improved toilets, there is indeed a need for political will in order to achieve the 2025 target of making Nigeria open defecation free.