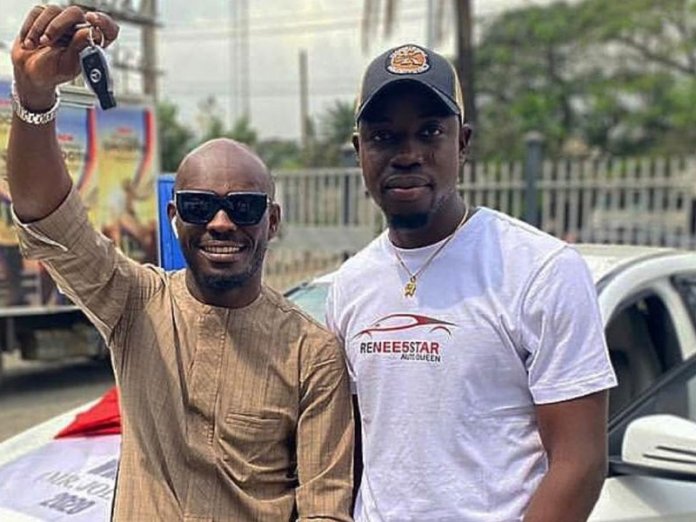 Luxurious car sales company, Renee Motors has given out brand new Mercedes Benz car to the comedian and social commentator, Mr. Jollof whose posting on social media about the company was the most liked.
The company described the give-away as the first of its kind aimed at promoting the engagement of customers through a social media Kit where the video with the most likes and comments wins a brand-new Mercedes Benz.
Official of the company, Adesua 'Renee' Ogiozee announced Mr Jollof as the winner of a brand-new car worth about N14 million.
Ogiozee said Mr. Jollof could say that 2020 brought its blessings as he officially joins the Mercedes gang in Nigeria.
The Renee 5 Star Winner was awarded his brand-New Car on the 22nd of November 2020
The company disclosed that besides the car giveaway, Renee Motors also gave out half a million Naira to five categories of people.
Renee Motors gave money to selected small businesses that benefitted N100, 000 each, a lucky student won N100, 000,while a fan also won N100, 000.
Renee Motors is popularly known as Renee5star, it gives its customers the luxury to choose home deliveries where the cars get delivered to customer's doorstep.
Renee Cars also provides a warranty on all its cars.
Ogiozee said this is unique in Nigeria and it's a great step forward by the company, adding that this gives customers absolute peace of mind when buying cars from Renee Motors.