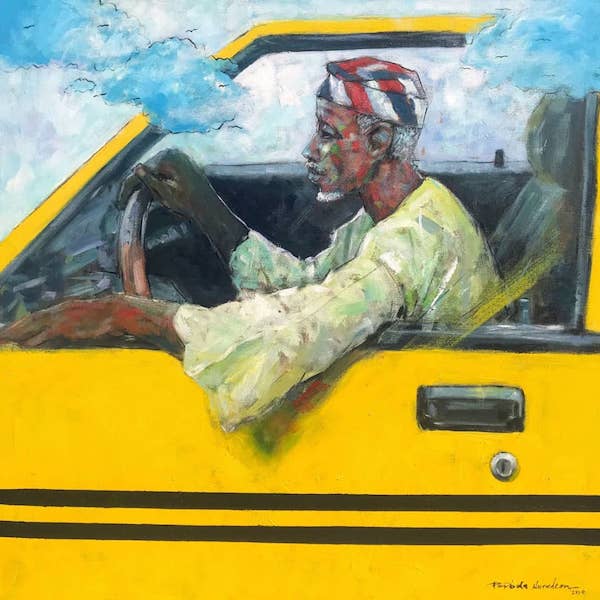 Yinka Olatunbosun
On November 28, art collectors and other creatives will converge on ArtHub, Ebute Metta for the third edition of Diversiform, a group exhibition that parades the finest of young creative minds. 10 exhibiting artists, from different backgrounds using various techniques made up this collective. Diversiform is curated by Moses Ohiomokhare with Nurudeen Popoola as project lead. In an atmosphere of conviviality at the gallery, the artists gave THISDAY an exclusive preview of some of the works for the third edition of the show.
It was also a journey through the lives of these artists as they recounted their individual stories. At the age of 10, OdunboriOlalekan starting drawing. Later, he graduated from YabaCollege of Technology (Yabatech) developing a semi-abstract art that draws on cubism movement as his unique style. He has participated in several exhibitions including SNA October Rain Exhibition, Thought Pyramid Gallery and Miniature Art Fair at Mega Plaza Car Park, Victoria Island, Lagos. His works at this show include "The Sweet Life," "The Introvert" and "You Only Live Once.''
Winning is second nature to Popoola Nurudeen, an award-winning graduate of Fine Arts at Yabatech. He had won Best Painting at the 2018 Life in My City Arts Festival (LIMCAF) and was also declared as winner at the World Bipolar Day Art Competition in 2018. "My works are based on daily lives using techniques of impressionism and realism,'' he revealed. Using acrylic, oil and mixed media, he presents a body of works that spread optimism. These include "Arugbo S'ogeri," "Ire N'beNile" and "We Shall Raise the Daffodils," which amplifies the need to adhere to social distancing and wearing of masks to combat Covid-19.
Adewale Ojo, the winner of the BEST Art Campaign Prize, holds an OND in Fine Arts from Yabatech. With works strongly influenced by Picasso, he expresses his creativity through abstract forms that reflect both his conscious and subconscious mind. His interest in bright rainbow colours makes his work visually appetizing as they are created to beautify the environment. One of his widely publicized paintings at the show is "Mr and Mrs Right."
Whether he is crafting his work titles in Portuguese or visiting prisons or other unconventional spaces for arts, Paul Ogunlesiremains an expressive realist per excellence. The Yabatechgraduate creates pieces that reflect his views on environmental and socio-political issues. Deviated from his attention to countenances, one of his paintings depict as the legs of a man. For this show, his Newsprint on canvas works like BrilloAinda and Em Direcao ao Objectivo (meaning Moving towards goals) are set to be a thrill.
Bayo Alabelewe cut his teeth with art masters to develop a rasp taste in existential themes about life struggles. With OND from Yabatech and Bachelor's degree from OAU, Ile-Ife, his paintings have become unique for expressing the intrinsic connection of man to nature and his environment. His palette knife delivered paintings like "Shakara." Other paintings at the show are "The Challenge" and "Ojuri."
On his part, Leye Moses is a ballpoint pen artist and graduate of Creative Arts, University of Lagos who aspires to create works of timeless relevance. Raised in a family of traditional folk singers, his paintings are influenced by his love for music and children. Known for realistic portraits, Leye is a two-time participant in "Life in My City Art Festival" in Enugu and was awarded the Viewers' choice award in 2018. His child portraits in this show include Omolomo I and II meaning Anonymous children created to empathize with innocent bystanders who are victims of a system.
Adewale Awesu is the oldest of the artists with over four decades of art practice. A Lagosian by ancestry, he is also a recent graduate of Yabatech. As a realism artist, he infers from his environment. He is a pastor and usually officiates at weddings. This background seeped into the framework of his pieces for this exhibition such as "Blushing," "Joy Unspeakable" and "Good to Go" which shows a bride in mask, ready to marry against the odds of Covid-19. He decided to experiment with charcoal in this show because the first time he ever produced a work in charcoal, he sold it the next day.
One of the two sculptors in this show, Segun Okewumi usually works with diverse materials like stone, metal, plastic and tyres to create his artistic statements. In addition to his OND from Yabatech, he is a final-year student of Fine and Applied Art at Obafemi Awolowo University, Ile-Ife, Okewumi considers his mother as a pillar of support and is also concerned about the underprivileged in the society. Having recently participated in Sculpting in the city an exhibition held in May 2020 andArtSoiree at the The Palms Mall, Lekki alongside metal masters like Raqib Bashorun, Olu Amoda, he had this to say: "I don't feel intimidated, I feel motivated.'' He is naturally inquisitive and can attend a workshop outside of arts just to gain knowledge and incorporate it into his works. His works include "New Dawn" and "Total Rhythm" inspired by the northern cultural heritage.
Akinlade Afeez hails from Iseyin, Oyo state and is a graduate of Yabatech in 2012. He is a member of the Society of Nigerian Artists and Ajegunle Artist Association. His hyper-realistic paintings at this show are embodied in the Days of Innocence Series with interesting titles such as "Agbaya" and "Let's Go Home."
Mayowa Samuel is also a final year painting student of Obafemi Awolowo University. "I create themes that are uplifting to the underprivileged,'' he said at the preview. His metal works series in motorbikes is titled, "Journey with Hope."
"Our mind has the capacity of a two-way vehicle. No matter the kind of challenge on the road, the bikes keep going," he added. Mayowa had always loved 3-dimensional art and was going to study architecture before deciding on Fine and Applied Arts.
Diversiform III runs till December 12.