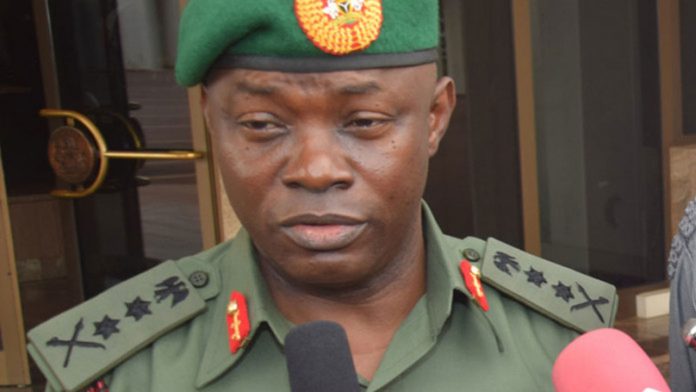 By Kingsley Nwezeh
The Chief of Defence Staff, General Abayomi Olonisakin, has called on the Ministry of Defence to look into the possibility of initiating a unified military complex in the mould of Pentagon, the United States military headquarters which shares the same complex with Secretary of Defence and his civilian staff.
The Pentagon is the headquarters building of the United States Department of Defence.
The Defence chief, who spoke while receiving the new Permanent Secretary, Ministry of Defence, Mr Babangida Hussain, who was on a familiarisation tour of the three military services, said the development of a unified headquarters complex that would house both the military services headquarters as well as the civilian cell of the ministry would engender synergy and productivity.
While noting that it was a global practice, General Olonisakin disclosed that a situation where important operational issues were dispatched to the ministry of Defence and they take upwards of three days in some instances to be attended to was insufficient for military operations.
He advocated a mix of the civilian personnel of Ministry of Defence working with their military counterparts in the same complex saying it would enhance productivity.
He recalled that the Defence House in Lagos was patterned along that line.
Olonisakin congratulated the perm sec on his appointment and said he looked forward to a seamless working relationship with the ministry while noting that the ministry's support and partnership was critical to attaining DHQ's mandate of ensuring peace and stability for the nation.
In his remarks, the perm sec said his visit was educative and to seek cooperation for effective coordination in policy formulation and implementation towards ensuring that the mandate of keeping the country safe and security for security challenges are achieved.
"My visit is also to solicit for improved synergy and to ensure proper and effective line of communication between the ministry and the Defence headquarters.
He further stated that the visit was to "reaffirm our commitment to do our level best to provide the required and necessary support to ensure that the services (Army, Navy, Airforce) are doing their level best towards attaining peace and stability.
He also agreed with defence chief's position on a unified headquarters and affirmed that government would look in that direction.