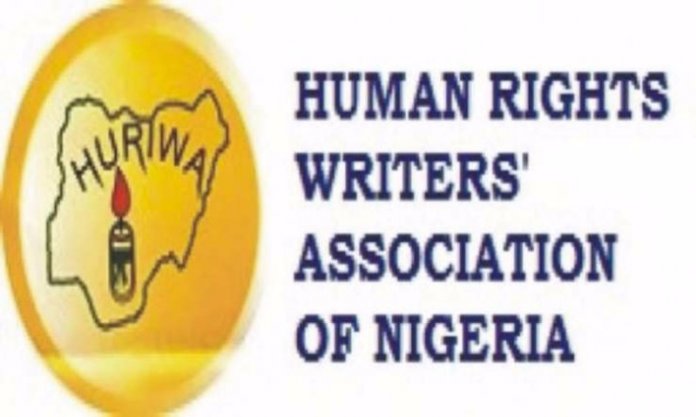 A Human Rights Advocacy group, Human Rights Writers Association of Nigeria (HURIWA) has pressed for the implementation of the autonomy to Local Councils as well as its rural healthcare, insisting that such grassroots meachanisation would come with quantum leaps in development.
According to a statement from the group resources expended at the council level had more direct impact on the people just like the operationalisation of the Rural Healthcare Centers would only take healthcare delivery closer to the people.
The statement signed by the Executive Director of the group, Comrade Emmanuel Onwubiko wondered why a sane government would work against a programme like the operationalisation of Rural Health Centres even when there had been court decision sanctioning the project.
"We are pleased that the import of the judgment is that the construction of these community based public heathcare centres must not in any way be interfered with by the governors forum in the federation. We commend the verdict but also ask the governors forum to refrain from the sinister plots to undermine the projects because of their selfish interests.
"Our interest is centred on the essence of this matter which speaks to the issue of autonomy for local councils of Nigeria in line with Section 7 of the Constitution of the Federal Republic of Nigeria of 1999 as amended and we strongly canvass the implementation to its completion these projects that would significantly boost the healthcare of the over 60 million rural dwellers just as we are by this medium asking the Governors Forum not to sabotage the Primary healthcare initiatives of ALGON as that will be tantamount to exposing the lives of the rural dwellers to the consequences of the COVID-19 Pandemic in Nigeria.
Again, we ask Mr. President to proceed with the revolutionary programme of conceding constitutional autonomy to LGAs as that is the surest way to guarantee employment opportunities for millions of the rural dwellers and will open up the rural communities to aggressive infrastructure upgrade and development. We will be writing to the Chairman of the Nigerian Governors forum to highlight the essence of permitting the full implementation of the rural healthcare projects as this will further boost the rating of the governors as true democrats," they pointed out.
The case referred to suit No. FCT /HC/CV/ 753 2017 between Mathan Nigeria Limited and the Attorney General of the federation and Minister of Justice, Minister of Finance, Accountant General of the Federation and Association of Local Government where a court in Abuja ruled in favour of the claimant who sued for the stoppage of work on the rural hospitals after the contract had been awarded it.
In resolving the issues of the suit which had many declaratory prayers, the court held that, "This issue, ordinarily ought to have been deemed as anon issue, considering the state of uncontroverted evidence on record. CW1 tendered in evidence as Exhibit C1, which is contract agreement made between 4th Defendant, Association of Local Government of Nigeria (ALGON) and he Claimant, Mathan Nigeria Limited on 6th February, 2005. By the said contract agreement, the 4th Defendant, which is a registered association of the entire constitutionally recognized 774 Local Government Councils Nigeria, engaged the Claimant to build a heath care centre in each of the said 774 LGAs, in accordance with the Specifications approved by the Federal Ministry of health Limited centres and thereafter to equip the health care centers equipment to be vetted by the National Primary Health Care Development Agency. The Federal Ministry Housing is also, by the contract, agreement, required to provide the bill of quantities for the works to be undertaken by the Claimant."