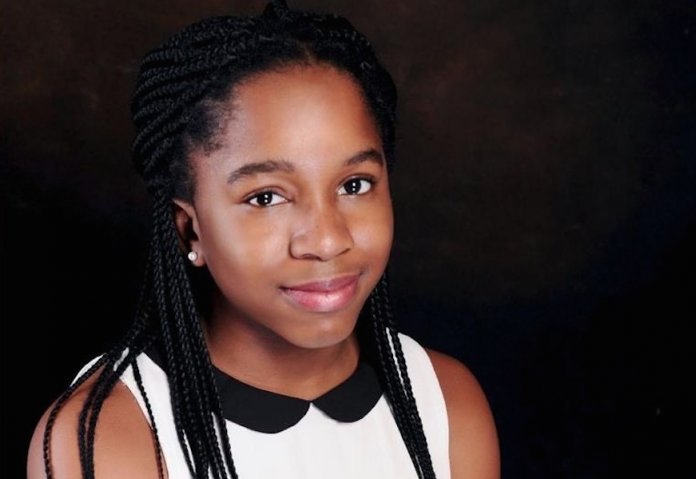 The passion for education, national development and healthcare is clearly positioning 16-year-old Anna Akwukwuma as one who will break boundaries and spur others to live impactful lives, irrespective of age and location. Rebecca Ejifoma writes
In this time and age, many teenagers are faced with challenges that others before them did not by any chance face. If it's not the next challenge on Tik Tok, then it is the next trending issue on platforms like Instagram, Twitter and others powered by the internet.
Of course the world is building regulations on how young people can explore the opportunities online and make the best of their lives, but then again, there are concerns if they can actively key into the tools and resources around them, and leave the world better than they met it.
As you already know, not every teenager out there is caught in the web of distraction seeking for their attention.
There is always a goldfish to look out for in every generation. One of them is Anna Akwukwuma; a young aspiring medical doctor whose words are punctuated with well-mannered smiles and intelligence. She is one of such rare teenagers adding a positive twist to the narrative.
Indeed, Akwukwuma is only 16 but sounds 25. She is quick on the uptake and has unpolitical visions spelled out with precision. Interestingly, she is a two-time Head Girl both at British International School and Corona Schools in Lagos State and clinched an academic scholarship. She speaks German and French to a lesser degree, currently learning Mandarin with an interest to pick up Spanish too.
While we communicated from Nigeria to abroad on a Monday evening in October, we took a long stroll down memory lane, as pleasant memories gushed in.
She quickly talks about her imposing curriculum vitae. "I received my elementary education in a number of places. For years one and two, I went to Corona School Lekki, Agungi from 2008 to 2010. For year three, I attended the International School of Geneva in Switzerland from 2011 to 2012, and for year four to six, I attended Corona School, Ikoyi from 2012 to 2015."
Head Girl Moments
As for secondary school, I attended the British International School (BIS) at Oniru from 2015 to 2020. I was Head Girl both at Corona, Ikoyi and BIS. Because of my performance at the BIS entry exam, I was offered an academic scholarship which was sustained throughout my stay in the school.
On leaving BIS, Akwukwuma was given the Memorial Medal of HRH Oba Idowu Abiodun Oniru. The school's board said this was a recognition for 'a combination of academic excellence, significant contribution to the community, outstanding leadership and exemplary conduct'.
Truly, young Akwukwuma is a true Nigeria despite her polished accent and life in the US. She hails from Delta State, but born in Edo. She lived in Lagos, but is now abroad to further her education.
"I am currently doing my A-Levels in Concord College in West Virginia, USA," she revealed.
On how life was at secondary school with fellow students, teachers and the learning environment, she expounded that indeed it wasn't perfect.
She expressed, "Actually, it was tumultuous. But what secondary school experience isn't? The experiences I had and the people I had around me helped shape me into the person I am today
Quest for More
Her naked love for 'reading' comes from her love of learning and her inherent desire to know how and why things are.
"I think it is safe to say from this perspective, I've always been a bookworm (for as long as I can remember that is)," she chips in enthusing that, "I've always questioned why things are and have always been interested in finding out new things and discovering how they work".
Consistency
Just like secrets to a tasty meal, Akwukwuma penned some secrets that earned her an enviable grand slide.
"Consistency and putting your best in everything you do. Not letting failure or temporary set backs inhibit your progress. Comparing yourself to yourself. Use your failures as fuel and always set out to do better than your last best," the two-time head girl said.
Time Management
On how teenagers can manage their time efficiently
Akwukwuma is concise. "Simple. Time management and the ability to prioritise. Yes, this required some painful sacrifices at times, but in the long run it worked out in my favour. I structured my time in such a way that I always had time for studying as well as play."
Roles of Parents
Not many might relate to this. As a teenager, Akwukwuma adores her tight-knit relationship with her parents. She says it helped her academic pursuit and boosted her sought-after lifestyle.
"Honestly, I communicate with both of them equally. Whatever I tell one, I tell the other," she said with emphasis, "A huge role; they never pressured me into getting good grades. But the values they had instilled in me from a young age helped me cultivate the ethics and lifestyle I have now."
For most teenagers, their minds make the best of them, hence, the need for parental help. Like young Akwukwuma, both her parents pitched in and helped.
"My parents are huge inspirations to me and they make it easy for me to talk to them about any issues I may have. No matter how minuscule they may be. It's the conversations I have with them that shape certain perspectives that I have comparing myself to myself," she chuckles.
The well-informed teenager however urged parents to eschew making their children feel inferior. "A lot of parents intentionally or unintentionally compare their children to other people's children. My parents never do that. It was the other way around. I used to compare my grades or myself to other people and get upset at how much better they were (or rather how much better I thought they were)."
But thanks to her parents, that inferiority complex became history. "My parents nipped that bud of self-pity and made me realise that the only person I can compare myself to is myself. And that shapes much of who I am and what I do today."
Pushing Boundaries
Just like health experts and other stakeholders in and outside the country, Akwukwuma is worried about the state of the health care system in her country.
"After my A levels, I plan to study medicine and then go into Biomedical Engineering. My motivation for this comes from witnessing the current public healthcare system in Nigeria. People that are less privileged don't even get the bare minimum when it comes to basic healthcare and the only places where standard health care can be obtained are private hospitals (which can be horrendously expensive)," she said.
Interestingly, Akwukwuma has more dreams. "I want to study and practise medicine first so that I can have a first hand experience of proper health care delivery systems. I want to then go into biomedical engineering to devise new medical devices and systems that will push the boundaries of medical science and improve healthcare delivery, making it more efficient and cheaper than what we have today."
"At some point," she hopes, "I will like to come back to Nigeria and contribute directly to our country's advancement in these areas".
And in the laudable words of this charming teenager, everybody deserves access to proper health care, even Nigeria, her motherland. "There are still so many unsolved problems that need soothing solutions. So, I think the world would benefit from having one more medical doctor, who thinks both logically and creatively," she swiftly puts.
On where she would like to practice, "my plan is to gain as much experience as I can, to work in a variety of places to observe how health systems in different countries work, and how they operate and hopefully to look at the pros and cons of these health systems and figure out ways to increase the pros and then bring back everything I've learned and the experience I've gained to Nigeria, to see what I can do to improve the public health care system," she outlined.
Hurdles
According to Akwukwuma, some of the most common issues people of her age face include struggles with body image.
In her words, "Pressure from peers, parents, and society (in the form of social media) to conform to conflicting expectations (whether these expectations be body image, academics, finance etc.)
"I pulled through because of the relationship I began cultivating with God. He helped me come to the realisation that indeed, I am fearfully and wonderfully made and there is no single definition of beauty, but that there is beauty in individuality – in being your authentic self with no physical or emotional filters," she expressed.
Role Model
Of course, having role models in one's life is very important, and having good role models is more important.
The upcoming medical doctor has got a good one with reasons. "My maternal grandma. I'm always in awe of how grateful she is for the smallest of things. Her strength and her perspective on life in general inspires me," she says firmly.
Hobbies
Really, Akwukwuma's life has not been all about studying without a break. She enjoys playing musical instruments, and learning foreign languages, too.
"I play the piano well, and recently started to play the guitar. I speak German well, and French to a lesser degree. I am currently also learning Mandarin and I have an interest in picking up Spanish too," the Edo State-born teenager shares.
In addition, Akwukwuma loves listening to soulful music, reads novels, exercises and spend time with her friends and family.
Social Media
She lent her voice to her fellow teenagers, "Images and information you see on social media are just the surface. You are rarely shown the road to people's apparent success. Sure, you can find people inspiring but don't compare yourself to them. Use yourself as a yardstick."
"Don't be too concerned with people's opinions of you. In real, everyday life people are too occupied with their own lives to worry about what you're wearing or doing," she implores.
Continuing, the Delta State indigene harps on, "Take a break from social media if you feel like it is taking up most of your time. Spend time with your family. All in all, be yourself, not the self you think people want you to be, but yourself. Your authentic self."
It is needless to say, having listened raptly to her smart goals, that young Akwukwuma may be the next generation model for youths and teens.