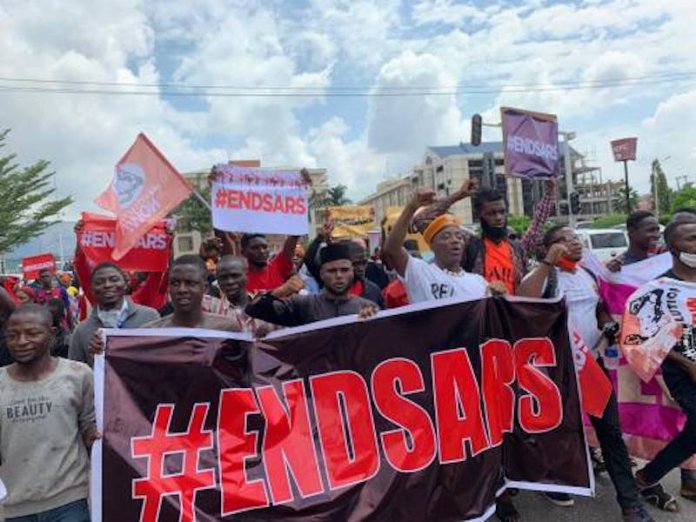 The 'Black Days'
Is there any point in making any more comments about the events of the 'Black Days' and the constantly changing narratives arising therefrom? That the Lekki Concession Company has undertaken to release the video footage of the incident, is a step in the right direction – provided that, the complete, unadulterated footage, is what is released. I'm sorry to say that, successive Nigerian Governments are not particularly known for their transparency (present company included). Rather, they are famous for quite the opposite – opaqueness and coverups; even for matters that Nigerians should be informed about; for example, how and/or when General Abacha, Chief M.K.O. Abiola and President Yar'Adua died, and the exact illness that President Buhari was being treated for in the UK. The fact that we have the Freedom of Information Act, is irrelevant. That legislation is simply there to decorate the statute books, nothing more.
The Nigerian Army changed its story, faster than a chameleon changes its colour – initially, it was fake soldiers on the scene, then it was that they were real soldiers (identities withheld), but they fired blanks. Who gave them the instruction to open fire on the #ENDSARS Protesters? Mr Governor, their Commander in Lagos, the Chief of Army Staff or the President? If Mr Governor was able to command Army troops to disperse the peaceful protest on 'Black Tuesday', why was he unable to call them back to intervene when they were so desperately needed, to stop the looting and carnage of 'Looting Wednesday' by hoodlums?
Mr. Governor has denied asking the soldiers to shoot – what did he expect that the soldiers would do at the tollgate to disperse the Protesters? Sing Nursery rhymes and Christmas carols? People who are trained to kill at the drop of a hat? I restate my earlier submission that the #ENDSARS Protest at the tollgate, did not qualify under the provisions of the 1999 Constitution of the Federal Republic of Nigeria (as amended) (the Constitution), as one in which the Army would be called in, whether by Section 217 – there was no insurrection to be quelled and order to be restored, or Section 305 of the Constitution – no state of emergency had been declared; and assuming, but not conceding that the tollgate situation did qualify in either case, the laid down procedure provided in the Constitution to be able to lawfully invite the Army in, was not followed. In law, Mr Governor who dispatched armed soldiers to the scene, may be held just as liable as those who opened fire.
And for those who are happy to further divide Nigerians by playing the ethnic card and saying that it was the Igbos that looted and destroyed Lagos, others can also reply by claiming that since it is Northerners who are in charge of the Police and most of the Armed Forces, and they failed to come to the rescue of Lagos on Looting Wednesday, they are also culpable. Please, let us refrain from going down such a destructive path of stirring up ethnic sentiments. To be candid, it makes more sense to allege that it is Government (both Federal and State) and the Politicians, who may have connived against the people to protect their own interests, and not tribe against tribe in this particular circumstances. This kind of baseless allegations predicated on ethnicity, has most likely been orchestrated by the real culprits behind this whole saga, as a distraction – to remove suspicion from them.
The NBC's Faux Pas
One would imagine that, with all the negative world-wide publicity that the Government of Nigeria has received from the #ENDSARS events and fallout, that they would be as measured as possible in their reactions. But, no, the National Broadcasting Commission (NBC) showed itself up, when it thoughtlessly purported to fine three reputable television stations – ARISE TV, AIT and Channels TV N3 million each, for their so-called 'unprofessional coverage' of the events which took place during the Black Days and thereafter. This is not surprising, considering the fact that the NBC is a creation of the Military's Decree No. 38 of 1992, with a mandate to regulate and control (gag) broadcasting in Nigeria. Obviously, the NBC is still stuck in a time warp – the military era!
Sections 22 and 39 of the 1999 Constitution, uphold the responsibility of the press and media to Nigerians, and guarantee our right to freedom of expression and the press, respectively. What is the duty of a News television station, if not to cover event news stories and current affairs, and disseminate them to the public? To analyse stories and interview guests? The television stations played videos of the shootings on Black Tuesday – shooting which is undeniable, and the devastation of Looting Wednesday and thereafter, in different parts of the country. Whether the shots fired were blanks or real, should be subject of a forensic examination, and not just taking the Army's word for it. The television stations then hosted several guests including Government Officials, Politicians, Security Analysts, former members of the Armed Forces, Youths and so on, to discuss the events. What is wrong with that? It would have been strange and remiss of the television stations, not to cover such historical, but unfortunate events. After all, many News Anchors all over the country had attended the Protests at the different locations on a daily basis, reporting live from there.
This type of crude attempt by Government to gag, suppress and oppress the Press/Media in a supposed democratic dispensation in the 21st century, is simply unacceptable, and, if anything, portrays Government in a more gloomy and jaundiced light to the world.
Divisive Elements: Federal Government/State Governments/NASS and the 'Next Level'
Federal Government
I find it quite bizarre, when the Presidency and its spokespersons continuously accuse some 'unknown' persons of the Third Realm, of being the divisive elements in our polity. While it may be true that indeed, there are some mischief/trouble makers who are always prepared to cause confusion, and are happy to take advantage of any available opportunity to do so, it is undeniable that this present administration is the master of division, yet it sees no fault in itself, and is always quick to blame others at the hint of any problem.
Should I bother to refer to Sections 1(2) and 14(3) & (4) of the Constitution for the umpteenth time? That Government shall not be concentrated in any person or group of persons, and that Federal Character must be reflected in Government, in order to promote national unity and national loyalty? The Constitution, as bad a document as it is, by the aforementioned provisions, clearly takes cognisance of the fact that, an equitable distribution of Governmental positions (especially those positions which when combined, are the ones that actually control the country) amongst the different ethnic nationalities, promotes national unity. Yet, Government takes pride in doing quite the opposite, distributing the positions unfairly instead, and then says it is committed to 'One Nigeria'! Indeed!
Examples abound – Government's skewed appointments in the security sector in favour of the North, with no tangible improvement in our security situation; the blunt refusal to replace the Security Chiefs, despite their discouraging performance; the handling of the herdsmen crisis; leaving Lagos, the commercial nerve centre of Nigeria to burn on Looting Wednesday; refusal to address the calls for restructuring, are more than enough reasons to keep the ball of divisiveness set by Government, rolling.
However, another type of division, the 'next level' of divisiveness taking over from that of tribe and religion – is between 'the Have and Have Nots' – based upon poverty – a mild display of the consequences of this division, is what we experienced on Looting Wednesday; and Government at most levels, is the biggest cause of this.
State Governments and Local Legislators
The recent revelation that some State Governments hoarded food donations made by the Cacovid Group to the people to ease their hunger during the Covid-19 lockdown (in the North, East, West and South), evinces the fact that, coming a close second to the Federal Government in terms of failure to discharge their constitutional obligations to the people, thereby causing division between the haves and the have nots, are many of the Governors and their State apparatus. We have spent so much time on the Federal Government, while failing to shine the search light on State Governments.
Section 16(1)(b) of the Constitution enjoins Government (which includes Federal, State and Local) to, inter alia, control the economy in such a manner as to secure the maximum welfare and happiness of every citizen. However, on the contrary, several States, including Lagos, have made their people truly sad and disillusioned.
You will recall that in my piece of April 7, 2020, "Covid-19 Miscellaneous", I mentioned the residents of Olayinka Street, Alimosho, Egbe, Lagos, who displayed their 'Emergency Food Response Package' which comprised of one paper bag of essentials like gari, rice, beans and one loaf of sliced bread, to feed a street of a minimum of 300 residents for a period of two weeks! Yet, warehouses full of uncountable bags of essentials like rice, gari and boxes of Indomie noodles etc were discovered all over the place, in some cases, almost six months after they should have been distributed, despite the fact that during the lockdown, people came out in droves crying that they were hungry and their children were suffering, because the palliatives distributed to them were grossly inadequate. Many of them declared that they would rather jettison the lockdown in order to eke out a living on their daily wages, and risk the chance of contracting the dreaded virus, rather than stay at home and starve to death.
Section 17(2)(c) and 17(3)(g) of the Constitution provide that "Governmental actions shall be humane", and mandates Government to make provision for public assistance in deserving cases and other conditions of need. Pray tell, what situation could have been more deserving of public assistance than the Covid-19 lockdown period? Granted Cacovid may have distributed palliatives to the States in batches, in order of priority – possibly giving Lagos and Kano (which were the most affected by the virus initially), and other Northern States plagued by the Boko Haram insurgency and banditry their palliatives in the first batch, while a State like Kogi which claimed that it was Covid-19 free, may have received theirs later in a subsequent batch; but, the question is, what were States like Lagos and Nasarawa still doing with such large quantities of supplies, almost six months after they had been donated by Cacovid for the people? What valid explanation could the States who had received the palliatives so long ago have, for not distributing them?
One numb explanation given by one of the 'Birthday Legislators', an APC lawmaker in the Lagos State House of Assembly, was that he was planning to distribute the palliatives to widows and the vulnerable in his constituency, on his birthday at the end of October! Another Birthday Legislator was alleged to have repackaged the Indomie Noodles, and distributed them to guests in take-home party packs during her birthday celebration early last month – common theft by people who already have so much, from their hungry constituents! So wicked, despicable, disgusting and disgraceful. Is this type of selfish and cruel behaviour not enough to cause anger, disaffection and division between the haves and the have nots in the land? If I was in their constituency, I would be spearheading the Petition to have them recalled.
NASS Members
As if it is not bad enough that most Nigerians believe that National Assembly members are paid unjustifiable salaries and perquisites, they have taken to advertising their indefensible wealth by displaying their obscene, extravagant homes, vehicles, wrist watch collections etc all over social media, singing and praising God for their riches which they acquired at the expense of millions of Nigerians, while majority of their constituents are either struggling to eat one meal a day if they are lucky (0-0-1 instead of 1-1-1), or scavenging from the dustbins. The women Politicians adorn themselves in expensive looking fabrics and jewellery, take photos and use them as their campaign posters! It all leaves a bad taste, in the mouths of the people.
In a recent television interview, a Senator of the Federal Republic said that he was tired of hearing people say they were overpaid; that after all, N127 billion allocated to NASS in a N13 trillion budget, made no difference! Such arrogant comments showing a 'wrong and strong' attitude are not just unhelpful, but inciteful. N127 billion budget for 12 months for a body comprising of less than 500 Legislators? An amount that can pay the salaries of over 25 million workers at a minimum wage of N60,000 for the same period of 12 months! And, while I accept the fact that everybody cannot be rich, it is highly inequitable and unacceptable for Legislators and top Government Officials to be living fat off Nigeria's money, while majority are denied even the basics.
Conclusion
Government, it's officials and the Legislators are the ones who have singlehandedly put themselves in a position of odium and disrepute, by their actions. During the years of the military regimes, they were accused of enriching themselves and their cronies. Now, Government policy is geared towards doing the same for its own group – its officials, Legislators and cronies. It is no surprise that miscreants visited the homes of some Senators to wreak havoc out of bitterness – that kind of 'let's forcibly take our own share of the national cake' mentality.
The sooner Government begins to take responsibility for some of the divisions in our society, especially inter-tribe and inter-religion, and more importantly, between the haves and the have nots which it has fuelled, and make reparations, the better for us all. If not, what we saw on Looting Wednesday and beyond will be child's play in comparison to what can happen; and as we have all seen, unfortunately, the innocent and hardworking, will not be spared. For many who were thin and hungry, 'soaking gari and peanuts without sugar' before they got into political office, now crassly displaying for all to admire, their handmade rugs from Italy, furniture from France, fleet of cars, wrist watch collections and so on, after a few years in office, be warned – social media is a strong tool which didn't exist previously, the non-existence of which may have allowed past Governments to get away with atrocities. Today, all Nigerians, especially the masses who are in the majority, are watching. A word, they say, is enough for the wise!