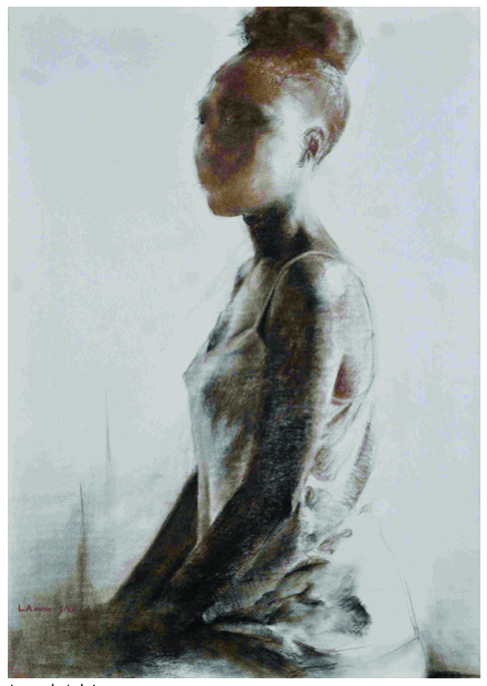 Okechukwu Uwaezuoke
EXHIBITION
Could this be a subtle act of defiance against the storm-driven tide of conceptualism? This is not only what Generations 4: The Future Masters Series looks like, but it is also what the declared intention of the organisers corroborates. For four uninterrupted years, the juried annual exhibition has been unwavering in its stated objective, which it says is "to raise the deteriorating standards of craftsmanship by promoting young skilled artists…" Perhaps, it would be better to substitute the word "craftsmanship" with "draughtsmanship" for better understanding.
This year, eight artists – described as both "talented" and "young" – are being featured in the group exhibition, whose opening date has been shifted from Saturday, October 31 to Saturday, November 8. The artists – Ademuyiwa Ladega, Akintomide Aluko, Akintunde Odesola, Ayooluwa Akinrinola, Opeyemi Olukotun, Olalekan Adebiyi, Folashade Fagorusi and Tosin Toromade – express themselves in such well-known traditional mediums as oil, acrylic, pastel, charcoal, metal and wood. Their works, enthuses the Mydrim Gallery's director, Sinmidele Adesanya, "make very interesting viewing. We are happy that after each edition of this exhibition, the artists benefit from additional exhibition opportunities."
Talking about this exhibition, it is an initiative of a leading Nigerian artist Abiodun Olaku, who is renowned for his realistic landscape paintings, in collaboration with the Ikoyi, Lagos-based gallery. Olaku, whose faith in the artists' "unadulterated creative prowess" is unshaken, looks forward to their becoming reckoned with as future masters.
But then, how does this purist allusion to masterhood skirt around potential minefields of controversy? To the gallery, this exhibition is just one of its annual endeavours to promote excellence in the visual arts space. Yet, it chimes well with its plans of "reviving sound art practice based on firm foundational principles of observation, creativity, skill and draughtsmanship."
Judgemental though this position may sound to the partisans of the modern artistic trends, it appeals to the sensibilities of many artists who feel left behind by the ever-shifting boundaries of what qualifies to be called art. Back to the exhibiting artists, who are so to speak the bastions of resistance against the rampaging conceptualism. They have been hailed by the renowned Nigerian art educationist, Dr Kunle Filani as "young and dynamic individual artists". Indeed, the only female among them, Folashade Fagorusi, would have been part of a Nigerian Off exhibition at this year's edition of the Dakar Art Biennale (called Dak'Art), which was postponed because of the coronavirus pandemic. This was because she was one of the Life in My City Art Festival's top 12 winners – six each from the 2018 and 2019 – whose all-expenses-paid trip to the Senegalese capital was to be sponsored by Professor El Anatsui. A three-time category prize-winner at the Life in My City Art Festival grand finale exhibitions in Enugu – in 2015, 2016 and 2019 – the Obafemi Awolowo University graduate was selected to represent Nigeria at the International Women Art Exhibition and Conference in Dubai, UAE in 2019 and 2020. She was also The Entrepreneur Africa Awards 2019 nominee in the Creative Arts Category and was featured in the fifth edition of the book, Women Artists around the World in 2020.
Among Fogorusi's seven male co-exhibitors, two (Olalekan Adebiyi and Ayooluwa Akinrinola) are sculptors, while the rest are painters.
Dr Filani sees the "the variety of sub-styles, materiality and creativity that each generation of Nigerian artists adds to the visual arts field" as the "most significant impact of the continuing tradition of naturalism". He also hails the gallery's "seeming specialisation in naturalistic style", which he says makes it "more professional and far-sighted."
PIX: Against the Light I Charcoal on paper Signed and dated 2019 (Lower left) 71.1 x 60.9cm (28 x