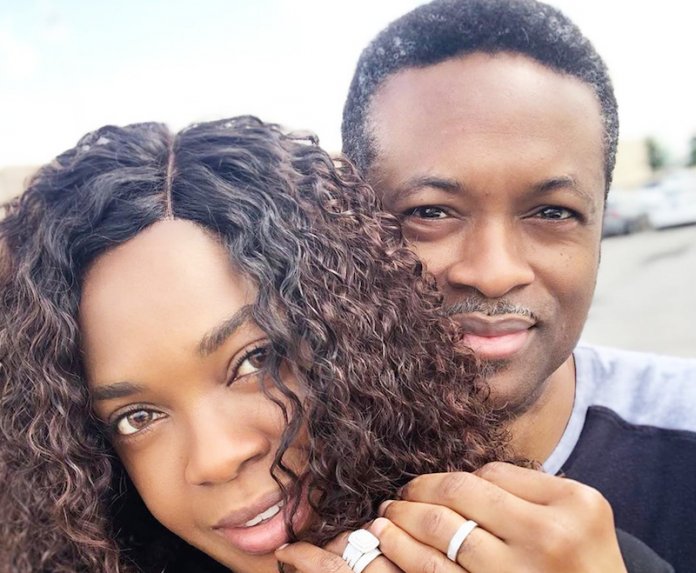 Nollywood actress, Omoni and her husband Nnamdi Oboli spent most of this week celebrating 20 years of blissful matrimony, writes Ferdinand Ekechukwu
A ctress Omoni and her husband Nnamdi Oboli are celebrating their love life together 20 years after marriage. For the couple, blessed with three sons, the romance is still quite strong. Her husband, Nnamdi, first took to social media to celebrate their love and how far they have come together. In the post which he shared on his Instagram page, Nnamdi, who recently turned 50, stated that he could not believe that it had been 20 years already and he was grateful for God's blessings in their lives.
He also prayed that they would spend many more years together and finished off by saying he could not have asked for someone better to be his wife. Nnamdi shared a lovely photo of them on Instagram and wished his wife a happy anniversary with the sweetest caption. He wrote: "Happy 20th Anniversary to us!!! Time really flies! It's been 20 years??? Amazing! I thank God for the years; for the beauty of a relationship amidst all the fears. The pain and sorrow and grace we've seen. The journeys and places and levels we've been. We don't take it for granted that we got this far.
"The children and blessings that show us God is truly extra. We hurt, we cried, we live, we die. We know and pray, for on God alone we rely. It's so easy to look back, forget, and think we made alone. I'm grateful that we're still a work that's not yet done. I wish you, my wife, many many more years together. I certainly couldn't have asked for someone better. #HappyAnniversary #LoveYouBabe." On her part, the beautiful mother of three shared a post which acknowledged their marriage anniversary.
In a post shared on her Instagram page, Omoni reflected on her journey as a wife and mother. She mentioned that she could have made the biggest mistake of her life when she got married at 21 but God gave her the best gift as a husband. The excerpt from her post reads, "Struggled with posting this today but I guess we all need some happiness. It's our 20th wedding anniversary!
"Don't worry, even I too I'm shocked! How time flies! I was 21 when we had our court marriage on January 20th, 2000. By our white wedding on Oct 28th, I had turned 22 and most people, even my dad felt I was too young. Thinking about it now, I could have made the biggest mistake of my life but God gave me the best gift in @nnamdioboli. The best thing that ever happened to me is marrying you Nnamdi. You truly are the wind beneath my wings. Thank you for loving me unconditionally and for all the many sacrifices. I know I'm a coconut head girl most of the time but you love me through it all. I love you for eternity. May God keep you for me and our boys. We'll celebrate soon! Can't wait… God knows I need the distraction."
The actress met her husband when she started acting in 1996. Four years later and just two weeks after they began dating, she at the age of 21, while he was 29, he proposed to her. Nnamdi Oboli is a life coach on marriage and relationships, a columnist for 'Motherhood-In-Style' magazine, and a strong believer in the sanctity of marriage as a necessary first step to attaining a greater society. He is a University of Benin graduate of Optometry and the co-founder and M.D of Dioni Visions Ltd, a multi-faceted company with businesses including optometric practice and entertainment at its core.
Nnamdi is a co-producer of several award-winning movies such as The Rivals, Render to Caesar and Being Mrs. Elliott. Omoni had in an interview, opened up on her successful marriage, attributing it to understanding with her husband. "I don't know if I keep my home intact; I believe God does that for me.
There are many women who do the right things and show up at every time for their husbands and still get the short end of the stick.
"So I don't take credit for it. I have my moments and he does too, but somehow it has never tipped the scale and that's because God made it possible. Nevertheless, I believe that when you understand that you're both different individuals who have become one, then you can try to weather any storm, knowing that if you don't, both of you will have a dreadful life in that marriage. Enjoy it and seek for the things that make for peace because life is too short to waste it fighting."