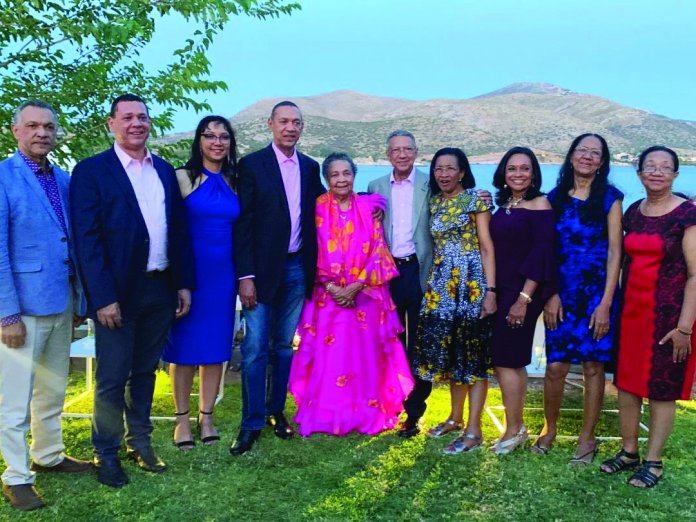 Mrs Margaret Murray-Bruce, matriarch of the Murray-Bruce clan, turned 94 last Monday. Rather than her usual sumptuous party and in the face of the Covid19 pandemic, she preferred to address the issues in the land comparing colonial Nigeria to the present predicament of the common man, and the way forward. Nduka Nwosu reports
Every October 26 the Murray Bruce family gathers to give a befitting birthday party for the matriarch of the clan, Mrs. Margaret Murray-Bruce. This year turned out to be a different story given the Covid 19 pandemic and the protocols for avoiding infection. Therefore there were few visitors around and Mama as she is fondly called, would not accept handshakes and hugs and all the usual pleasantries from her children, grandchildren and great grandchildren, while there would be considerable social distancing between her and "guests," who are largely family members.
For mama the round figure would be her 95th birthday when she would present her memoirs to her admirers and mentors. The take away from this birthday is that Mama is as healthy as fiddle. She lives her normal life and keeps a regimen on an even keel with her physician's approval. Birthdays for her have been memorable in themselves. She has had multiple ceremonies going on at the same time and it was exciting hooking up through zoom this time around with the clan spread in different parts of the world. Had the times been normal, she probably would have had in addition to other events, a cantata as grand as her son Ben's 60th birthday symposium and musical when over 30 Nigerian musicians of the wrapper generation gathered to make the evening memorable. That night Mama requested that Korede Bello repeat her 'God Win' alert song that made an instant hit trending for a long while on the local Billboard. Mama could have gone on a boat cruise. Her boat cruise from Los Angeles to Mexico to mark her 90th birthday was eventful.
A typical birthday for the matriarch is an awesome experience. As usual every member of the clan in particular the old generation endeavours to be home, more like a typical Jewish festival that demands all must return home either for atonement or the commemoration of the exodus from Egypt. Mama's birthdays, like this one, come with special gifts such as a hug and a peck from Ben who calls her "my girlfriend." Mama usually sits regally decked in her new look exchanging pleasantries and urging everyone to sit back and relax with cameras and videos clicking away. Music including Fela's
Afro beat tunes blast through the speakers and Joy warns no discussions outside the celebration should distract the event.
Of all her recent outings, her 90th birthday celebration was something to remember. Expectedly a cruise on sea to Mexico from Los Angeles was arranged for the clan and the gong was sounded that a cruise would be the best way to felicitate with mama and close the last quarter of 2016. The Mexican Riviera Cruise on a Norwegian Cruise Line is described as a seven star floating hotel on the high sea with restaurants, swimming pools, cinemas and stops in four ports including Cabo San Lucas, a souvenir shopping centre.
The beaches with their pearls offered a tourist delight to the adventurers.
The island has an array of good sea foods and outdoor activities-surfing, snorkeling, scuba diving. If you think the beauty of the Kohala coast resorts; makes Hawaii a complete fascination for a tourist, wait until Mexico opens its compelling attractions.
Reflecting on the experience, mama says it was truly fascinating staying in the sea that long and the night adding to the charm and hypnotic hold of nature. The heavens provided another form of electricity which descended on the waters like a thousand lit fluorescent bulbs of varied hues and radiant colours of rainbow. Mexico with its many islands shares so much in common with Hawaii, a distinguished island adorned with Honolulu, the Waikiki beaches and pearls. When it lazily eases out of its mast, the cruise liner traces the Pacific Ocean down the Gulf of Mexico heading towards the Caribbean and the Gulf of California, all the way to Holbox, Contoy, Marietas, Todos Santos, Espíritu Santo and Cancun, the Mexican islands.
Any wonder therefore the children resolved they were going to give their mum a lasting birthday gift? Ben was there with Helen, his most beloved wife of blessed memory but Michael was not feeling too well and could not make it. Stella was there, same for Francis who came with two of his friends. Edward had died and so was dearly missed. For those who turned up to celebrate mama at 90, the memory lingers. She got so many presents with a bouquet of flowers and cakes from most of the restaurants where she dined in the cruise liner with a huge party meant to spoil her wrapping it up. On her 80th birthday, mama's celebration was an event observed in different parts of the world. She flew in from Los Angeles to London where many of her grandchildren reside and back in Lagos Philomena and her children held a party to observe the event. How many of us would have such opportunity, asked Joy her daughter.
Mama's delight for the sea is borne out of the fact and circumstance of her birth. Her mother Mrs. Becky James Lionel Lee had left Lagos for Port Harcourt to meet her husband when she delivered her baby later named Margaret in the ship. That was October 26 1926. Little did Mr. Lee know nature had so arranged it that it would happen in the Atlantic. That partly explains why later in her adult life the charm of the sea became her past time.
That same year April 21, heralded the birth of a future monarch possibly the most famous in the world. Princess Elizabeth Alexandria Mary was born to the Duke and Duchess of York who later became King George VI and Queen Elizabeth respectively. The year 1926 was auspicious in the calendar of chroniclers of great men and women; it was indeed a great year that saw the birth of many men and women who would later stamp their imprints on the sands of time.
Life style
When people come to Mama, they keep asking what is the secret of longevity backed with good health. This could be matter of factly but she tells her story of what she considers a simple way of life, what you would expect among the common place everyday people with often prosaic and less imaginative tendencies though the mama we know goes beyond such ephemeral definitions: "I live a very simple life, eat simple foods whether African or continental. In Calabar I got used to the local delicacies- ekpan nkukwo and edi kaikong. I stopped having sugar related drinks such as minerals and packaged drinks a long time ago. Now I don't take any of those things including sugar. I do eat red meat but it has to be well cooked. I cannot thank God enough for what he has done for my family. I can't believe what he has done for me ageing gracefully and with minimum health concerns beyond all the normal ailments of old age as decreed by the creator.
"I drink water wherever I am. I take a drop or two of wine at social gatherings but my regular drink is tea, like a drug addict I get stressed when my tea is not there. I love my tea. My father was British and that is why I am addicted to tea."
She goes on to describe her regimen: "My breakfast is simple and consists of one egg, one slice of bread and I don't mix butter with bacon, one has to give way for the other. Mama at 93 uses glasses sparingly to read and write. It is not only medicine that keeps the body healthy, she advises. That is part of the reason she detests depending on drugs: "I don't like medicine myself. I drink water and protect myself from mosquitoes by sleeping under the net. I take vitamins more often than drugs and in England when I see my doctor, he gives me something for arthritis. Arthritis which set in some years later has no cure and I remember Queen Elizabeth, my age mate, had a knee surgery some years ago; when I heard it, I said that's what goes with ageing. I avoid the 'owambe' parties and live a simple life. I cannot eat salad or vegetable soup outside no matter how well prepared. It is all about hygiene,"
These days she goes to Eko Hotel to eat out and watch the resident band entertain her with a selection of old school tunes, sometimes asking her to dance with the lead vocalist. When she is not doing this she watches films whether action packed or romantic. Mama's other love is the sea. Mama is always proud to tell you her father was once a member of the prestigious yacht club sustained by Michael.
Motor boats and yacht clubs where you can view the ships lazily roll in and out of the harbour, are ready outlets to fulfill mama's yearnings for the peace the sea provides; at other times she is at a jetty watching a cruise in one of such boats often idle and begging for a ride, having been moored on their anchors for too long.
When this is not happening, she sits back to watch the sea and its fishermen, the rich club of sea farers cruising down the lane on their contraptions or toys of affluence on a mystic Sunday morning when the rest of us are returning from service; when mama is not watching a boat ride, she sits back to survey the beautiful divide that separates Victoria Island from Ikoyi and possibly engage in a chat with one of her many grand children or reading her favourite newspaper The Vanguard.
That sounds like a weekend in Mama's ever busy life but it may well be she has gone to supervise purchases meant to stock Andrew's, Michael's son's food store, with detailed precision that ensures all his needs are met over a programmed time lag. "We do our purchases for him and I ensure everything is in order," she explains.
The same devotion she has for Andrew extends to every member of the clan. "I travelled for my granddaughter Louise's wedding in Athens Greece last July," mama tells her curious visitor, to drive the point home
Mama's Birthday Message
Mama's birthday message is firebrand and starts with a comparison between colonial Nigeria and the Nigeria we inherited. Her verdict is that we should take the best of what we inherited and combine it with those values nature has bestowed on us, the growth of science and technology and run with it. Sadly, she observes, that the Nigeria of today has perfected the colonial racist mentality, combined with bad governance to the detriment of the common man. This posture, she argues, must change now in favour of the common man in the street before we all get consumed by an impending revolution.
At a point in Nigeria's history, it was unheard of that the colonial overlord or his lower rank staff was to be seen living elsewhere reserved for the masses and their leaders. It didn't really matter whether such people fell in the category of plumbers and bricklayers as long as they were on her majesty's service. In the same way Ikoyi and other GRAs in the country were no-go areas for Nigerians. The colonial government also had its segregated churches such as Saviours Church just as hospitals and certain institutions that were reserved for the British. Racism was very active in the church.
Mama laments: "Sadly, when independence came, another form of colonial mentality driven by the black man set in. Rather than fight for real freedom away from poverty, sickness, disease and ignorance, the new Ikoyi inhabitants expanded their territory. An example is the sacking of Maroko residents; Maroko was a peasant community of fishermen and women whose residents were evicted. And accused of being illegal occupants; thereafter a new territory complementing Ikoyi emerged.
"First there was Victoria Island which was founded in 1948 by the colonial government to reduce mosquito breeding after compensation was paid to the Oniru Chieftaincy Family. The owners of the land were relocated to Maroko only to be evicted in July 1990 by the Governor Raji Rasaki Administration.
"Maroko was later known as Victoria Island Extension. Maroko, a once vibrant and throbbing fishing community of peasants has been swallowed by a predator waiting to expand its territory in the natural order of things. The desire to accommodate Nigeria's new big men also meant the grass root person who was assumed not to be in tune with progress and modern development, should give up what he has in the interest of the Big Man. That trend, mama argues goes on all around the country and no one is listening to the voice of the oppressed. I am also a victim.
"A Nigerian big man seized my property using his contacts. What can you do when that happens than to reach out to God because the big man is more powerful than you are?
If Mama can endure the pain how many people who are lesser than she is in terms of material acquisition and position in life can survive this type of abuse of privilege? That is the definition of the Nigerian Big Man, an oppressor. The abandonment and subjugation of the common man by the Nigerian big man have given rise to all manner of criminal activities including kidnapping, armed robbery, ritual murder and the like, argues Mama.
"That is our New World, she says but what was it like in mama's days?
Her response: "The world was still a virgin territory and Nigeria was part of that virgin territory. Even the Marina whose banks were a beauty to behold has lost its enchantment on those using its walkways. Who would have imagined the huge reclamation of land from the sea that has taken place and is still going on in the Atlantic leaving Lagos a shadow of its old self. So many houses are getting closer to the road and fortresses are built to shield the homes away from criminals.
"In my days discipline was high and far surpassed what I see today. Life was relaxed and the transportation system within the city was comfortable and as good as what obtains in the city of London. Traffic was not as stressful as you have it now, and crime-armed robbery, kidnapping, this high spate of ritual murders, the looting of the commonwealth by those in government as well as the lack of infrastructure and its maintenance where it existed, were not there because we cared for the little we had. Now with a soaring population and corruption by those in government, whatever corruption and other lapses there were before independence sound like Alice in Wonderland. How many people had cars in our days?
"Do you know when we were small we had nothing but were happy and contented; today we have so much yet we are not as contented? The unbridled desire to get rich quick and live like the Joneses became rampant after military takeover and the civil war, which is why some people are wondering whether that experience was a blessing or a curse to nation building."