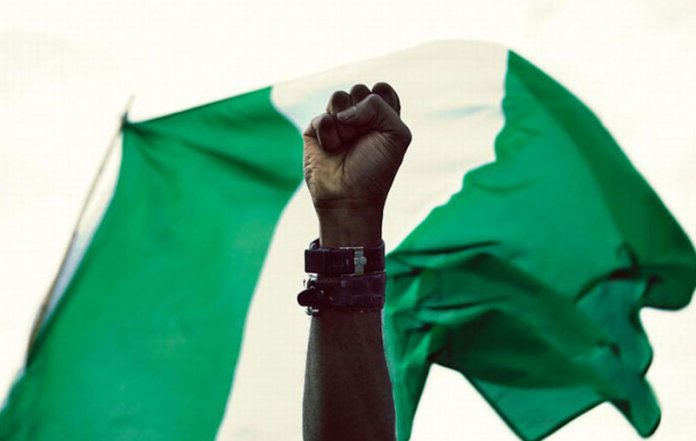 Nigeria created the situation that led to the mass discontent, argues Iyobosa Uwugiaren
With the latest violent protest that overwhelmed many states slowly disappearing, government institutions and private business investors have started counting their painful losses. Excruciatingly as it is to the affected people and institutions, it is on record that the protest started quietly and peacefully – when thousands of angry youths in many states joined the protest against the now disbanded Special Anti-Robbery Squad (SARS), which human rights groups have described as ''extortionist, criminal and killing squad'' within the Nigeria Police Force.
Sadly, some suspected security agents and doubtful politicians were later to escalate the non-violent protest into mayhem when they started conscripting thugs – armed with dangerous weapons in some states, mainly Abuja, Kaduna, Kano, Gombe and Lagos, to dislodge the peaceful protesters. The consequences are the mind-numbing attacks, looting of shops, private businesses, banks, public buildings, warehouses and private houses we have witnessed in the past few days. Many sound minds say it may take many years for the country to recover from the criminal looting, putting the estimated losses at over N1.9 trillion.
As reported by some dailies, Shoprite, shops/malls, warehouses – where palliatives: rice, noodles, beans, etc., are kept; television stations/print media houses, police stations and others were torched. From the money market sector, initial valuation of the damage arising from attacks by hoodlums, who hijacked the #EndSARS protests, indicated that over 67 bank branches were wrecked and many automated teller machines (ATMs) damaged.
Is it not awfully sad that, at a time when our distressed nation ought to be up and doing to attract investments both domestic and foreign — to help take our teeming unemployed youths out of the street, we witnessed this disastrous situation? Surely, the destructive effect on the discernment of our nation as an investment destination is huge. There is near agreement among us and the international community that the scale of the felonious plundering and devastation is unmatched in our nation's contemporary history.
While the looting by some hoodlums is highly condemnable, there is a widely held assertion by many right-thinking people that the recent protest is not just against police brutality and killings, but also against bad governance, which has instigated huge unemployment, poverty, corruption, nepotism and worsened by ostentatious lifestyle by our politicians/ public office holders. The truth is that while many Nigerians are languishing in abject poverty, there are strong evidences to suggest that our public office holders have steadily and primitively looted our treasury – so much so that there is no credible support from government at all levels to help mitigate the recent dreadful effects of the COVID-19 pandemic and the economic crisis across Nigeria. And no deliberate and sustained efforts on the part of the government to spend resources on health, education, and other important areas at a difficult time like this.
Many public universities have been on strike in the past seven months or as a result of the industrial dispute between the federal government and the public university lecturers; same action by the medical/health workers in the country. Like it has been passionately canvassed, our government needs to provide us with resounding explanation of what our huge resources have been used for in the last two decades. The stinking disclosures from government ministries, departments and agencies are clear indications that our resources have not been properly and judiciously managed in the general interest of the people – the real owners of the wealth. Take the intervention agency like the Niger Delta Development Commission (NDDC) as an example. It has received huge taxes from oil companies operating in the Niger Delta for years, but at no time has the agency accounted for how these humongous taxes were used.
We were told recently that Shell paid the NDDC $136.6 million as fees in 2019; $79.6 million in 2018; $79.6 million in 2017, and $125.14 million in 2016. And this is just one out of over 15 oil firms operating in the region. The crucial question is, why has this massive fund not impacted positively on the lives of the people of the Niger Delta? For instance, it is unquestionably contemptible and wicked for the NDDC to have spent N81 billion in five months on inconsequential matters – such as community relations (N1.3 billion), staffing-related payments (N8.8 billion); public communication (N1.121 billion), among others – as we were told recently during public hearing at the National Assembly. The sad predominant narrative in our country is that "Nigeria has lost an average of about N5.5 trillion'' to fraud and corruption in the past few years. And these criminal actions have deflated our treasury, leading into distressed infrastructural development, which perhaps is the major reason for the borrowing of over $34 billion by the Buhari-led federal government in the past six years.
Imagine some thieving federal government officials telling us a few days ago how they planned to spend N4.9 billion on printing question papers for Basic Education Certification, Senior Secondary Certificate and National Common Entrance Examination. Shocking!
All these, perhaps, explain why some restive youths in the Niger Delta have resorted to running criminal kidnapping groups – thereby frightening investors away from the region. And that also explains why the entire northern region has today become a productive ground for terrorist groups like Boko Haram to recruit unemployed youths that has led to the killing and slaughtering of thousands of innocent souls in the region since Buhari came to power. Yes, it may be convenient for some slow-thinking-politicians to blame the recent looting and unprecedented destructions in some states on criminal-minded people, but the government at all levels should share from blame. Through deliberate wickedness, corruption, nepotism, favouritism, and outright self-indulgence, our public office holders at all levels of government have created impatient youths and criminal looters who are currently tormenting us. However, experiences around the world have shown that protests are habitually a regular cause for looting. What we need urgently is good leadership – a leader who holds a strong vision, who is audacious; a leader who has integrity, honesty, humility and clear focus – who will link the income inequality; because protest is a very pronounced feature in democracy and it cannot be absolutely eradicated.
Our focus should be on how we can genuinely lift millions of our restive youths out of abject poverty. The ear-splitting sermon by President Muhammadu Buhari day-after day on how he plans to lift 100 million people out of poverty in the next 10 years – as if he is plotting to remain in power forever, is not helpful. We need action-plan that is deliverable.
Uwugiaren is THISDAY Editor, Nation's Capital