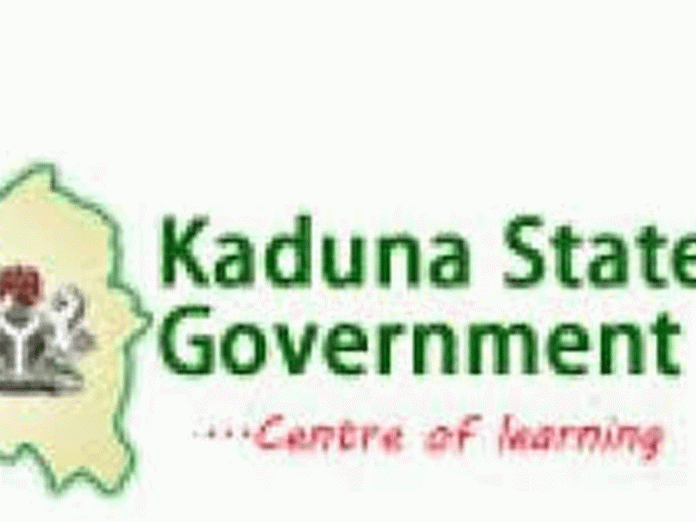 By John Shiklam
The Kaduna State Commissioner for Internal Security and Home Affairs, Mr. Samuel Aruwan, has said that looters of COVID-19 palliatives in the state were instigated.
He also disclosed that about 18 suspects have been arrested in connection with the incident and would be charged to court whenever the 24-hour curfew in the state is reviewed.
Thousands of youths had on Saturday invaded an unoccupied residential house in Gwari Avenue, Barnawa area of Kaduna metropolis, where palliatives meant for Chikun Local Government Area of the state were looted.
The mob, who were on rampage, also broke into the National Agency for Food and Drug Administration and Control (NAFDAC) store in Narayi area of the city and looted seized fake, expired and adulterated drugs.
Some private business places and residential houses were also vandalized by the mob, forcing the state government to declare a 24-hour curfew to forestall an outbreak of law and order.
Featuring on a programme on Invicta FM radio on Monday in Kaduna, Aruwan said the mob were "instigated".
The commissioner, who condemned those "justifying or moralising what happened", also dismissed insinuations that the state government hoarded the palliatives.
"For me, all that happened were remote control. They were instigated with many forces behind the scene and the long and short of the security deductions in the state is the fact that some people want bloodshed in the state at all cost.
"Because first, they tried all that they can to have spontaneous and violent nature of protest which never happened.
"They also came up with the issue that a prominent Islamic cleric was killed in Kaduna Correctional Centre which turned out to be false," he said.
Speaking further, Aruwan said: "There is no where, there is no place that Kaduna State Government hoards palliatives meant for citizens.
"There is no palliatives that were diverted by any government official, whether commissioner or any other person that is a staff of Kaduna State Government."
According to him, "What happened was purely mischief, purely deliberate misrepresentation to instigate and incite people to carry out action that is purely unwarranted and unjustifiable.
"In the course of the lockdown, the state government made it very clear that it does not have what it takes to feed all citizens of Kaduna State.
"It is not possible, it is not something that is not realistic. But whatever that government can do, government will try to give succour to the vulnerable, especially those that were affected by the lockdown."
He said during the first phase of the pandemic, "we experienced some challenges, especially in the implementation. We noticed these challenges and we moved up to the second phased. In the second phase, lessons learned came to bear. What do we do? We need a social register, we need to have a clear understanding of what to do.
"Within the last two, three weeks or thereabouts, government got another palliatives, that also include what we got from the federal government, business community, multinationals and even individuals. You have to streamline, streamline in the sense that we have 255 electoral wards in the state."
He regretted that "a group of people used the social media to tell people that Kaduna State Government or some government officials were actually hoarding palliatives meant for the people.
"They instigated people and people reacted, went there and destroyed the place and looted everything".