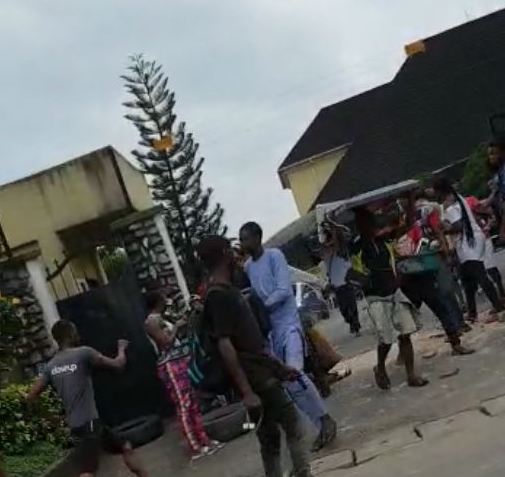 *State counts losses as calm returns after soldiers take over streets
Adedayo Akinwale in Abuja and Bassey Inyang in Calabar
Friday October 23 and Saturday October 24, 2020 would go down in the history of Cross River as days of rage when irate mob stormed the streets and unleashed pain and sorrow on the city of Calabar.
By the time they left the streets, private and public properties had been looted, vandalized and in several cases razed.
The list of their havoc is endless. On Friday, the Cross River State Property Investment Limited, located at Bishop Moynagh Avenue, State Housing Estate was looted, while the Independent National Electoral Commission (INEC) office, Marian Road, was razed down. Also Calabar Discount Mall – harbouring Valuemat Supermarket and other stores, on Ndidem Usang Iso Road, Marian was looted and vandalised by the mob. The Ministry of Works warehouse, at Ekorinim II was not so lucky as it was not only looted but razed. The First Bank on 8 Miles, Calabar Municipality and Calabar South Area Councils were vandalised while the Cross River Agric Development Project, on IBB Way, opposite Margaret Ekpo International Airport was looted.
The next day (Saturday), the irate mob vandalised Commercial Transport Regulatory Agency (CTRA) office, located on Marian Road and the Department of Petroleum Resources (DPR) office. On that same day, the Atakpa Police Station on Watt Market was burnt down while Niger Delta Development Commission (NDDC office), Murtala Mohammed Highway was vandalized.
That same day, the Cross River State Roll Back Malaria Centre, on Barracks Road and Bulavaard Joint owned by an APC chieftain, Ntufam Hillard Ettah, in Etta Agbor were looted and vandalized. The West African Examination Council, WAEC Office, on Murtala Mohammed Highway was burnt down on that Saturday.
Havoc was also wreaked on Federal Psychiatric Hospital, Calabar Road as the premises was looted and vandalised, while Access Bank, on Mayne Avenue was also vandalised.
The irate mob continued with the wanton looting and destruction as they stormed houses of Senator Victor Ndoma Egba and Senator Gershom Bassey at Asari Eso. While that of Ndoma-Egba was looted and razed, Bassey only had his house looted and vandalized.
The mob also descended on Senator Gershom Bassey's House on Mayne Avenue by White House, and looted and razed it.
Also on Saturday, the Cross River Garment Factory on Goodluck Jonathan bypass was looted while Ayade Fuel Station on Murtala Mohammed Highway was looted and set ablaze. The National Identity Management Commission, NIMC office, Murtala Mohammed Highway was also set on fire.
Also not spared were the National Television Authority (NTA) on Murtala Mohammed Highway which was vandalized and the University of Calabar Teaching Hospital (UCTH), at Etta Agbor which was looted.
IDH Hospital at Chamley area; Empowerment Warehouse in Henshaw Town; University of Calabar, UNICAL Publishing Center, UNICAL Microfinance Bank at Etta Agbor and UNICAL Main Library were looted and vandalised.
On that same day, banks, shops and transport companies at Ettah Agbor were also vandalised while Lafarge (former UNICEM) trucks loaded with cement along Atimbo Road was hijacked.
Ibedmore Phone Shops on Calabar Road was set on fire on Saturday, while Calabar Mall – harbouring SPAR Supermarket and other stores and Cultural Centre, was vandalised.
Cold Stone Store and Domino's Pizza on Ndidem Usang Iso Road, Marian and shops in Watt Market, Wattwere were looted and vandalised
At the Carnival Calabar Treasury House, speakers, lighting, stage, carpets, microphones, and amplifiers were looted on Saturday.
That same day, havoc was wreaked on Mbukpa Police Station, Mbukpa as hoodlums burnt down the station.
Other properties attacked by the hoodlums include: First Bank, Highway by Ekorinim vandalised; H20 Calabar, Mary Slessor by UNICAL Main Gate – looted and vandalized;
Accountant General Office – vandalized; All Progressives Congress (APC) office, on Marian Road – vandalized; Nigerian Chronicles Newspapers office, on Barracks Road – razed;
World Health Organisation, WHO and Cross River State Health Insurance Scheme (AyadeCare) offices, on Barracks Road – looted and vandalised; Government Secondary School, in Henshaw Town – vandalised on Saturday; and Peace Mass Transport, PMT Park, in Etta Agbor – looted and vandalised.
Others include Spark Shop Calabar – looted and vandalised; Eco Bank, Mary Slessor Avenue – vandalised; UDEC Phone Shop, opposite UNICAL, at Etta Agbor – looted and vandalised; Pensioners Office, on Asita Ita Street – vandalised; Cross River State Water Board Limited (CRSWBL) Residences, Ndidem Usang Isong Road, Marian – looted and vandalised; and Hon. Eta Mbora's apartments and properties on IBB and Mekenge – looted and destroyed.
Meanwhile, following the outbreak of violent activities, especially the burning down of public and private property that trailed the #EndSARS protest in Calabar, on Friday and Saturday, normalcy is returning gradually to the town as more soldiers have been drafted in to restore calm and order.
From the 8 Miles axis, heavy presence of soldiers who were drafted in to enforce the 24-hour curfew was noticed manning strategic points in the area as residents deserted the streets and stayed indoors.
Though the curfew was largely flouted on Friday and Saturday, the order has been complied with apparently with the reinforced presence of soldiers on the streets.
Aside from residents that have restricted themselves to their houses and immediate neighbourhoods, travelling in and out of Calabar from the Odukpani axis has been made virtually impossible by the curfew and the presence of armed soldiers who appear to be on strict orders not to allow vehicular movements as well. It was observed that within the 8 Mile axis, even journalists were not allowed to move around freely.
The security situation was not different in Atimbo axis, where the Atimbo Akpabuyo road, noted as a thoroughfare for militants and kidnappers has been taken over by soldiers in order to keep the criminal elements in check and secure the lives and property of members of the public.
Information from the heart of the town has it that major places such as Etta Agbor Junction, Rabana Roundabout, Atekong Junction, Parliamentary by Goodluck Jonathan Boulevard, Efio Ette Junction and major streets and hotspots in Calabar South area of the cities metropolis have been taken over by soldiers.
Apart from the soldiers, there is heavy presence of the police, the DSS, Civil Defence and other paramilitary agencies in most areas of Calabar metropolis and surrounding towns to compliment the efforts of the soldiers as well as ensure civil order.
Joint security patrol teams were also seen patrolling the streets and some areas in the city prone to violence, especially looting and arson.
On Sunday, The state governor, Professor Ben Ayade, had reinforced a 24-hours curfew he imposed on Friday evening when the #EndSARS protest became violent in the state.
A two-paragraph press release titled 'Ayade reinforces dusk to dusk curfew,' signed by Ayade's Special Adviser, Media and Publicity, Mr. Christian Ita, read: "This is to inform everyone who resides in Cross River State that the dusk to dusk curfew imposed by the state governor, Sir Ben Ayade, is still in force.
"Consequent upon this, everyone is advised to remain indoors as security agencies will not tolerate any non compliance."