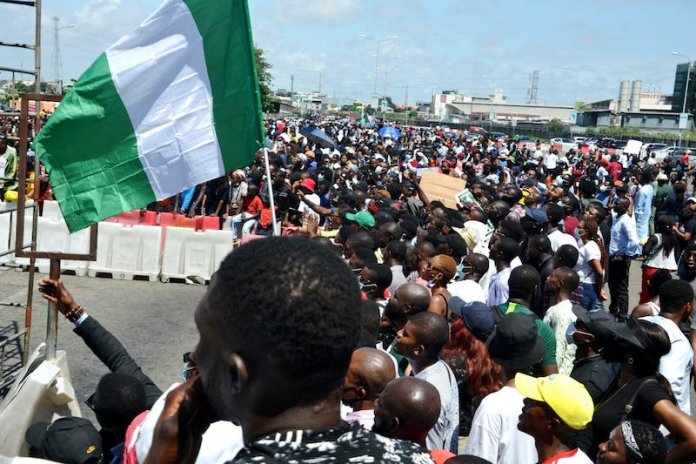 With the Nigerian economy anaemic since 2015, the COVID-19 pandemic that led to further economic hardship, it was only a matter of time that something had to give. Last week, the massive unemployment and the unbearable economic situation in Nigeria were stripped bare as restive youths latched on the shooting of unarmed protesters at the Lekki tollgate to wreak havoc on cities across the country. Lagos, the economic hub of the country was the worst hit as estimates revealed over N1 trillion worth of damage in the state. Eromosele Abiodun reports
Before the outbreak of the COVID-19 pandemic, Nigeria's economy was already in a perilous state due to the decline in oil prices. Then came COVID-19 that led to the shutdown of the global economy.
As the reality of the coronavirus pandemic bites, Nigeria, like the rest of the world has begun canceling events, flights, and virtually everything that requires social, official, and religious gatherings.
The impact of these measures aimed at reducing the spread of the virus dealt a devastating blow to the economy too. Analysts had warned that these impacts are likely to cripple the economies of most countries and may lead to the collapse of fragile economies. The oil markets have been on a downward trend as COVID-19 has crippled demand. Oil prices fell and recorded 18-year low trading at less than $22 dollars per barrel around March 2020. Nigeria's inflation went out of control. A loaf of bread which is for the common man, formerly sold between N300-350 Naira increased to between N400-N450 Naira. A basket of tomatoes that was sold for N500-N600 before the coronavirus pandemic now ranges between N1,700 and N1,800.
Likewise, a kilo of meat increased in cost from N1000 to N1,500 on the average. A bag of pure water sachet that is essential in every home doubled in price from N100 to N150 to N200.
To salvage the situation and enable ease of business in Nigeria despite the pandemic, the Central Bank of Nigeria (CBN) had at the 'Growth 2.0 Meeting' held in Abuja and at the 'Banker's Committee Meeting' in Lagos, announced policy measures such as the additional moratorium of one year on CBN intervention facilities, interest rate reduction on intervention facilities from 9 per cent to 5 per cent; the activation of the N1.5 trillion InfraCo Project for building critical infrastructure; the strengthening of lending to deposit ratio policy, additional N100 billion intervention in healthcare loans to pharmaceutical companies; and the N1 trillion loan to boost local manufacturing and production across critical sectors.
However, as Nigerians were warming up to government's policy measures expected to bring succor, the nation woke up to protests by youths against police brutality early this month. Triggered by a leaked video of the brutal killing of a young man fleeing from men of the State Anti-robbery Squad (SARS), the protest, which commenced in Lagos, quickly spread to other states in the country.
Lagos, Others Count losses
Meanwhile, the protest, which was initially largely peaceful, took a violent turn on Wednesday last week following the shooting of unarmed protesters at the Lekki Tollgate on Tuesday night. With massive unemployment and economic hardship in the country, restive youths and hooligans seized the opportunity to vent their anger on the elite leading to massive destruction and looting of public and private properties. Across 20 states of the federation, public and private properties worth billions of naira were destroyed. Lagos state, a very important economic hub and contributes considerably to overall Nigerian economic activities, was the worst hit. THISDAY checks revealed that 62 people were killed nationwide in the protests against the now-dissolved police SARS, which metamorphosed into agitation for improved governance in addition to justice for victims of police brutality. Although official valuation of properties destroyed has not been released, there are estimates that over N1 trillion may be required to rebuild public and private property destroyed by hoodlums in Lagos state alone.
Official figures accessed by THISDAY showed that 51 of those killed are civilians while 11 others were policemen.
The long list of destroyed public and private property in Lagos includes Ajeromi Ifelodun Local Government secretariat; Palace of the Oba of Lagos; Lagos High Court, Igbosere; Oyingbo BRT terminus; Ojodu Berger BRT terminus; Vehicle Inspection Office, Ojodu Berger; Lagos State Public Works Corporation, Ojodu Berger; Lagos City Hall and Circle Mall, Lekki; numerous luxury shops in Surulere, The Nation Newspaper, TVC and Shoprite Lekki.
The state Commissioner for Information, Gbenga Omotosho, said 27 of the destroyed BRT vehicles cost $200,000 each, while 57 of them cost $100,000 each, all totalling about N3.9 billion.According to the police, the 25 stations burnt in Lagos are Orile, Amukoko, Layeni, Ilasamaja, Ikotun, Ajah, Igando, Elemoro, Makinde, Onipanu, Ebute Ero, Pen-Cinema, Isokoko, Alade, Cele, Igbo Elerin, Shibiri, Gbagada, Onilekere, Makoko, Daleko, Asahun, Makinyo, Amuwo-Odofin, Anti-Kidnapping, Surulere. Other police stations that were vandalised but not burnt were Ojo, Ojodu, Mowo, PPL and Morogbo.
The Lagos State Governor, Babajide Sanwo-Olu, was at the Ajeromi Ifelodun Local Government Secretariat on Friday, where he saw several cars in the expansive premises of the LGA that were either burnt or damaged.
All the buildings within the premises, including that of an old generation bank located there, were also destroyed.
Others states are also counting loses. A release by the Anambra State Police Command's Public Relations Officer, SP Haruna Mohammed showed that 21 police divisions were attacked by hoodlums who disguised as protesters, while seven of them were burnt down. Other government property burnt or destroyed includes High Court Ogidi, Idemili North LG Secretariat, while Zik Statue at DMGS roundabout, Onitsha was vandalised.
Also, the nation's capital, Abuja, Kano, Oyo, Ogun and Plateau states witnessed destruction, death and looting. In Kano state, rampaging youths went after shops and homes of residents in the area carting away valuables and setting some ablaze. Several vehicles were also burnt.
Business activities were brought to a standstill along the most affected areas that include Airport Road, Sarkin Yaki, Court Road, Burma Road and Zungeru Road. In Plateau state, bank, shops were destroyed. In Enugu, Youths participating in the #EndSARS protest grounded the state capital, as motorists were prevented from getting to their destination on time. Thousands of youths supporting President Muhammadu Buhari and scores of others calling for an end to police brutality staged multiple protests in different parts of Port Harcourt, Rivers State, bringing social and economic activities to a standstill.
IMF Warns Nigeria
As states across the country begin to relax curfews to get the economy back on track, the International Monetary Fund (IMF) has said that activities surrounding the #ENDSARS protest may mar the already documented Nigeria's growth projection.
The organisation said it had already finished collecting its data but the projection will depend largely on how the protest evolves.
The Fund's Director, African Department, Abebe Selassie, said this while responding to questions during the October 2020 Sub-Saharan Africa Regional Economic Outlook Press Briefing, on the sidelines of IMF/World Bank virtual annual meetings in Washington D.C.
In its October 2020 regional economic outlook, the Brettonwoods institution projects a modest growth of 3.1 percent for economies of sub-Saharan Africa in 2021.
"The entire region is not expected to return to its 2019 level of output until 2022, and for some of the region's largest economies, real GDP will not come back to the pre-crisis level until 2023 or 2024. This growth will translate into quite significant decline in standard of living, as measured by real per capita GDP, over 2020-21, a contraction of around five percent, which is significantly larger than most other parts of the world, "the Fund said.
IMF said growth expectation for the region this year is broadly unchanged from June. It had in June forecast the regional economy to contract by 3.2 percent, double the contraction predicted in April.
The Fund said Sub-Saharan Africa faces significant financing gaps of $290 billion in three years. Much it said would depend on how private financing flows behave.
"If they were to remain below pre-crisis levels, and even taking into account existing commitments from international financial institutions and official bilateral creditors, the region could face a gap of as much as $290 billion, between 2020 and 2023," Selassie said.
Closing this financing gap, the IMF said, would require a combination of additional concessional financing, timely debt relief in those countries where debt is unsustainable, and transformative reforms to attract private investment.
"On the growth projections in Nigeria, I mean, these protests happened of course, after we had closed, after the period where the data we looked at in making the growth projections for this economic outlook. And much will depend really on how these protests evolve.
"Lagos of course is a very important economic hub and contributes quite a bit of economic activity to overall Nigeria activities. So, if these persist and are showing significant effects on economic data, we will internalise them in due course," he said.
He also said the economic condition of Nigeria for the past four years has been poor due to the decline in oil prices.
"It has been a lot of pressure on standards of living, so there has been this dislocation and you know, as always when you have these kinds of economic difficulties, you know, social protests are not uncommon.
"I think this is exactly why we have been on the record in Nigeria about how really critical it is to get all of the policy-induced barriers out of the way to facilitate stronger economic growth.
"For the government to do more to raise revenues through non-oil resources to be able to invest in health education which would allow people to be more successful at getting jobs but also improve the economy's potential.
"So, I think that the development agenda that Nigeria has, I think, has to be tackled with gusto and vigor so that the millions of jobs that the country needs can be created. And I think that agenda remains very, very, very pressing," he said.