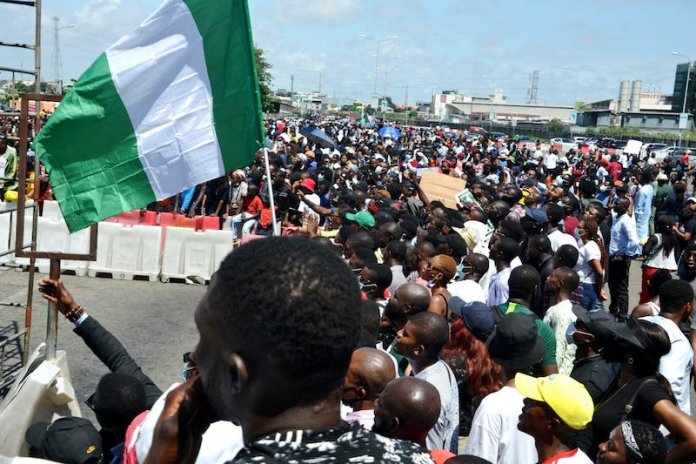 The Lagos State government should scrap the Lekki Toll Gate in Eti Osa Local Government and rename it and turn the adjoining space to Lekki Freedom Park to recognize the patriotic contribution of the #Endsars protesters to Nigeria's democratic development; and also to honour the memory of unarmed youths brutally shot to death or injured by Nigerian soldiers during the #Endsars protests, particularly on #BlackTuesday October 20, 2020.
Movement for Revolutionary Change believes the Lagos State government has a generational duty and historical responsibility to recognize the popular struggles of these unarmed youths, several of which lost their lives or were injured in the course of their non-violent #Endsars protests against police brutality and barbarism.
The Lekki Toll Gate is presently a symbol of corporate greed. It has been a symbol of crass opportunism, mass exploitation, cronyism, nepotism, and official robbery of users of the Lekki expressway; akin to what the Special Anti-Robbery Squad (SARS) typifies.
However, the Lekki Toll Gate has recently become the theatre of a popular struggle, the arena for the realization of the Nigerian dream, the platform for rabid patriotism, and infectious nationalism, and the stage for the dismantlement of state oppression.
The toll gate and its adjoining space should no longer be a tolling point but a national monument, bearing historical records of #Endsars heroes, operating as a national park, dedicated for non-violence protests, and robust debates on the way forward. The Lagos State government should identify every protester that was shot dead or was injured during the tragic events of #BlackTuesday and inscribe their records into the Lekki Freedom Park to honour the memory of these valiant patriotic youth.
Lekki Toll Gate is now Freedom Park and can no longer operate as a point of tolling the public and restricting their movements. We call on the Lagos State government and other state governments to identify similar spaces within their domains, and name them Freedom Parks to accommodate non-violent protesters, proffering solutions to the Nigerian question.
Babatope Babalobi,
Movement for Revolutionary Change