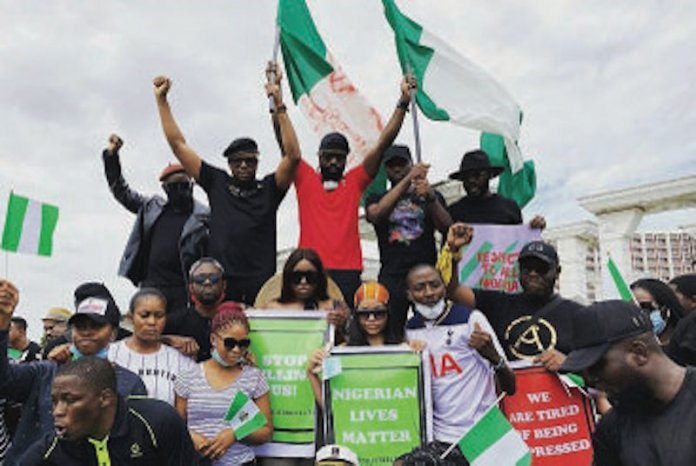 This thing that started like play is now turning into something else. As I write the whole country has been engulfed by the wave of discontent and the need for real change. Everybody is supporting these young children and endorsing them. Even me in my Shomolu enclave, I am standing on my pot of afang and declaring full and unconditional support for the movement. This is what in literature we call the fire within. The fire that has been brewing forever waiting for that opportunity to exhale and consume all that is wrong in its pathway.
The government or should I say our political class has messed up enough with this generation. They are not like my own yeye generation who listened to our parents and went to 'stupid' schools, came out with useless paper qualifications and got very terrible jobs i.e. the lucky few and lived miserable lives allowing our leaders to continue to rape us without as much as a whimper.
These ones are different o. These ones are 'mad' people o! Abi you no see the kind of clothes they wear and the kind of 'dada' hair they carry around? They have rebelled o! They went to our useless schools but came out with a different ethos. They have built multi-trillion-naira industries leveraging technology, created stupendous wealth, and have decentralized resource control. You think these ones are interested in oil bloc when with their phones they are building empires and thumbing our noses?
From the moment they were called lazy, I just knew we have put a finger into their eyes. Me, I started begging them o. But what do our leaders know? The ones that have been petroleum minister since 1978 and are still running around in the corridors of power today, how will they understand the language of the youth, the technology of now and the outlook of the future?
Mbok, let's just beg these children o before they take us out o. Haven't you heard they have created alternative Internet in case we try to shut down the Internet? They are raising millions by the minute to cater for legal, medical and other issues. They are mobilizing and taking over the world. Let's beg o. Let's give them the reforms but much more important, let's leave the system and allow a breath of fresh air, abeg. The rapture is here.