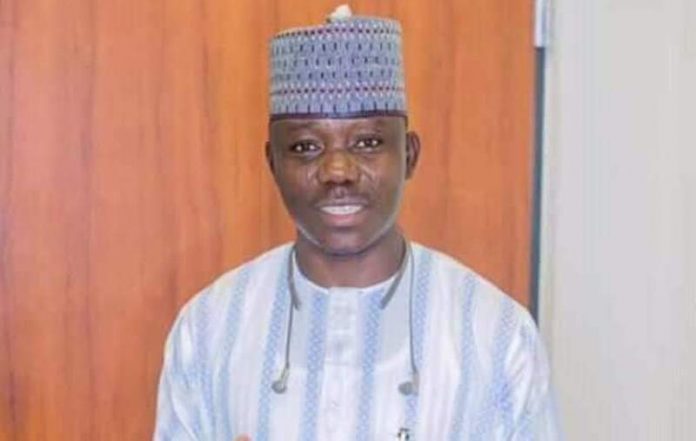 Seriki Adinoyi in Jos
Chairman of Langtang North Local Government Area of Plateau State, Hon Joshua Ubandoma Laven has said that crime rate in his domain has been tackled reasonably through developmental and empowerment projects.
Laven stated this yesterday, while giving an account of his stewardship since he assumed office a year ago. "My one year in office has seen several developmental projects. I have drilled about 26 hand-driven and motorised boreholes. I have tackled insecurity and restored peace in my council by organising arms-recovery programme in the council, with youths voluntarily submitting their arms. I procured two heavy duty lorries, to boost our IGR and two modern tractors to assist farmers in agriculture; and I bought two taskforce buses for revenue generation. So, IGR has seriously been improved upon."
Laven said he has also empowered the people of his council by engaging over 300 youths in the past one year, adding that the rate of crime has reduced greatly in Langtang council, "as everyone now has a sense of belonging because they are engaged with one job or another."
He said, "For about 16 years now, our pipe borne water has been non-functional. In collaboration with the state government, we now have good water."
Lamenting that his council had been cut off and isolated from the other parts of the state due to its remote and valley location, he said that the people hardly got access to first-hand information.
He, however, said that on assumption as chairman, the dire situation informed his establishment of a Radio Station, Star FM in Langtang to give his people a sense of belonging, and to ensure that they got firsthand information, adding that the station was now set to commence operation.
He said, "Our people were totally cut off because our location is in the valleys and radio waves from the cities don't get to us. So, our people depended more on rumours that are peddled to us. "Information, they say is power; for such an old local government in the state, it has been unfortunate that we were cut off from getting first-hand information. But I thank God; I have been able to build a radio station, Star FM, Langtang.
"We intend to employ capable hands that have experience in the running of radio stations; and we have a number of them in our council. Though it is a community-based station, the running will be handled by consultants that understand the rudiments of radio stations in order to derive maximum professional services. The power source is going to be by renewable energy. We're planting 10KVA solar power with a backup generating plant.
"With the station, the people, including the youths and children will be more informed and educated. Local adverts on the station will help generate some revenue too. Locals will be employed to do one or two jobs in the station. Enlightenment on issues such as COVID-19 will be done better, and the orientation of our people will generally change."
The chairman, who observed that Nigeria has become more divided than ever, lamented that one would have expected that the experience of President Mohammadu Buhari will come to bear, but unfortunately, nothing of sort.
"Instead, what we have is lopsided appointments; if you don't belong to a particular region, you are considered as a second class citizen. Even in Plateau State here, if you don't belong to some particular tribe, you can't get some appointments. We seriously need leaders that will come and fulfill the dreams of our founding fathers. We have what it takes to be the best in the world, but the nepotism and greed in us will not allow us to maximise our potentials," he added.