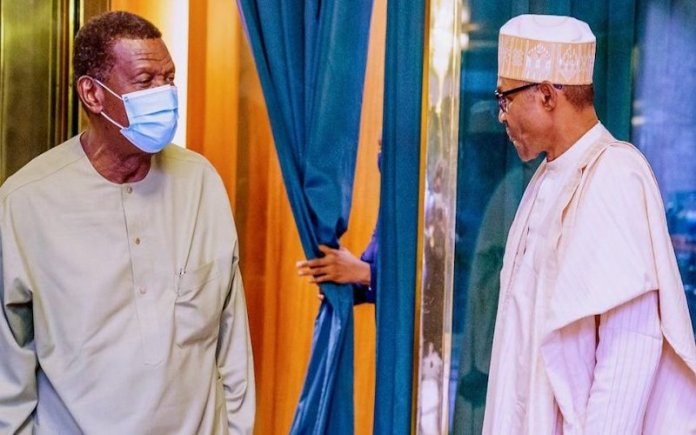 Sonnie Ekwowusi argues that it is in the nation's interest to restructure
Last weekend the General Overseer of the Redeemed Christian Church of God (RCCG) Pastor Enoch Adeboye joined the growing teeming population of eminent Nigerians calling for the restructuring of Nigeria from her present lopsided, inequitable and oppressive structure. Waxing philosophically in his usual calm and calculated mien, the respected pastor said that although he loved Nigeria and was passionate about the Nigerian dream, he preferred to open his mouth and speak truth to power otherwise he would be betraying God and man. After a momentary pause, he said that Nigeria must restructure or perish. Those who know Pastor Adeboye very well will readily attest that he is neither a political doomsayer nor an evangelical rabble rouser who tries to meddle in politics in order to make money or gain public relevance as some pastors hypocritically do. Pastor Adeboye is an honourable man. This is why his call for restructuring should be heeded.
In their swift response, Buhari's image-makers told Pastor Adeboye and others calling for restructuring to stop wasting their time because President Buhari will never accede to such demand at this time. According to Senior Special Assistant to the President on Media and Publicity Malam Shehu Garba, "This is to warn that such unpatriotic outbursts are both unhelpful and unwarranted as this government will not succumb to threats and take any decision out of pressure at a time when the nation's full attention is needed to deal with the security challenges facing it at a time of the COVID-19 Health crisis".
· With due respect, this is rude. Why warn the people for exercising their constitutional right to freedom of expression? Why this arrogance among people who wield political power in Nigeria? When will these people learn that in our presidential democracy sovereignty resides with the people and that the elected leaders ought to govern in accordance with the wishes of the people? When will they understand that the Nigerian State is not a personal fiefdom of any political office holder but the commonwealth of all Nigerians? When will they learn that no condition is permanent, and, that those possessing such a fleeting and ephemeral thing as political power should not cast their hope on it because it could slip off their hands tomorrow? When will President Buhari and his people understand that the strident calls for restructuring stem from the unanimous resolution of all the ethnic nationalities across the six geo-political groups in Nigeria beginning with Pan-Yoruba socio-cultural group, Afenifere, Pan-Igbo socio-cultural group, Ohaneze Ndigbo, Middle Belt Forum, Pan-Niger Delta Forum (PANDEF) to Arewa Consultative Forum? In fact, if a referendum is conducted today on whether or not Nigeria should be restructured I wager that not less than 89% of Nigerians would vote in favour of restructuring. So, why dismiss the persistent calls for restructuring as "unpatriotic"? What is unpatriotic about clamouring for justice, equity and fairness in a country where communal injustice has been arrogated to statecraft? In fact, if there is anything that would strengthen the unity of Nigeria it is restructuring of Nigeria.
·
· Why wouldn't Pastor Adeboye climb on the bandwagon of the people clamouring for restructuring when on June 2, 2016, a 70-year-old citizen of Imo State called Mrs. Bridget Agbahime was murdered in Kano for alleged blasphemy of the Koran? And barely 10 days thereafter, Francis Emmanuel, a 41-year- old Christian, was almost stabbed to death in Kaduna for allegedly eating meat during the Ramadan. As if that was not enough, on the 9th of July 2016, Mrs. Eunice Olawale, a mother of seven and wife of a Redeemed Christian Church of God (RCCG) pastor was murdered in cold blood in Abuja by Muslim fanatics while she was preaching the Gospel of Jesus Christ. Between 2016 and 2020 thousands of Southern Kaduna Christians have been killed in renewed genocidal attacks carried out against the Southern Kaduna Christians. In fact, over 11,500 Christians have reportedly been murdered in Nigeria since June 2015. So far, about four to five million Christians are said to have been displaced. And it seems there is no end to continuous murder of Christians in Southern Kaduna. For example, a couple of weeks ago, some killers attached the Zango Kataf Local government Area, killed two persons and set many houses ablaze. This occurred barely 24 hours after the Southern Kaduna Peace Summit in Kafanchan. You may now fully appreciate why the fearless and irrepressible President Trump could look at President Buhari in the face at the White House in April 2018 and ask him, "Why are you killing Christians in Nigeria?" The Buhari administration has gone down in the anal of Nigerian history as one administration in which Nigerian Christians have suffered the most murder and persecution for simply exercising their constitutional right to freedom of religious worship. Where is Leah Sharibu today despite the claims of this government that it is not incommunicado with her captors?
·
· Apart from the killing and persecution of Nigerian Christians prompting Pastor Adeboye and others to start advocating for restructuring, the problems of fiscal federalism: revenue sharing, resource control and sharing formula need to be resolved to the benefit of all the six geo-geographical groups across the country. The Nigerian people have rejected the over-concentration of power at the federal government to the detriment of the federating units. Why? Because skewed power in favour of the federal government has resulted in communal injustices in Nigeria. For example, of the current 14 heads of security agencies in Nigeria, 11 are from the North, two from South-West, one Chief of Naval Staff from the South-South and none from the South-East. Popular participation and multilateralism are the engines of presidential democracy. Therefore, the Office of President and other key offices in the federation should rotate between the North and the South and amongst the six geo-political zones. It is a violation of true federalism for one political block or geo-political zone to be producing the president of the country at all times. Given the incessant murder and molestation of innocent Nigerian citizens by the Federal Special Anti-Robbery Squad (FSARS), Special Tactical Squad (STS), Intelligence Response Team (IRT), Anti-Cultism Squad and other police tactical squads, Nigeria is overdue for State Policing. Besides, Nigeria should embrace part-time unicameralism.