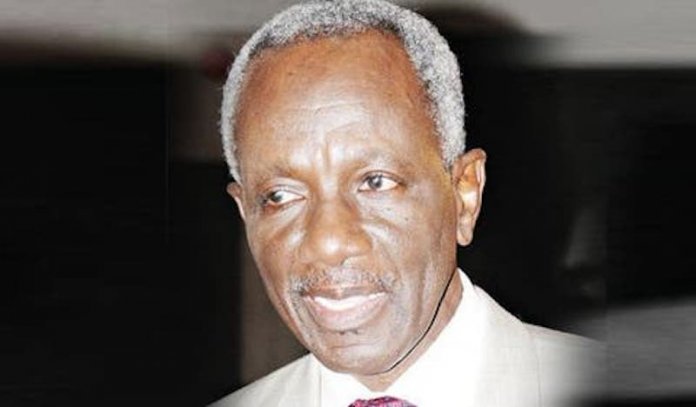 As Nigeria celebrates 60th Independence, J.K. Randle writes on the need to move away from the model that has not served us well
It rained heavily in Lagos on 1st October 1960 (and most other parts of Nigeria) and it was interpreted as a good omen. I was a believer then and I remain "endlessly" optimistic provided we older generation know when to quit the stage and hand over power, authority and responsibility of the next generation – in an environment and circumstances that would ensure the enduring prosperity of our nation in peace, harmony and stability. That is the crux of the matter. It is no small task – especially while the COVID-19 pandemic has gone on the rampage while our economy as well as the social tapestry of our great country are in tatters.
From my assessment of the audience, it is safe to conclude without double-checking with the Bureau of Statistics or the Lagos Business School that none of you witnessed the lowering of the British flag ("The Union Jack") and the hoisting of the Nigerian flag (Green-White and Green) at the stroke of midnight on that epochal occasion. Thankfully, films, television, radio, books and archival records have preserved the infectious joy and boundless optimism that unleashed the spontaneous exchange of hugs, kisses and handshakes (before the COVID-19 virus!!) as confirmation of our commitment to a common destiny anchored on mutual trust, profound respect and genuine tolerance without rancorous reference to tribe, creed or gender.
You have requested me to share with you my experience between then and now. That would have to wait. What is far more pressing is to address a most critical issue namely; we have been referring to you as future leaders but when will the future mesh with the present in the pre-determined course of nature as the young replace or are forced to supplant the old and expired?
Rather than dump my own prejudices and pre-conceptions on you, I prefer to listen to what you have to say. The trenchant complaint by your generation is that we have taken you for granted and that nobody listens to you. On the contrary, your legitimate aspirations and indeed your anxieties regarding the current state of affairs are being waved off with levity bordering on contempt.
For this and other transgressions, I offer profound apologies. Of course, you are entitled to what you demand are concrete action and irrevocable commitment.
The avalanche of evidence in support of your petition/indictment is not limited to the parlous state of our economy and the invasion by marauders whose real intent and ultimate goal are anarchy and chaos. Their evil mission is being fuelled by bandits; terrorists (especially Boko Haram); kidnappers; ritual murderers; extortionists; coup-plotters, "419" fraudsters; treasury looters; human traffickers; election riggers and dictators. All these in addition to hunger, famine, rape and hordes of IDPs (Internally Displaced Persons).
You have attached as Appendix 1 what is currently going on in Mali where a military mutiny plunged the country into political uncertainty as the military forced Ibrahim Boubacar Keita out of the presidency. The Malian President announced around midnight on Tuesday 18thAugust 2020 that he was resigning from his post saying that he did not wish blood to be shed following a military mutiny that plunged the country into a political crisis.
The development came hours after soldiers took up arms and staged a mutiny at a key base in Kati, a town close to Bamako, detaining President Keita and Prime Minister Boubou Cisse. The events came amid a week-long political crisis that has seen opposition protesters taking to the streets to demand the departure of Keita, accusing him of allowing the country's economy to collapse and mishandling a worsening security situation.
– As Appendix II, you have attached the current state of affairs in Cote D'Ivoire; appendix III is all about what is going on in the Sudan and as appendix IV, you have beamed your searchlight on Rwanda.
The summary of the other appendixes revolves around those African countries where the rulers have been in power for ever plus one day!!
Teodoro Obiang Nguema Mbasogo, Equatorial Guinea; 40 years; Paul Biya, Cameroon; 37 years; Denis Sassou Nguesso; Republic of Congo; 36 years; Yoweri Museveni, Uganda; 34 years; Idriss Deby, Chad; 29 years; Isaias Afwerki, Eritrea; 29 years.
I cannot thank you enough for taking me into confidence by sharing with me your strategy for taking over power through perfectly legitimate means within the extant laws and the Constitution of our beloved country. Please correct me If I am wrong but you appear to be determined to register your own political party. Fortunately, you are endowed with sufficient vigour and adequate zeal to launch your campaign in all the nooks and corners of Nigeria – in all the 774 Local Government Areas, including those parts of the country that had hitherto been entirely neglected or have remained defiantly inaccessible.
I am particularly enamoured with your taxation policy – namely, the only commodity to be taxed heavily and punitively is IGNORANCE.
The dynamic emphasis and central thrust of your fiscal policy is the commitment of 50 per cent of the budget – at every level (Federal; State; and Local Government) to Education and Health.
Without divulging too much, permit me to commend your vision and the crystallisation of your radical intervention in the pursuit of well-articulated programmes to rescue our nation and salvage our divinely ordained destiny.
I very much hope that your ideas on the restructuring of our nation's political landscape gain traction. I cannot fault the logic of power sharing arrangement whereby you seek to build concensus rather than resort to ruthless opportunism and self-serving exploitation of the masses. To my mind, the novelty of installing a President from one part of the country regardless of his or her religion/ethnicity; and Vice-President from another region/ethnic group for a single term of four years after which they would swap positions is not a matter to be dismissed with a wave of the hand only to be consigned to the dustbin of youthful exuberance. Such an arrangement carries with it the attraction of a former president serving his erstwhile vice-president in a reversal of roles.
I hope you would concede some measure of flexibility regarding the selection/restriction of candidates to only those between the age of 40 and 60 in addition to being of impeccable character. What cannot be controverted is your insistence that they must have sound education and should have held leadership position in academics, professions (engineering; law; architecture; medicine; banking; journalism, etc.,) and/or business/industry. Farmers are especially welcome; American President Jimmy Carter was a farmer. So also, is the new Prime Minister of Japan, Mr. Yoshihide Suga. Neither can we exclude trade union leaders.
The most fascinating section of your putative manifesto relate to the total abolishment of slavery in all shapes and forms. It is most gratifying that you have diligently catalogued extracts from our nation's history to wit:
Extracts from "NIGERIA REPORT" by Sir Frederick J.D. Lugard (On the Amalgamation of Northern and Southern Nigeria, And Administration 1912 – 1919):
One, "When the Administration [of Northern Nigeria] was assumed by the Imperial Government [British] in 1900 the Fulani emirates formed a series of separate despotisms marked by the worst forms of wholesale slave trading, spoliation of the peasantry, inhuman cruel and debased justice."
Two, "The South was, for the most part, held in thrall by fetish worship and the hideous ordeals of witchcraft, human sacrifice and twin murder."
Three, "Systematic penetration of the almost wholly unexplored country East of the Niger began in 1900, and in 1902 the Aro Fetish, whose ramifications extended throughout the eastern portion of the country – a cult of human sacrifice and slavery – was crushed by force of arms."
Four, "The West African Frontier Force was raised in 1898-99, and on its return from its successful campaign in Ashanti, the task of dealing with Moslem Emirates was undertaken, in 1902-3. Kontagora, the noted slave-raider, who had boasted that, like a cat with a mouse, he would "die with a slave in his mouth" was the first to be coerced."
Four, "Amalgamation (in 1914) in my view was "not a mere political, geographical, or more especially a financial expression." I regard it rather "as a means whereby each part of Nigeria should be raised to the level of the highest plane attained by any particular part."
The problem that comes with tackling the issue of slavery is that we cannot dodge the consequences and penalties that would propel us into the cauldron of reparation – how much and who is to pay whom?
Alongside pops up the corollary matter of: Should sons (and daughters) pay for the sins of their fathers (and mothers)?
Regardless of all temptations to digress into dangerous territory, we must remain focused while we endeavour to deal with injustice masquerading as sectionalism – or the domination of one group (or several groups) by another group that is fiercely and ruthlessly determined to hold on to power at all costs even if it means perpetuating deep-seated animosities and resentment.
I must confess that I am as fascinated as I am intrigued by your proposal that whoever becomes president of our nation would serve for only one term of four years. Thereafter, he would serve as vice-president for the next four years while his previous vice-president gets his or her turn in the seat of power having served diligently and loyally. This arrangement is reinforced by the clear understanding that both the Presidential Candidate and his or her Vice-President campaigned (and won the election) on a joint ticket.
Consequently, it becomes compelling to wind the tape back to 1999 when Chief Olusegun Obasanjo won the presidential election. Hence, in 2003 his successor would have been Vice-President Atiku Abubakar; and the former President would have been obliged to serve as Vice-President for the next four years !!
By the same token, Alhaji Umar Musa Yar A'dua would have been obliged to serve for only one term of four years followed by the tenure of his Vice-President, Dr. Goodluck Ebele Jonathan. Unfortunately, President Yar A'dua died before the completion of his tenure. In principle, after his first term of four years, President Jonathan should have handed over to his Vice-President Architect Namadi Sambo as the standard-bearer of the PDP (Peoples Democratic Party).
Once the principle is firmly established, it would be a forgone conclusion that following the success of General Muhammadu Buhari in 2015 under the flag of APC (All Progressives Congress) it is his Vice-President, Professor Yemi Osinbajo who would have carried the APC flag in 2019 with former President Muhammadu Buhari as his running mate!!
Would it have worked; could it have worked??
It is a monumental quadratic equation in the realms of quantum physics especially when you log in the First Lady versus Second Lady factor. Matters become very explosive.
You have no choice but to go back to the drawing board and galvanize your strategic options before proceeding further.
I salute the intellectual vigour you have committed to finding a lasting solution to one of our nation's most intractable problems which has created the monster of the "Godfatherism Syndrome" whereby those who have ruled as President or Governor resort to either tenure elongation or insist (when compelled to leave) on micro-managing /manipulating their successors with very serious and invariably violent consequences.
Even if you do not succeed at the first attempt, you must not relent. Instead, you should draw inspiration from Zig Ziglar (1926 – 2012):
"There is no elevator to success.
You have to take the stairs."
––Bashorun Randle is a former President of the Institute of the Chartered Accountants of Nigeria (ICAN) and former Chairman of KPMG Nigeria and Africa Region