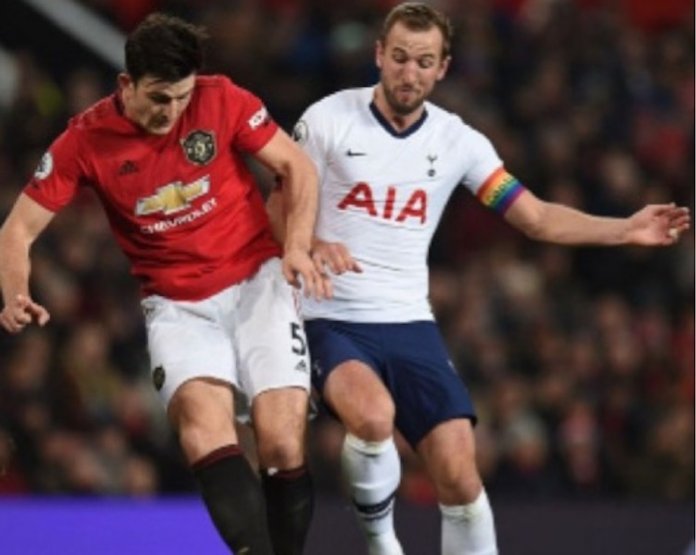 Having both booked a quarter final place in the Carabao Cup, Manchester United and Tottenham Hotspur will turn their attention to the Premier League as Jose Mourinho would be craving to get the better of his former employee. The two sides failed to impress in their last two outings in the league.
While the Red Devils still managed to churn out the result in spite of their lacklustre performance, The Lilywhites could only manage a draw. Both sides would therefore be going for the crunch to improve their placing on the table
Manchester United will be looking to make it four successive wins in all competitions when they continue their 2020-21 Premier League season at home to Tottenham Hotspur on Sunday.
The Red Devils have beaten Luton Town and Brighton & Hove Albion in the EFL Cup since losing to Crystal Palace in their opening match of the new Premier League season.
United beat Brighton 3-2 at the Amex in the league last weekend, with Bruno Fernandes coming up with an incredible winner from the penalty spot in the final seconds.
The 20-time English champions now face a tough assignment against Tottenham as Ole Gunnar Solskjaer will go up against predecessor Jose Mourinho at Old Trafford in one of the most hotly anticipated clashes of the season, as both sides look to finish the first part of this hectic campaign on a high note.
United are, of course, a game behind the rest of the league after our late finish to 2019/20, while eighth-placed Spurs have already crammed seven games in since mid-September, including three since last Sunday alone.
Both sides come into this contest in good form, with United having won each of our last four matches in all competitions. Two of these victories came in the Carabao Cup, against Luton and Brighton, while the team racked up its first three points of the Premier League season with a dramatic 3-2 success at the Amex Stadium last weekend. Spurs have a win and a draw since their opening-day defeat to Everton, but Mourinho's side have successfully negotiated their way to the Europa League group stage with three consecutive wins in the play-offs, the last of which was a 7-2 thrashing of Maccabi Haifa on Thursday. The capital club are also through to the Carabao Cup quarter-finals, having seen off Chelsea on penalties after a 1-1 draw earlier this week.
Both managers had been quick to start the mind game ahead of tomorrow's clash.
Solskjaer has put a stop to his spat with Tottenham boss Jose Mourinho and hailed the Portuguese's achievements as a manager as they prepare to meet on the touchline this weekend at Old Trafford. The two bosses became embroiled in a back and forth after Solskjaer appeared to mock Mourinho for measuring the goalposts ahead of Spurs' Europa League play-off with Shkendija in Macedonia.
Mourinho configured that the posts were in fact five centimetres short of the official dimensions which saw them changed before kick-off.
Speaking after the last-gasp 3-2 win over Brighton in which United sealed three points in the 100th minute through a Bruno Fernandes penalty, Solskjaer made it clear his side had got away with one.
The Seagulls hit the woodwork three times, which encouraged the Norwegian joke: "You have to be happy Jose isn't here to measure the goalposts, it might have been a smaller goal."
Mourinho did not enjoy being the brunt of the joke and bit back: "I think Ole was so happy and surprised with what happened to his team that he had a joke.
"But I think for him the dimension of the goalposts are not important. For him what is important is the dimensions of the 18-yard box.
"He'd never accept to play with a 17-yard box, I think he would prefer a 22-
Now Solskjaer has refused to continue the feud and claimed things got slightly out of hand over some harmless fun.
"We are in strange times," Solskjaer said, ahead of the visit of Spurs.
"Sometimes you must have a bit of fun. Couple of innocent comments. Jose very charismatic coach. I have enjoyed talking to him. He is a winner. I have ultimate respect for him and the results he has given to football."
Meanwhile, the master takes on his most celebrated apprentice today when Marcelo Bielsa's Leeds United welcome Pep Guardiola's Manchester City to Elland Road.
The newly-promoted hosts go into the match off the back of successive league victories, whereas Man City will be keen to bounce back from their 5-2 defeat at home to Leicester City last weekend.
Ask Guardiola himself, though, and he will reel off reason after reason why Bielsa is the standard by which all other managers should be judged.
That arguably the world's best manager is such a devout disciple is a huge compliment to Bielsa, with the legendary Johan Cruyff perhaps the only other mentor figure Guardiola holds in such high esteem.
Yet Bielsa is still looking to get one over on his most successful student; the pair met three times during the 2011-12 season, when Guardiola's Barcelona beat Bielsa's Athletic Bilbao twice, with one draw too.
Today's match will not be the first showdown between these two on the touchline, then, but it will still be a special occasion as two managers with similar philosophies go head to head.
The match comes at a time where Guardiola has seen his philosophy, or at least the success of it in the last year or so, questioned following last weekend's heavy defeat to Leicester City – the first time Man City had conceded five at the Etihad and the first time any team managed by Guardiola had shipped that many in a single game.
Last weekend's defeat means that they already trail the champions by six points this time around – albeit with a game in hand – and if they fall to back-to-back top-flight defeats for the first time since December 2018 then serious questions will be asked about their ability to mount a title challenge again this season, even at such an early stage of the campaign.
The Whites have impressed upon their much-anticipated return to the Premier League, going toe to toe with Liverpool at Anfield in their opener before victories over Fulham and Sheffield United got them off the mark.