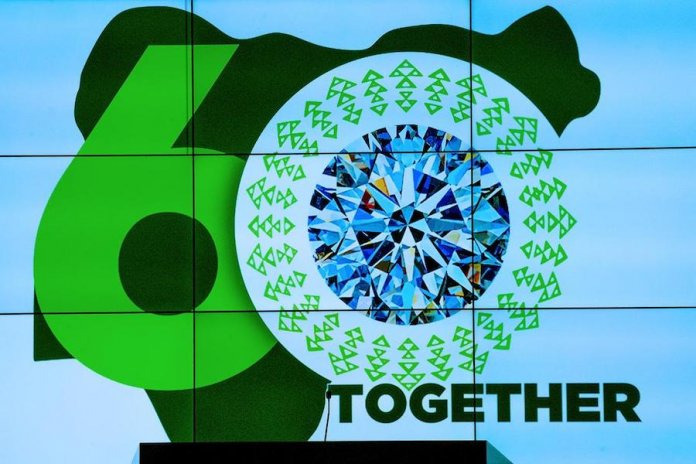 As Nigeria marks its 60th independence anniversary tomorrow, stakeholders in the education sector explained to Funmi Ogundare why government must follow through its developmental goals and agenda aimed at solving social problems and economic development through educational partnerships and collaborative investments. They added that the issue of funding should be re-addressed through empowerment of teachers, education providers and students to achieve educational goals
Tomorrow, October 1, Nigeria will mark its diamond anniversary with the theme 'Together Shall We Be'.
However, the anniversary celebration would be held low-key this year, due to the scourge of the coronavirus pandemic.
During a brief ceremony last week at the Presidential Villa, Abuja, to unveil this year's logo and theme for the celebration, President Muhammadu Buhari said celebrating 60 years of independence really calls for pomp and pageantry, but the COVID-19 pandemic, which has forced all nations to think and act differently, has also forced on the country the imperative of a low-keyed celebration.
"Operating within the limitations placed by the COVID-19 pandemic, we created an internet challenge for Nigerians to make a choice from a set of four pre-selected logos that will appropriately define the themes," he said, adding that the theme we're chosen to forge a more united and cohesive Nigeria.
Considering the theme chosen for the independence annivesary, experts in the education sector said a lot more needs to be done from the perspective of emerging economies and for a nation struggling to tackle its developmental needs, including education.
The President, Universal Learn Direct Academia (ULDA), Chief Olawumi Gasper believes that the country has failed to catch the education fever, with a dismal obsession for the development of education.
He expressed concern that Nigeria, a resource rich nation, is ranked among the lowest in global education, with a poor performance in reading literacy, mathematics and science, adding that 10.5 million of the country's children aged five to 14 years are not in school, despite the fact that primary education is officially free and compulsory.
"One of the fundamental and overarching issues in the development of any nation is its success in education as it is a catalyst for improving an individual's socio-economic position in the society and a gateway to the middle class. Unfortunately, the education sector in Nigeria has undergone series of turns, as the quality of education now cannot be compared with what we had in the 60s, 70s up to mid-80s. The puzzle to most Nigerians is what actually changed and how did we lose the days of glory?"
He described the issue of public schools in the country in the past 60 years as a mixed grill, which withessed a lot of good in the 60s, 70s and mid-80s, but thereafter up to this period, has witnessed a decline.
"Unfortunately, some of the public schools are still witnessing declining standards and very poor performances in national examinations. It is no arguing that the public schools provide the only window for the large number of the poor and vulnerable Nigerians to educate their wards. Here lies a dichotomised and dangerous divide in a highly pluralistic and divisive society having multiple ethnic and religious groups, with a section in the country already educationally disadvantaged and housing more out-of-school children.
"Our population no doubt is growing exponentially, subtly growing and harbouring an army of agitated, misdirected and angry children and young men unable to access education and unskilled, easily motivated to engage in terrorism, banditry and other criminal activities," Gasper, a former Rector of Lagos State Polytechnic stressed.
Despite all the glaring contributions of technical and vocational education to industrial development, innovations, youth unemployment, self reliance, entrepreneurial development and economic growth of the country, he said Nigeria in the past 60 years, is yet to accord TVE the full attention it deserves.
This he said is one of the major reasons for the rising unemployment, poverty and unabated crimes in the society today.
"Investment in TVET and youth skills training must be accorded priority attention since no country can favourably compete in the emerging global market place with non-competitive and poorly skilled workforce.
"The president said the latter part of the past 60 years has witnessed an improved investment in the higher education sector through intervention agencies like TETfund.
"Stakeholders in the sector have applauded the efforts of the TETFund in not only infrastructure development and capacity building of the teaching faculty, but also stimulating research and development, especially local contents development through recent support to research," he said, while expressing hope that the efforts will be the cornerstone to innovations and product development and the opportunity to reposition Nigeria as an industrial country with less dependence on importation.
"The recent mobilisation of the researches from the universities, research institutes and the private initiatives with the support of TETFund is applauded."
In his submission, the Chairman, Lagos State Universal Basic Education Board (LSUBEB), Wahab Alawiye-King said educational development in Nigeria has had a chequered history from poor educational system to increamental development and transformation, and commended some of the optimal investments in the sector in the last half century.
"The investment in technology and digitalisation by some states are well acknowledged and commendable. For instance, digital learning and online classes are gradually taking centre stage and have completely transformed the interaction of stakeholders even despite the pandemic.
"Similarly, we must commend the realisation of the right to universal basic education up to basic 9, remains a landmark achievement and efforts by the government to improve facilities and provisions are worthy also of commendation."
He regretted the myriads of problems such as poor funding leading to poor educational infrastructures, inadequate classrooms, teaching aids (projectors, computers, laboratories and libraries), paucity of quality teachers and poor/polluted learning environment, being faced by the sector.
For meaningful development to take place in the education sector, Alawiye-King stressed the need for government to re-address the issue of funding, adding that private investors, teachers, parents/guidance and students need reorientation towards achieving the goals of education.
"Education must be made affordable for all and sundry. The current monolistic approach to knowledge acquisition must be changed. Technical education and innovation/adaptation centres must be encouraged and well funded if this nation must move out of this present technological and scientific dependence. Government and the organised private sector must as well fund research programmes, inventions and mass production of invented products."
The chairman also stressed the need for a system of support that enables healthy development, respond to student needs, which include a multi-tiered system of academic, health and social supports that provide personalised resources within and beyond the classroom to address and prevent developmental detours, including conditions of special needs and personal financial circumstances.
"There is also the need for the government to have a developmental goal and agenda aimed at solving social problems and economic development through educational partnerships and collaborative investments in educational institutions."
The Anambra State Commisioner for Information and Public Enlightenment, Mr. Don Adinuba highlighted some of the state's achievements in the area of education, which include winning the prize for the best teacher of the year during the 2019 World Teachers' Day, recording the highest rate of success in NECO and SSCE, among others, while advising other states to learn from it.
He expressed concern that higher education in the country seems to be in a deep mess and not competitive at all, saying that there is need for the establishment of dual degree programmes, a standard practice in Europe and Asia when a faculty of a university in Nigeria will partner another university in Europe to run a joint curriculum in a particular field.
"Africa needs it more than any other region in the world. It is an effective way of getting first class education. For instance, a university in Nigeria could reach an agreement to run a joint curriculum with Cambridge University or University College, London in fields such as Engineering, Music or Literature. It means the curriculum of the Nigerian university must be overhauled to meet a high standard and at the end, they award a degree jointly. Our curriculum must be up to date," he stressed.
The commisioner argued that university curriculum being developed with the National Universities Commission (NUC) is a sham, adding that with the dual degree, one could have two different degrees from two different universities, despite attending only one institution.
"You can have a Bachelor of Art degree in Literature from UNILAG and Bachelor of Art degree from the University of London, so you have two degrees from different universities the same year. The certificate signed by the vice-chancellor from UNILAG for instance must read 'University of Lagos in conjunction with University of London hereby awards a bachelors degree'. For that to happen, University of Lagos must meet the standard of University of London. So UNILAG can have a Faculty of Engineering in conjunction with MIT, faculty of Music with London School of Music. That means they must meet international standard. One university that does it very well is University of Singapore. No university does it in Africa, so Africa needs it."
He said no university in Nigeria has adopted it because the NUC which regulates universities does not allow it. The consequence, Adinuba said makes Nigerian universities become local, adding that education should be seen as a global item.
Adinuba said NUC should allow Nigerian universities to embrace the dual degree progrmmes in conjuction with top universities across the world, adding that University of Leeds and other top business schools in the UK are allowed in Ghana.
"The irony is that majority of the students are Nigerians who take just an hour flight from Lagos to Ghana and they graduate and have their degrees from top British Universities. When they graduate, employers will hire them before they hire those from the University of Lagos, UNN and UI. As it is, Nigeria is losing money to Ghana through capital flight. When a multinational comes to a place, it adds to the standard of living of the people of that place.
"When you compel our universities to raise their standards, their lecturers would be going on an exchange programmes to teach and will have access to their laboratories and even students from top universities abroad will be coming here. There would be no case of lecturers harrasing students as it is done here and things will be done properly."