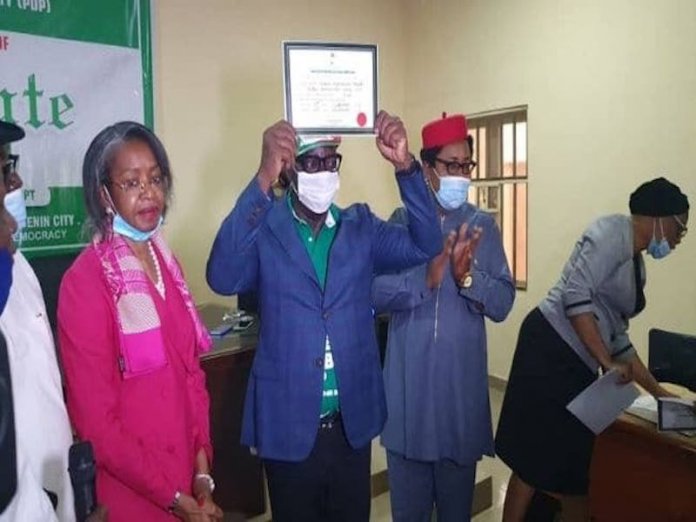 "Edo is not Lagos" is the mantra the good people of Edo used to resist godfatherism in the September 19, 2020 election in which the estranged godson of the removed national chairman of the All Progressives Congress (APC), Comrade Adams Oshiomhole, Governor Godwin Obaseki was the victor.
The aphorism was directed at the national leader of the APC, Bola Ahmed Tinubu, who appeared in a viral video to air his support for Pastor Osagie Ize-Iyamu in last Saturday's governorship election.
The message was simple and clear. Edo isn't Lagos. They meant the politics of Edo State is different from that of Lagos where one godfather determines who wins and loses. And that in Edo, the electors are the deciders of who loses and wins.
They didn't just make the assertion, they came out en masse to prove it. Many of them voted against the APC Ize-Iyamu, whom they believe is a protege of Tinubu and Comrade Adams Oshiomhole.
As good as their move against godfatherism was, they sullied it by re-electing Governor Obaseki. Aside his previous underperformance, he has a new godfather in Rivers State governor Nyesom Wike, the Nigerian version of Idi Amin.
Governor Wike is known for stepping above his constitutional bounds and assailing traditional rulers. We all saw how he demolished the hotels that flouted the COVID-19 guidelines during the lockdown, and how he used caustic words on a traditional ruler in viral video.
Therefore, we need to inform Governor Obaseki since it is believed that a godson lives by the dictates of his godfather, that Edo is not Rivers where a sitting governor hurls insults on a traditional ruler. Edo people are cultured and known for revering their traditional rulers.
Aremu Lukman Umor,
Lagos