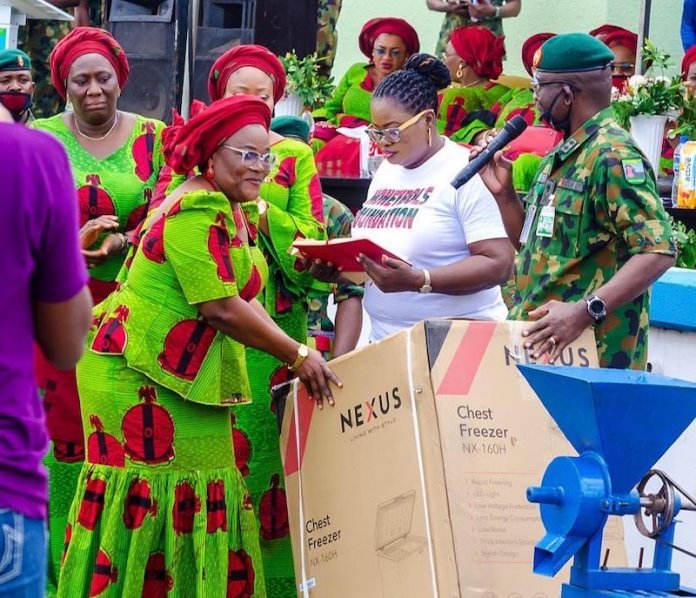 Ezekiel Okpuzor
As part of efforts to reward the labour of heroes past in the Nigerian army, Honeybols Foundation in
conjunction with Nigerian Army Officers' Wives Association (NAOWA) has empowered 10 widows and given palliative to over 500 widows at the fifth edition of 'giving hands arena'.
The event which was held recently in Lagos, was a dynamic step to comfort and establish a happier living for widows that lost their husbands while defending the nation.
Titled "Widows of fallen heroes in Nigerian army', the Convener, Honeybols Foundation, Mrs. Akinfolajimi Adebimpe, disclosed that most fallen heroes made a huge sacrifice on behalf of the nation and must be acknowledged by every Nigerian.
She added that many widows in Nigeria are being mistreated by the privileged citizens and often abandoned by their relatives.
"In this part of our world, widows are always rejected and abandoned even by their family members, the force has done well for us so I decided to give back to people who are in charge of security."
Adebimpe urged all widows in Nigeria to be focused and brave. "Widows should learn how to be independent and make time out of their life to make things work out for themselves; they should be productive and remove a sense of entitlement hoping for someone to help them.
"The Nigeria Army is doing its best for their widows but it's not enough. That's why I came out with this idea to come and give back to them to encourage other people around. They should not leave it for the government alone.
In their remarks, NAOWA commended the Honeybols foundation for the great zeal towards nation building.
NAOWA added that those widows empowered are going to be under their watch to bring out the full potential in them and to avoid lapses in the long run.