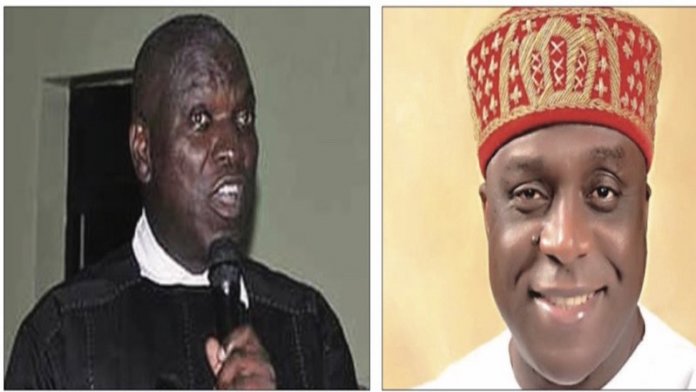 Unizik Business School and Dr Obiora Okonkwo, a renowned Igbo businessman, have launched a research into apprenticeship and entrepreneurial spirit, which has seen people from the Eastern region succeed in business, despite tough economic conditions, and most times, with little or no formal education, writes David-Chyddy Eleke
Onitsha Main Market is reputed to be one of the largest market in the entire West Africa, with a large number of businessmen and women, most of whom are young people, who have successfully mastered the art of their trade, and carry it out with an admirable proficiency. What is however intriguing is that most of the operators in the market, even though they grew from the scratch to become importers of various product did not receive any formal education about how to run a business.
For UNIZIK Business School (UBS), business like every other area of endeavor requires the acquisition of formal knowledge to make success. The school also believes that it stands in good stead to impact such knowledge, while seeing its location; Awka, which is just a little distance away from Onitsha as an added advantage to businessmen in Onitsha who want to gain formal knowledge of what they do, in other to achieve success.
On the other hand, Dr Obiora Okonkwo, a Russian-trained political scientist, a leading businessman and philanthropist also has same belief as UBS management, but for a young man who started life in Onitsha as an apprentice trader, he also believes that acquiring skills in business through apprenticeship was also a potent way of being a great businessman.
Okonkwo will always recall those days when young men were sent from their villages with little or no education to serve as apprentice traders to already established businessmen, and after a specified number of years of service, the businessman 'settles' his apprentice by getting him a shop and a small amount of money, with which he begins his business as his own man.
It is the love for this model of acquisition of skills as a businessman and because of his days in apprenticeship in Onitsha too that made Okonkwo, through a non governmental organisation founded by him, Pro-Value Humanity Foundation, endowed a research with the UBS into the entrepreneurial spirit of Igbo people with Onitsha Main Market as a case study.
The launch of the research project, which would be carried out by renowned professors of the UBS, was recently held at Onitsha, with several business leaders in the city. Speaking during the launch of the research which was tagged; Reinvigorating Igbo entrepreneurial behavior through enhanced apprenticeship scheme, Dr Obiora Okonkwo, founder of Pro-Value Humanity Foundation said, "As some of you may be aware, the Onitsha Main Market holds a very special place in my heart, as that was where I had my first stint in business, although briefly, and my encounter with modernity. I was born in Gombe in December 1965 and was a baby in arms when my family, like all Igbos, fled the north as a result of the pogrom that ultimately led to the civil war.
"Following the war, my father, like every Igbo male, picked up the pieces and re-established himself at the Main Market dealing in beverages or what our people commonly call provisions. Unfortunately, few years later, he took ill forcing me to combine my high school education with managing the business and his apprentices. That meant I went to school in the morning and continued at the Main Market in the afternoon and vice versa.
"That basic trading experience, in many respects, helped hone my business instincts and also instilled in me a deep sense of industry and hard work that have defined my life's journey to date. I remain eternally grateful to God for his immense blessings to me since those humble beginnings at the Main Market. Thus, when the UNIZIK Business School in July 2019 honoured me with the Philanthropist of the Year Award, it was only natural for me to try to give back by endowing a major research project on the future of Igbo entrepreneurship, drawing primarily from the role iconic the Onitsha Markets have played in the socio-economic transformation of the Igbo nation, particularly since the civil war; a phenomenon that best underscores the globally acclaimed ingenuity and indomitable spirit of our people. The research project is made possible through the instrumentality of the Pro-Value Humanity Foundation, a charity which I founded to be primarily concerned with recreating humanity through authentic human-centred development and reorientation of values."
Okonkwo added that the research project is expected to, among other things; critically interrogate Igbo entrepreneurship culture and the apprenticeship system around which it is historically built, with a view to reinventing both in the light of emerging realities. He said it came as a heart warmer in 2017, when popular American Online media organisation, TED Talk hailed the Igbo business apprenticeship culture as one of the greatest and most innovative Venture Capital schemes in the world, albeit informally.
He said, "The apprenticeship scheme in its original model has, undoubtedly, served us well up to this point. However, the world of commerce is drastically changing and we must reinvent the apprenticeship system to be responsive to the business and industrial needs of today, along with the skills acquisition and value chain such new processes require.
"Such reinvention may also include mentorship, partnerships, financial assistance by way of soft loans, loan guarantees, among others between established businesses and emerging ones. These will help continue the Ora Nwezue Aku (let everyone have wealth) philosophy that was a key driving force of the apprenticeship scheme. As we all can agree, the only thing constant in life is change and we can either innovate and adjust to the times or gradually slide into irrelevance.
"Further, it is vital that the project also help identify emergent entrepreneurial and investment opportunities, including hi-tech and biotech start-ups with potential value chains that current generation Igbo entrepreneurs can key into to help drive the re-industrialisation of Anambra State in particular and the south east in general. Unfortunately, many of our stupendously wealthy businessmen, along with their heirs, lack the knowledge about emergent investment opportunities that will not only make them richer, but also create jobs, hence they stick with merchandising that got them to where they are.
"For the rapid economic transformation of our state, we must not be afraid to step out of our comfort zones and embrace innovative investment opportunities, the likes that this study will hopefully provide. In conducting the study, I encourage the researchers to focus on emergent investment opportunities that are particularly unique to Anambra State and the south east, which are our primary areas of interest," Okonkwo charged.
The Director of UBS, Prof Augustine Nonyelu, in a welcome address, stated that the research would answer many questions that have remained unanswered about where the Igbo got their entrepreneurial spirit, and where also the apprenticeship model which has helped establish lots of young people who came straight from their villages, without formal education, to becoming multi millionaire businessmen, after a few years of apprenticeship.
He said, "It is common knowledge that the Igbo ethnic stock has over the years been pacesetters in commercial and entrepreneurial activities. The story of Igbo success and accomplishments in these fields resonates across the globe that even the remotest, unthinkable places, you find Igbo men and women, and their families, doing their thing, carrying out their legitimate businesses. Both at home and in the Diaspora, this exceptional Igbo entrepreneurship has come under the searchlight and in the radar that questions are being raised.
"How did this new widely accepted entrepreneurial behaviour develop? Is it something embedded in the genetic composition of the Igbo or in their stars? What nurtured the tree of Igbo entrepreneurship? Was it the civil war, and the resultant denials, dislocation and disruptions of livelihoods that gave the impetus to resurgence and blossoming of Igbo entrepreneurial spirit and apprenticeship culture?
"How did the Igbo apprenticeship scheme which has posted phenomenal success in the past come into being? What are the likely threats of the apprenticeship scheme and are there problems affecting transgenerational entrepreneurship among the Igbo? In trying to provide answers to the aforestated questions and more, came the need for a robust empirical research. The research we are about embarking on seeks to interrogate all of these and accompanying objectives."
Speaker after speaker took time to also praise the entrepreneurship spirit of the average Igbo man, who has seen them survive in even the toughest conditions. But many also added the research will further help to move Igbo entrepreneurs from where they are to the need to build conglomerates that will outlive them.
The Director Economic Intelligence and Research, Onitsha Chamber of Commerce, Industry, Mines and Agriculture, Mr Godson Amah in his speech stated that, "Most of the high-rise buildings you see in Onitsha today were built by people who did not go to school, but gained knowledge through apprenticeship. The best way to gain entrepreneurship skills is through apprenticeship, but beyond that, our people must start learning how to build companies that will live even after they have gone. Ford Motors, Mercedes Benz and other top companies you see today were companies formed by individuals, but because of vision, they have outlived their owners. That is what our people must learn today."
Okonkwo in agreeing with various submissions said, "We have no doubt the researchers of the UBS will do justice to the subject. we cannot be prouder of the great city of Onitsha given its prominent historical place as the commercial nerve centre of the south east. The result of the research project, if fully harnessed, will help put the city and Anambra State on a pre-eminent development pedestal that other states in the south east and indeed the entire country will want to copy.
"As Anambrarians in particular and Igbos in general, nothing is beyond us if we commit to it both individually and collectively as a people. I can't wait to see us key into the findings of this research project as a way of revitalising entrepreneurship among our people. We must as usual seize the opportunity."