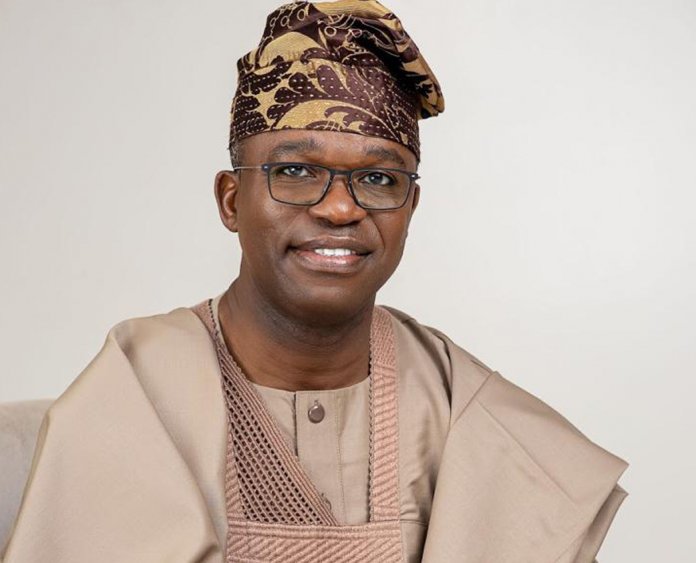 Vanessa Obioha writes that the All Progressives Congress' (APC) candidate for the upcoming by-election of the Lagos East Senatorial District, Tokunbo Abiru, is a man of different layers with family
values having the highest premium
Towards the end of last year, Tokunbo Abiru took some moments to reflect on his life and career. He has spent close to three decades in the banking sector, starting as one of the second batch of employees that started the new generation bank, Guaranty Trust Bank, in 1991.
He garnered his first banking experience during his 10-year tenure in the bank. He later moved to National Bank, spent three months before proceeding to First Atlantic Bank. He spent six months there. Both banks are now defunct.
Determined to build a solid career in the finance sector, Abiru joined First Bank of Nigeria in 2002. It was in that financial institution that he climbed the rungs of the ladder, assuming the position of deputy general manager. In 2011, he ventured into politics.
Under the Babatunde Raji Fashola administration in Lagos State, Abiru served as the commissioner for finance. But it was just a two-year stint as he resigned from the post to take on a coveted leadership of First Bank in 2013. He was offered the executive director role which he occupied until he left the bank in 2016. His next mission was to rebuild the collapsing status of Skye Bank now known as Polaris Bank Limited.
He was appointed by the Central Bank of Nigeria for that mission. Under his leadership as the group managing director, Abiru steered the bank into relevance and increased its profitability.
Abiru felt he had fulfilled the mandate given to him as the thoughts swirled on his mind that fateful day. More so, he believed he had achieved an enviable reputation in his career at that stage. The more he reviewed his experience, the more convinced he was that he needed to make a change. One thing was certain though, he was going to retire from the banking industry.
Having reached that conclusion, he called his family to tell them about his decision.
"We are a very close-knit family. We like to plan ahead so the idea of my retirement was never a secret. I told them that I was ready to be on my own," he said. He was in the company of his wife Feyisola (who sat in during an interview with Abiru) whom he described as his rock.
"But I have got to start thinking of what to do next. The form of what to do was still unclear."
Many options were offered in that family discussion. Return to the classroom? Take a vacation? Maybe dedicate himself to public service?
The idea of going into public service was not entirely new to the Abirus. According to the graduate of Economics, his family has always been concerned about the welfare of the people.
"People talk about how I affected 8,000 lives in this community (Ikorodu) during the peak of the pandemic but the truth is that it was a family contribution. My wife, my children, everyone contributed to that charity."
While they were still deliberating his next course, the opportunity to represent the Lagos East Constituency in the Senate on the platform of the All Progressives Congress (APC) arrived. Again, he sought the family's approval.
"I can't describe how I felt when he told me he was going to contest for the senate position," said his wife, sighing deeply. "But when he said it, we all submitted to his decision."
"It has always been an ongoing conversation but we were unsure of what form it will take," added Abiru. "I told them to look at my involvement in politics as public service. Of course, we prayed about it. But we had a clear understanding that we cannot all be pulling back, we have to compliment those who are also leading."
He continued: "But I also told them to watch my back. If they think I'm derailing from my set objectives in any way, they should be able to draw my attention and caution me. That's how we are."
Since his emergence as the preferred candidate to represent the senatorial district in the upcoming by-election, not a few have cast doubts on his candidacy. They questioned his competence in the political landscape, expressing scepticism that he would aptly represent the constituency in the Senate.
For such critics, Abiru readily rolled out his involvement in his local community.
"There is hardly any religious celebration (he is a Muslim) that is not spent in Ikorodu. I'm a member of the foremost club in Ikorodu, Oriwu and my father established the first club in this community known as The Exclusives. My wife is a manufacturer and deals in furniture. The factory that makes the furniture is down Ibeshe Road. So I'm not really a stranger in this community," he explained.
With an impressive banking career experience, and now a shot at the Senate, it is easy to assume that Abiru's life has been very rosy. But he sees his life with a different lens.
"From the outside, they think it's a bed of roses but it has been an interesting and challenging career. Yes, I was opportune to work in the new generation banks in the early 90s but it was also very competitive because you are in the midst of young and ambitious people. That spirit of competition, fair play, and discipline to comport yourself is a part of the values or traits that continue to shape you.
"Also, I left the new generation bank to join the oldest bank in the country. You can imagine a young officer working with mature people, it's not easy. You have to learn to understand the culture and work within the confines of that culture which is quite different from where you are coming from. So there are bound to be ups and downs."
Indeed, the discipline he imbibed during that period is reflected in his family. His wife readily attested to his leadership role in the family.
"My husband has been someone who's led by example. He is the natural head of the family and has been a role model to me and the children. He has very clear and strong values that I share with him. So raising our children has not been that difficult because we all know what we stand for."
Abiru's family values can be traced to his late father, Mudashiru who was a respected lawyer, jurist, and was a senator in the Second Republic. The chartered accountant recalled growing up in a neighbourhood in Surulere in the late 60s.
"It was a close of eight houses and a friendly neighbourhood. There were no fences but hedges you could roll your tyres across. We knew each other. Even when we lived in Gbagada, it was a quiet neighbourhood in the 70s," he recollected, describing Lagos as a friendly and less aggressive neighbourhood.
However, he described the late Abiru as a disciplinarian with strong family values.
"He was an accomplished professional, a family man, a disciplined man, and a religious man. There is a lot I learned from him. And in all of this, the main burden I see that I have to carry is his legacy. To make sure I do not derail from the family values he instilled in me," he acknowledged.
But with his loving wife beside him, who is determined to support him in his new adventure, Abiru may have nothing to fear after all.