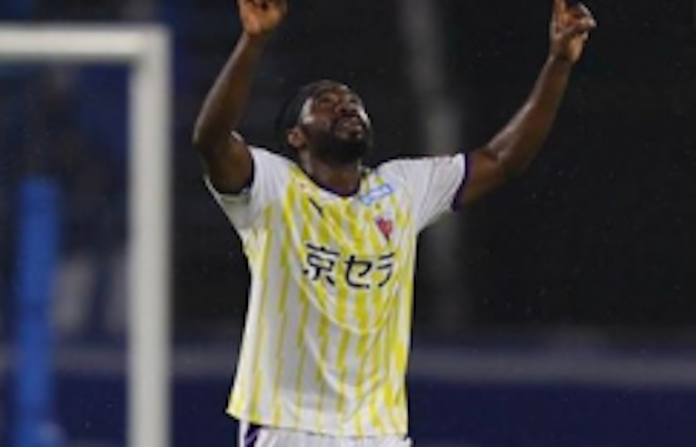 Nigerian international, Peter Utaka, looks set to be crowned the Goal King in Japan even at the grand old age of 36 years.
'Manpo' as Utaka is fondly called, now plays for J-League 2 side Kyoto Sanga, where he comfortably sits atop the scorer's chart with 13 goals.
According to Scorenigeria.com.ng, his closest rival is Takuma Abe of Ryukyu with nine goals halfway through the season.
He was even within touching distance of claiming the top scorer's award at Ventforet Kofu last season with 21 goals, eight goals fewer than the eventual winner, Leonardo of Albitrex FC.
'Manpo' attributes are rare and he's reputed to be one of the calmest strikers in the 18-yard box, an edge he possesses over many.
J-League 1, reputed to invest mainly in Brazilian players, was his first destination in Japan and Shimizu S-Pulse welcomed the one of the two Africans in the league in the 2015 season but it was at Sanfreece Hiroshima that he won his fourth top scorer's award with 19 goals the following season.
'Manpo' has mastered the art of goal scoring so much that he will always deliver the goodies where he plays, save for the Danish second-tier side, Vejle, where he didn't score in just six appearances.
It appears Manpo's ship has been on cruise control in Asia since he arrived at Dalian Aerbin at 2012/13 season from Denmark's OB Odense, where he emerged the top scorer in his second season.
He would launch his sweet Asian adventure at Dalian with 20 goals in his first season to finish the third top scorer, but it was in the Chinese FA Cup that he continued his top-scoring acts.
By the time he was done with Chinese football to move across the border to Japan, his boots had returned 42 goals in over 80 appearances in all competitions.