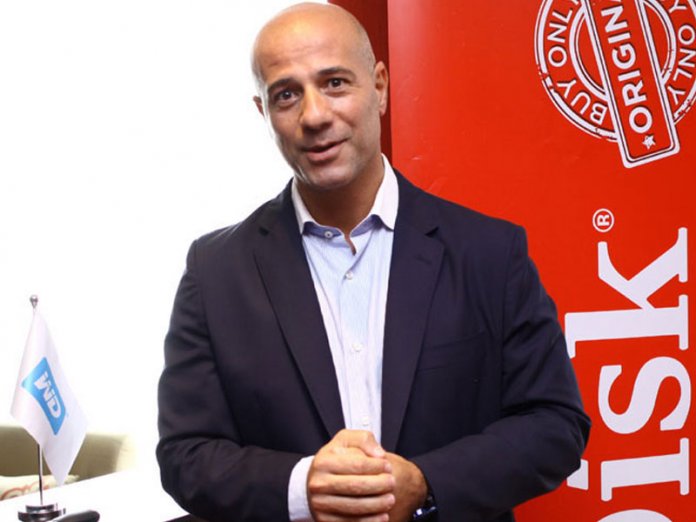 Sales Director, Africa, for Western Digital, a global storage company, Mr. Ghassan Azzi, speaks on the importance of data storage for businesses and organisations, as well as the company's efforts towards transforming data storage in Nigeria. Emma Okonji presents the excerpts:
What is the importance of data to businesses and organisations in today's world of digital transformation and why is it necessary to secure their data?
Data security is crucial for businesses of all sizes, whether you are a global conglomerate, an enterprise or a small start-up. No business today should overlook implementing security measures as effective data storage measures not only help to avoid data breaches but also shield your business against unnecessary financial costs, loss of public trust and potential threats to brand reputation. Data must be securely stored, backed up and ready for retrieval at any point in time. Any organisation without effective data storage infrastructure and devices is still far from the realities of digital transformation.
Western Digital has different categories of solutions. Could you tell us about these solutions and their roles in managing business sustainability?
We have a range of products to suit all consumers and their business storage needs. We offer devices like the My Passport SSD, which provides fast transfer of data, reliability and durability. We also offer a range of storage devices to perfectly compliment mobile and tablet devices, such as the iXp and Go and the SanDisk Ultra Dual Drive Luxe. Another category is WD Blue, which is tailored specifically for desktops, laptops, and all-in-one PCs. Also, we have the WD Red, which offers a wide array of solutions for customers looking to build a high performing NAS storage environment. Its endurance and reliability can help increase the efficiency and productivity of your business with an array of features to help preserve your data and maintain optimum performance. The offering includes both HDDs and SSDs, the latter allowing you to boost your NAS system's performance and responsiveness. Unlike standard SSDs, WD Red NAS SATA SSDs are specifically designed and tested for 24/7 usage. This durability together with efficient caching of big files make these drives ideal for OLTP databases, multi-user environments, photo rendering, 4k and 8k video editing and other demanding applications.
What are the other categories of solution in the offing?
We also have WD Gold, which is specifically designed for use in enterprise-class storage systems and data centers. WD Gold offers a highly reliable solution for demanding storage environments in both SSD and HDD formats. WD Gold SSDs, allow you to add the power of NVMe to your enterprise to improve system responsiveness and boost your business's productivity while lowering your overall TCO. With the ability to meet your business's specific needs, the WD Gold range can work alone or perfectly complement other HDDs to handle tough workloads with endurance you can trust. In the gaming range, we have the WD_BLACK, which is about moving from the regular user to an individual that requires storage tailored for gaming. WD_BLACK provides storage capacity and speed, helping ensure the best possible gaming experience. Lastly, we have our smart video range, WD Purple. This range of devices is designed for storage in environments that operate 24/7, no matter the weather conditions. Either under the rain, sun or normal temperature, our customers are assured that every moment will be captured and saved. Such devices are very important when tackling issues like security and crime as they have the ability to document and store every moment, which could assist relevant authorities with investigations.
You mentioned security as a key factor to business sustainability. What is the best consumer education to address security issues?
Educating customers is an invaluable way to manage risk and reduce security breaches. The most effective way to educate consumers on the importance of data storage is to explain the potential negative impact of data breaches. At Western Digital, we want our customers to understand what could potentially happen if they do not have the right storage devices ranging from capacity, performance, speed depending on their needs.
Big data companies in the telecoms sector that consume/generate a lot of data need reliable partners that can provide effective solutions to handle and protect their data. What advice will you give such companies in terms of using data to drive their operations?
Companies with huge archive systems, especially telcos, that control vast amounts of data need a solid partner that provides reliable products for data storage. For organizations that rely on big data analytics to drive business decisions, losing even a portion of their data resources due to system downtime can be a crippling blow to their operations. That is why partnering with a company like Western Digital can help ensure smooth business operations.
Looking at the issue of downtime, which most businesses face and the effects on their business and operational system, how do your solutions address this challenge?
As you know, system downtime can seriously impact a company's operations, both in the short and long term, hence it makes sense for every organisation to partner with a data storage solutions company capable of delivering excellently. I will like to emphasise the importance of upgrading to a superfast product, which will enhance performance.
Ultimately, most business owners seek business growth and expansion. Do you offer solutions that boost business expansion?
Expanding businesses translates to expanded data creation. As businesses grow, there is the need to expand their data infrastructure. It is important to partner with a forward thinking company like ours that will support in the growth of the business.
Aside enterprise solutions, do you have solutions for small businesses and how affordable are they?
As a global data storage company committed to delivering quality data storage solutions for every category of business, either big or small, we are constantly innovating to ensure we are meeting the needs of a range of businesses. In the designing and manufacturing of our solutions, we do not focus only on the enterprise business, but also on small businesses like SMEs who are a significant factor for the rapid economic growth of a nation. What is important to Western Digital is the value add that we bring to any business, through our solutions and considering the value our solutions offer, our products are pocket-friendly.
What makes Nigeria an important market for Western Digital?
With over 200 million inhabitants, Nigeria is the most populous country in Africa with one of the largest populations of youth in the world. Over 40 per cent of the population are young people below the age of 25 and these are the individuals that get excited and keep up with technology trends. The young generation keeps creating content, which makes data thrive and Western Digital provides solutions that ensures that whilst data is thriving in our fast paced world, we provide capabilities for secure and efficient data storage. Data hungry applications fuels demand for capacity which in turn drives the need for reliable, high performance transfer. This, coupled with the rising mobile market in Nigeria makes our operations key to this region. As a business organisation, our decision to penetrate the Nigerian market was informed by our desire to transform data storage business in Nigeria and at the same time, grow our market share as quickly as possible. We have commenced business through our distribution structure, which we have put in place and we hope to grow the market fast as technology evolves. We believe the Nigerian market is key to our regional and corporations' future success and growth.
How can your solutions add value to Nigerian businesses?
The benefits of our solutions are numerous. Western Digital is a truly global provider of storage solutions and organisations in Nigeria now have the opportunity to experience the quality and durable products from our company. Solutions from SanDisk and WD available to the Nigerian market will provide organisations with trust-worthy storage and peace of mind.
In today's world of digital transformation, businesses need speed of operation and reliability in order to serve customers better. How is Western Digital positioned to help organisations achieve this?
The world is fast changing, just as technology is evolving. For organisations that handle data, they need operational speed and reliability to satisfy customers and we are well positioned to help businesses achieve this through our sophisticated storage data solutions that enhances ease of data retrieval and processing at high speed.
Security is key in businesses and governance. How will Western Digital help Nigerian government to address its security challenges and smart city initiative?
We have proven security architecture for surveillance camera that can fit into Nigeria's vision for smart city initiative, and it can also help in addressing the country's security challenges. With increased demands placed on safety and security, not just in Nigeria alone, but globally, coupled with new IP and 360-degree camera technologies, video surveillance is expected to grow steadily. But it isn't just about security any longer. Smart video is also about extracting value and intelligence from the content captured. This could include gaining insights into retail shopper behaviours, managing traffic congestion, or providing more efficient operations and yields. What has changed in video surveillance is not how data is captured, but how it's used to drive actions, not only to support fast data applications that analyse collected data now, but big data applications ready to analyze data in the future. It is no longer about just storing data, but what we can do with it once captured, that is fueling a new generation of smart video. We amass and generate large amounts of information from the increasing number of data points captured by such edge devices as surveillance cameras. Applying analytics to real-time captured data is driving new smart video apps whose video streams extract value and intelligence that drive actionable insights. The ability to add local storage to and have enough built in computational power to enable real-time data analytics in the camera itself, will make every edge unit in the surveillance system a smart and independent subsystem.