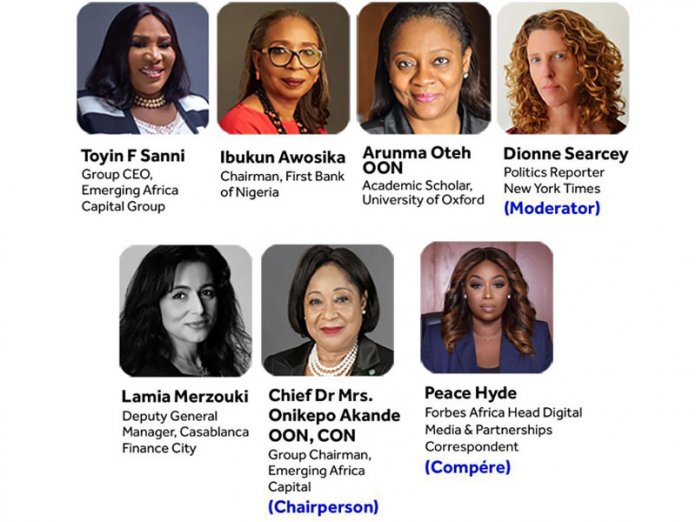 By Goddy Egene
Nigeria's first female Minister of Industry and Group Chairman, Emerging Africa Capital Group (EACG), Chief Mrs. Nike Akande, has said to become a successful woman business leader, such a person must be hardworking, honest, transparent and have winning mindset.
"The qualities of a great leader are hard work, honesty, transparency, intellectual and professional rigor and a winning mindset," she said.
Also, Chairman, First Bank of Nigeria, Mrs. Ibukun Awosika, said a successful leader must embark on personal development, manage key relationships as well as balance the demands of work and family.
The duo spoke at the women's leadership webinar with the theme: "Women Who Lead" organised by the EACG. The virtual event, which registered 4,000 participants from 24 countries across the globe, was hosted in honour of the 55th birthday of the Group Chief Executive Officer of EACG, Mrs. Toyin Sanni.
Academic Scholar, Oxford University, former Treasurer of the World Bank and former Director General, Nigeria's Securities and Exchange Commission, Ms. Arunma Oteh, shared her 10 success principles, values, investing in oneself, excellence, courage and risk taking.
Head of the Casblanca Finance City, Ms. Lamia Merzouki, reminded participants that "The most powerful tool you have in your journey is yourself awareness which would give you more confidence, courage and audacity."
The celebrant, Sanni shared her key priorities which she listed to include God, people, purpose, timing and meaning and advised leaders on the importance of empathy and building trust.
Special guests who delivered goodwill messages at the event were: the Deputy Governor of Ogun State, Mrs Naimot Salako-Oyedele; Chairman, Avon Healthcare, Dr. Awele Elumelu, Chai and Pastor Mrs. Helen Oyitso of the Redeemed Christian Church of God.
Other Special Guests at the event included: Director EAC Group, Mr. Segun Sanni; Chairman, EAC Trustees, Mrs. Cecilia Madueke; President, Chartered Institute of Bankers, Mr. Bayo Olugbemi; Chief Executive, West Africa at Standard Bank Group, Mr. Yinka Sanni; MD, FSDH Merchant Bank, Mrs. Hamda Ambah; President/CEO, Transcorp Plc, Mrs. Owen Omogiafo, and GMD/CEO Nahco Aviance, Mrs. Tokunbo Fabemi, among others.
The Emerging Africa Capital Group is committed to advancing the development of Africa through diverse solutions which facilitate optimum financing and investment opportunities for African governments, institutions and individuals and for investors interested in Africa's attractive opportunities.