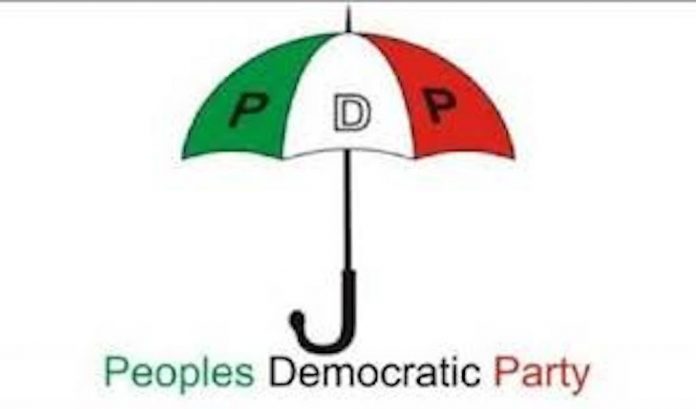 Laleye Dipo in Minna
The Niger State congress of the Peoples Democratic Party PDP failed to hold in Minna on Saturday as thugs took over the secretariat of the party stopping delegates from accessing the venue.
The thugs numbering over 200 were armed with dangerous weapons including matchetes, cutlasses, daggers and knives.
The thugs suspected to have been hired by some interested parties fought one another thereby causing commotion.
A Former Deputy leader of the House of Representatives Alhaji Baba Shehu Agaie was reportedly beaten to stupor by the thugs and was rushed to an undisclosed hospital for medical attention.
The riotous crowd held the election committee members from the national secretariat hostage in the office of the chairman of the party within the party secretariat.
All effort by security men dispatched to the area to ensure a peaceful conduct of the election failed resulting in the police shooting into the air to disperse the crowd that had gathered.
In the ensuing confusion members of the election committee were spirited out of the state secretariat in a black vehicle to safety.
A leader of one of the factions accused the other group of compromising the police while the spokesman of the other group and a former deputy governor of the state Dr Shem Zagbayi Nuhu declined to comment on the development saying "we will meet and make our position known later."
However, a statement by the election committee made available to newsmen on Saturday said: "Due to uncertain security situation at the PDP state secretariat, venue of the rescheduled state congress, the congress slated for today , 12th day of September, 2020 has been postponed"
Chairman of the Congress Committee Alhaji Muhammed Imam who signed the statement said: "after unsuccessful attempts were made to get the thousands of party supporters and other persons gathered at the precinct of the venue to disperse before the commencement of the voting process failed we have to suspend the conduct of the election.
"We will report back to the National Working Committee which will determine the next line of action in accordance with the constitution of the party." Imam declared.
The local government congresses of the party held last Saturday also did not receive favourable reaction from party supporters resulting in the groups parading different result sheets.
The two factions also led their supporters to the national secretariat of the party in Abuja in protest.